Best Handlebar Bag – Handlebar bags have exploded in popularity in recent years, as new designs and materials have come to the fore, as well as an overall increase in the sheer number of cyclists looking for storage solutions that allow them to ride further for longer distances without having to always use panniers and racks that can often be heavy and awkward, as well as unreliable.
This has led to several brands producing some amazing new handlebar bags, many of which provide excellent utility and performance.
Even if you're a loyal user of racks and panniers, or are new to using bike storage, there's no denying that there has been serious innovation and improvement of handlebar bags which has made them the best way to get maximum performance and flexibility out of your bike, while keeping your belongings dry as well as secure.
In this guide, we've compiled some of the best handlebar bags currently available, from some of the most popular and high-quality brands to give you an overview of these amazing products and some ideas about which may be the best option for you.
We're also going to provide a buyer's guide to look at the key features and benefits of handlebar bags to ensure you get the right product for your needs and get the best amount of storage and performance for your money.
There's also an FAQ at the bottom with some answers to common questions people have about handlebar bags, to make sure you have everything you need to find your perfect product.
But first, let's take a look at the bags themselves and see what they have to offer.
Disclaimer:Â Some of the links in this article are affiliate links and I may earn a commission if you click on them, at no additional cost to you. Hope you find the information here useful! Thanks.
Related Articles: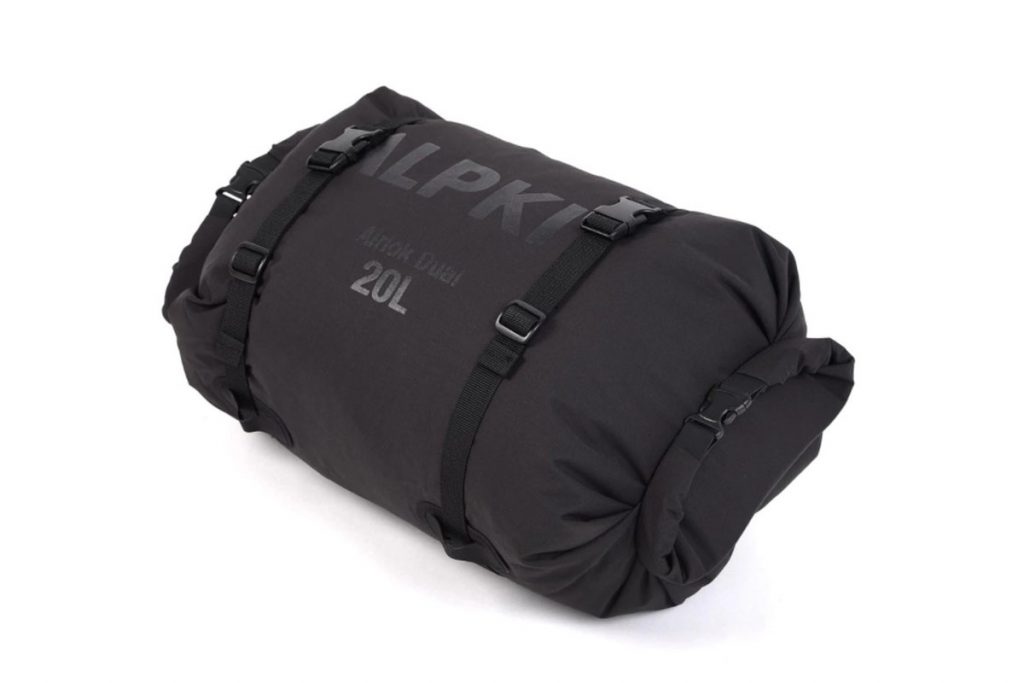 Alpkit is a small British company that was founded in 2004, and they quickly built some amazing momentum thanks to an array o great products coupled with a focus on sustainability and environmental responsibility.
Fast forward to 2022, and Alpkit has gone from strength to strength, and their product lineup is bigger than ever.
While they have several excellent products in the handlebar bag category, the Airlok Dual is one of their most popular offerings and incredibly well priced for beginners who want something simple and robust that will get you out and adventuring as soon as possible.
The simple strap system works great and while it may not be quite as stable as some other handlebar bags, it's very durable and robust.
The simplicity of this system means there's less to go wrong, which in turn means the bag is very reliable during the most punishing long-distance rides.
The bag is waterproof and more importantly, it has a dual roll-up entry which makes it very convenient to pack and retrieve objects, which a lot of handlebar bags make necessarily difficult.
Overall this is a very well-designed bag with a sleek design and appearance, waterproofing, good durability, and a reliable strapping system. The Airlok Dual also comes in both a 13 litre and 20-litre configuration, so you can get something to suit your size needs.
Pros
Good size
Durable
Reliable straps
Sleek design
Waterproof
Dual-sided entry
Cons
The extra mounting system is sold separately.
The Blackburn Outpost is one of the most popular handlebar bags and has built an amazing reputation for itself, especially among offroad cyclists and long-distance tourers who value the space and stability of this rig.
Blackburn is a US brand and one of the leading manufacturers of cycling bags and touring solutions, and their expertise is fully on the show with the Outpost, thanks to its excellent features.
The mounting system can be a little fiddly to set up initially, but once it's in place this is a very secure rig that will keep your equipment safe even on arduous and difficult terrain.
The use of a waterproof dry bag with the mounting system will ensure your stuff remains dry and dirt free too, so you can really store whatever you want inside this system.
The dual-sided entry is very convenient for retrieving items and packing them away, and the welded seams are very strong.
The bag is black and will look good with most bikes, and the capacity is 14 litres, which is a solid amount of space, although not as much as some other offerings.
Overall this is a superb handlebar bag and among the most durable and reliable available, so if you're looking for something that can handle a lot of punishment, you've found a worthy choice.
Pros
Durable
Reliable
Dual entry
Decent Capacity
Mounting system included
Dry bag included
Cons
A mounting system can be awkward to install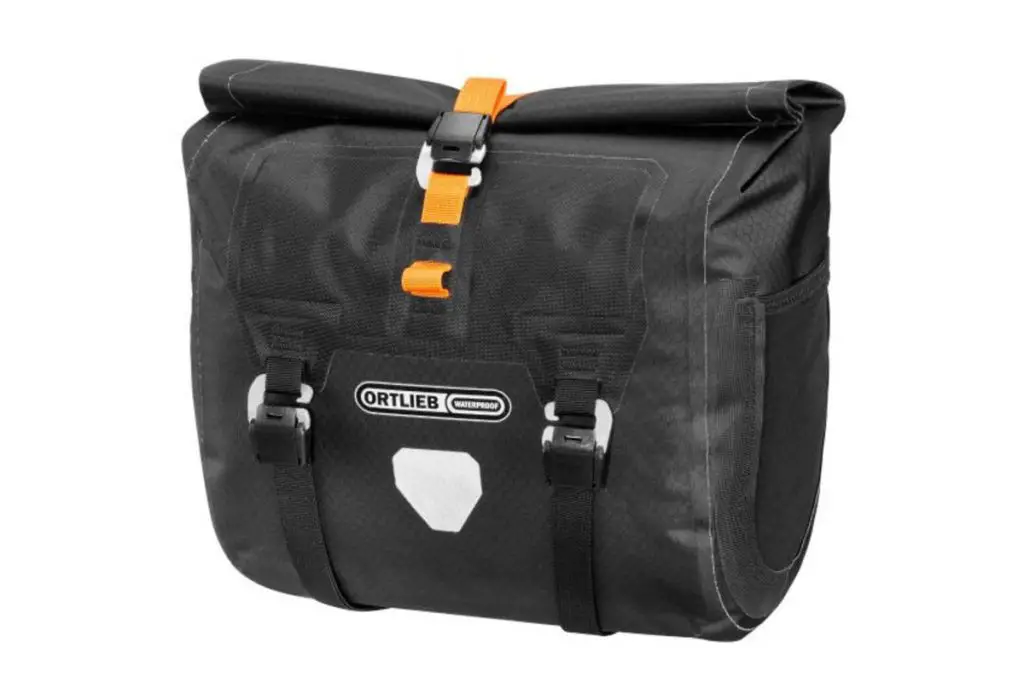 Hailing from Germany, and founded way back in 1982, Ortlieb has been providing panniers and bike storage solutions of extremely high quality ever since.
The Ortlieb name is synonymous with quality, and the handlebar pack QR is a perfect example of this, and a great option for commuters, urban riders, or long-distance tourers who want ample space, a quality mounting system, and a stable design that protects all your belongings very well.
The redesigned Bar-lock fastening system is stable and reliable and is easy to install and remove which is an excellent bonus particularly got urban use, and allows you to bring the bag with you very easily wherever you are.
Additional cords help keep things stable when on rougher terrain or gravel, and there is space for 11 litres of gear which is a good amount of space, although not the biggest.
Finally, the QR is very light so it won't weigh your bike down and worsen your handling at the front, and the lateral pockets allow for an easy and convenient organization for various smaller items you need to quickly access.
Overall this is an outstanding handlebar bag by one of the most well-established names in the industry, and the QR makes a perfect choice for people who are commuting daily or who do a lot of urban riding.
Pros
Good Mounting system
Tough materials
Good design and organization
Decent capacity
Stable and secure
Cons
Not as versatile as some other options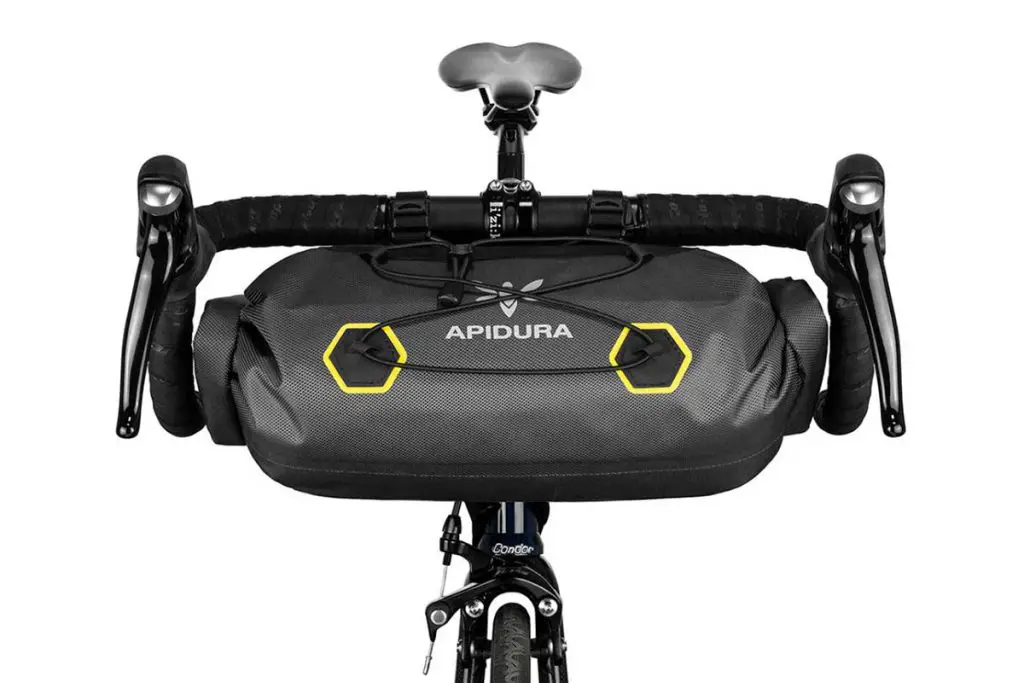 Apidura is another UK-based brand that got its starter in 2013 and which is growing steadily thanks to some very well-priced and solid storage products that have been giving cyclists some excellent value and giving stiff competition to other more established brands.
The expedition is available in a 9 litre and 14-litre version for ample choice and versatility and is ideal for carrying gear on excursions such as bike tours, camping trips, or even daily commutes thanks to its solid fasteners and durable materials.
The attachment system is well designed and helps to resist abrasion, while the roll-top closure keeps everything secure as well as clean and dry. There is also an air vent for good efficient packing and compression and welded seals to keep everything dry and secure in the worst conditions.
Overall this bag is an excellent standalone choice that will give you a lot of flexibility and versatility, as well as amazing value making this a compelling choice for budget-conscious riders.
Pros
A simple and effective mounting system
Durable
Waterproof
Various sizes
Good compression
Cons
Not as large as some other options available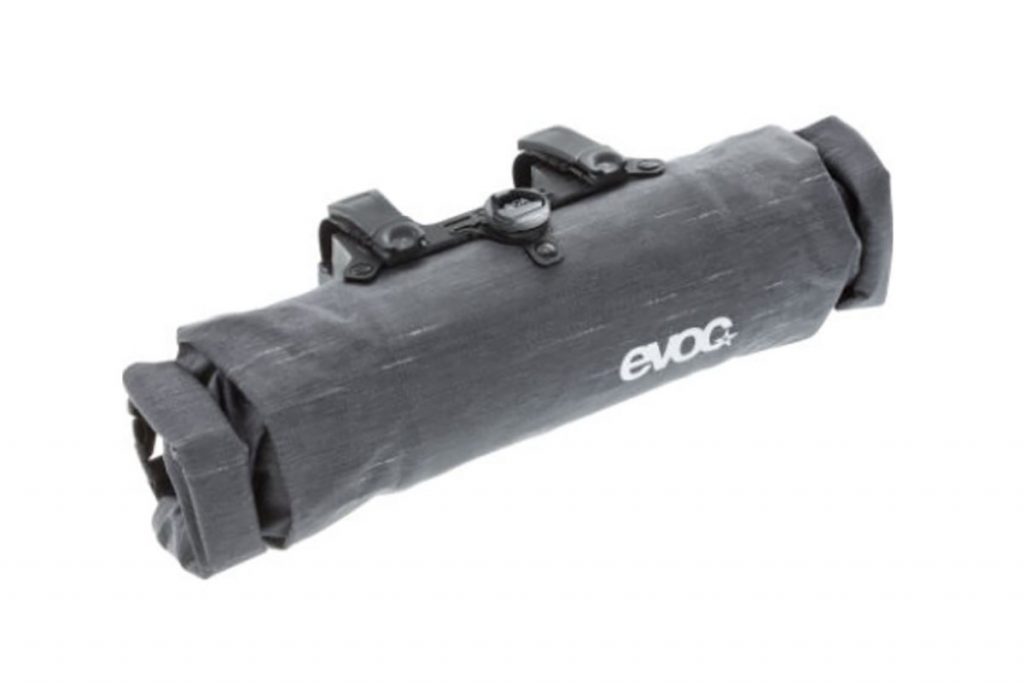 The story of Evoc is rooted in both safety and maximum performance in extreme sports, and the brand was born after an avalanche nearly killed founder and designer Holger Feist, when an avalanche shovel in his backpack caused a significant back injury.
From here, the Evoc brand has grown to produce some of the most effective and well-designed sporting and storage products available, tailored to the unique demands of various sports.
The Boa is a great example of Evoc's design and attention, as it is both sleek and functional, and available in a smaller 2.5 litre or larger 5-litre roll up, a configuration that also uses a very stable and effective mounting system that reduces abrasion and vibration which are critical during long-distance off-road biking.
The ba gis fully waterproof has dual access for easy packing and access, is incredibly durable, and looks amazing.
While the smaller size does limit its flexibility somewhat, this is a great handlebar bag for shorter trips or a streamlined minimalist approach that provides excellent performance and stability for off-road riders.
Pros
Durable
Waterproof
Stable
Sleek
Good mounting system
Cons
Much lower capacity than other models and brands
Buyer's Guide
Now that we've looked at some of the best options for handlebar bags for various needs and requirements, its time to look at some of the key things to look for in a handlebar bag to ensure you get the best product possible and can find one that really suits your actual needs.
Material
The material of a handlebar bag is really important as it plays a huge role in several factors crucial to the function of the bag. To start with, the material needs to be able to provide waterproofing, which rules out certain materials right away.
The material also needs to provide structure and durability and be able to withstand a lot of punishment from both the elements and the rough terrain that cyclists need to tackle.
Most fabrics will also need to be able to be reinforced and welded which only leaves a few options.
One of the most common materials used is TPU fabric, while nylon, polyester and laminate fabrics are also effective choices used by various different brands in various configurations to provide varying degrees of durability and water resistance depending on the specific product and its intended use.
Look for these sorts of materials to ensure you're getting a bag that can protect your belongings well and withstand the inevitable punishment they will be subjected to during rides.
Size
The size of the bag is another key detail that will set a lot of handlebar bags apart from each other.
Bags come in various shapes and sizes from various brands, with some being as small as 2.5 litres in capacity, and others as large as 20 litres in capacity.
Naturally, this offers a massive amount of variance in what you can use your bag for and the type of cycling trips it can support.
Smaller bags will tend to be better for offroad use and shorter trips, while larger bags are much more flexible and can extend your range and comfort, although weight is also an important factor to consider, as well as how this much capacity over the front wheels may affect your handling and control while riding.
Mounting System
The mounting system used by your handlebar bag is also a crucially important thing to consider, as not all handlebar bags come with a mounting system, and it can have a drastic impact on overall performance and usability.
The Alpkit bag above for example doesn't come with a mounting system and has a compatible one sold separately, meaning the Airlok is mounted using a very simple strapping system that is durable, but which can cause abrasion to your bike or handlebars which most cyclists will want to avoid.
Some bags do come with mounts included, however, and these systems will help keep your bag stable and secure which can improve handling as well as prevent the abrasion we mentioned earlier.
Appearance
The appearance of your handlebar bag can also be an important factor for some, and not all bags are available in multiple colours so it's worth looking into this before you buy.
It's also important to ensure that your bag has a shape and profile that suits your needs as well as your preference.
Durability
Durability is really important for handlebar bags, as you want your bag to be able to resist friction and hold considerable weight without risking tearing or splitting, and spilling your belongings all over the place.
Design
Finally, we have a design, which touches on the shape of the bag as well as the extra features such as compression vents and welded seams which will separate a quality handlebar bag from a glorified dry bag with some straps.
Frequently Asked Questions
In this section, we're going to answer some common questions about golf tees to give you as much information as possible about them and their use.
What Size Handlebar Bag Do I Need?
The size of the handlebar bag you need really depends on the number of things you want to be able to carry, as well as the length of your trip, and the type of terrain you're going to be tackling.
Larger backs offer more flexibility and allow you to potentially ride further and prepare more effectively, while smaller bags offer much less interference with handling and weight, and are lighter and more convenient.
Luckily there are many different options available meaning you can definitely find a bag that perfectly fits your size requirements.
Are Handlebar Bags Better Than Panniers?
There is a lot of discussion about whether panniers are better than handlebar bags, and many purists don't see the benefit of a handlebar bag over a pannier system.
While it's hard to say which is better due to the various factors that play into this issue, its likely that handlebar bags are a better choice for offroad riding and gravel, while panniers are better for urban riding and commuting, as well as longer tours which require a lot more equipment and flexibility.
What Can Handlebar Bags Be Used For?
Handlebar bags can be used for all kinds of things, from storing your clothing and supplies to helping mount a sleeping system or a range of other essentials cyclists may need on longer bike rides and trips.
The most common users of handlebar bags are tourers and campers who need to bring extra equipment over multi-day bike trips, Bikepackers who need versatile and flexible storage space on their bike, and commuters who value flexibility and stability.
Top 5 Best Handlebar Bag for Cycling and Bikepacking [2022]