You want to buy a new bike, and you don't seem to know the differences between a road bike vs. mountain bike? Well, keep reading, as this article explains the pros and the cons of the two types of bikes.
The primary difference between road bikes and mountain bikes is what they are made for and their use.. 
Road bikes are for paved roads and cannot be used on gravel and dirt trails. Mountain bikes are built for off-road terrain, rocks, gravel, sand, and grass – but with an added plus, as they can also be used on paved roads.
Other differences are:
Weight
Speed
The need for maintenance
Type of exercise
Price
The question is which type is the right one for you?
We will go through road bike vs. mountain bike and describe the differences and similarities between the two types, and hopefully make your decision easier to make.
DISCLAIMER
The links on this page may be affiliate links, from which I earn a small commission if you click on them, at no extra cost to you. I hope you find the information useful. Thank you.
Need adventure sports travel insurance that includes mountain biking?
Looking for inspiration for a bike holiday? Read about the 9 best bike rides in San Diego.
Are you in the market for a new road bike but have a budget? Here are the Top 5 road bikes under $500.
Want to read about cycling as exercise?
Tommaso Forcella Endurance Aluminum Road Bike
Lightweight road bike with an aluminium frame with a carbon fork, 24 speeds, and aero wheels.
What Is A Road Bike?
A road bike is a lightweight and aerodynamic bike with narrow tires, primarily for use on paved roads and not so much for gravel. 
There are several subcategories of road bikes, for example 
Besides unisex bikes, many companies also make bikes adjusted to the female form and requirements. Meaning for example, that they are adjusted to women's narrower shoulders and smaller hands and have different saddles. 
But anyone can ride any bike that fits their size and preferences. Below are some features of a road bike: 
1. Handlebars
Road bikes are usually with drop handlebars, giving you three positions to choose from when riding, the top, the brake hoods, and the drops. Using the drops at a high speed reduces the wind resistance and improves your aerodynamics.
Flat handlebars can be good for you if you prefer a more upright riding position. It will cost you on the aerodynamics though.
2. Weight
Road bikes are lightweight bikes, which gives them more speed and makes them easier to maneuver.
3. Frame
The weight of the frame is very important for the total weight of the bike. Frames are usually in aluminium (cheaper, safer) or carbon fiber (lighter weight, more expensive).
The size is mostly measured in cm and the right size for you is found from your height, but it is always recommended to try a bike size before buying one.
4. Gearing
Most road bikes have two front chainrings (often called 2x) and between 8 and 11 cogs in the cassette in the rear (8-11 speeds). The rear cassette can have a narrow range of ratios or a wide range of ratios.
A narrow range cassette with small ratio jumps, allows you to tune your cadence, which is good for driving on mainly flat roads.
A wide-range cassette with wider ratio jumps gives you an advantage when going up hills.
Tip: Try to read the road, meaning if there is a climb, a stop sign, or red light ahead, shift before you have to. It will give you a smoother shift and an easier start after a stop.
5. Brakes
Most new road bikes come with disc brakes instead of rim brakes / V brakes, which used to be the norm.
The two types are not compatible, so you will have to choose when you get your new bike.
Disc brakes pros:
require less power from the cyclist (good for beginners, kids, elderly, etc.)
have more brake power
work well in all kinds of weather
Disc brakes cons:
require more maintenance
difficult to change
more expensive
Rim brakes pros:
quicker wheel change
cheaper
lighter
Rim brakes cons:
not the best in wet weather
less power
6. Tires / Wheels
The thin tires on road bikes are usually 23-30mm which minimizes the friction, making the bike faster. The tire pressure usually lies around 70-120 psi (pound per square inch). It is printed on each tire, what the recommended psi is.
Most road bikes have 700c wheels. It is an old description and is just the approximate diameter, but it's used by everyone.
A 700c wheel has a diameter of 622mm or 29 inches.
A 650b wheel has a diameter of 584mm or 27.5 inches.
Bikes with disc brakes can have wider tires, as the disc brakes do not clamp on the wheel rim.
Tip: Check your tire pressure! All tires leak air, so keep an eye on the psi to always have the optimal tire pressure to keep the comfort and speed of your bike.
7. Ride position
The riding position on road bikes is moreover the handlebars and more weight over the front wheel, which gives more power when riding. 
On city bikes, the riding position is more upright, but as city bikes are – as the name indicates – mostly used in the city, the speed is not as important as it is on a road/racing bike.
8. Price Range
The price of a basic road bike starts at around $300, with 21 speeds and disc brakes.
If you are looking for a super lightweight road bike, only 7.8 kg, in the range of over $2000 might interest you.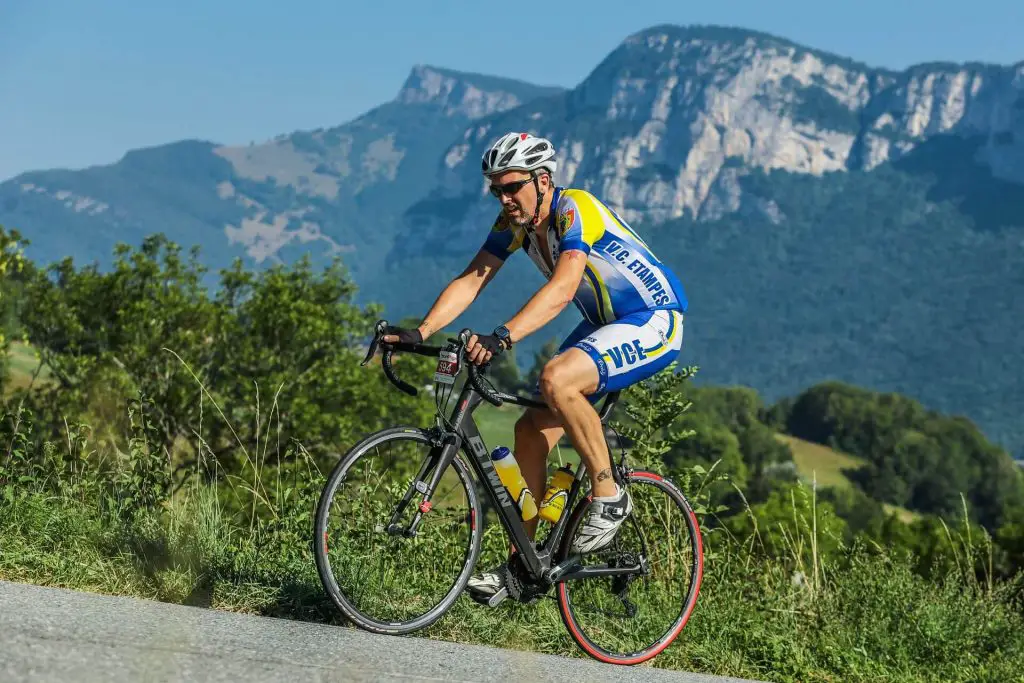 Road Bike Pros And Cons
Pros:
Road bikes require less maintenance, especially those with rim brakes. As the road bikes ride on paved surfaces there is less cleaning than on a mountain bike.
The lightweight of a road bike makes it easier to maneuver, thin tires give less friction and higher speed – and it's easier to carry if you want to take your bike with you or up a flight of stairs.
Cons:
Only to be used on paved roads.
Riding a road bike primarily trains the lower body.
The riding position over the handlebars can be hard on your neck.
Schwinn Bonafide Mountain bike, 24 speed
Mountain bike with front suspension, disc brakes, aluminium frame.
What Is A Mountain Bike?
A mountain bike has a heavy frame, fat tires, and suspension systems and is designed for off-road riding. It can be used on almost all surfaces, from rocks to sand and snow – and in all kinds of weather.
For most mountain bikers it is more a hobby than a way of getting from A to B.
There are different types of mountain bikes;
There are models adjusted to the female anatomy, meaning for example narrower handlebars, smaller grips, and different saddles.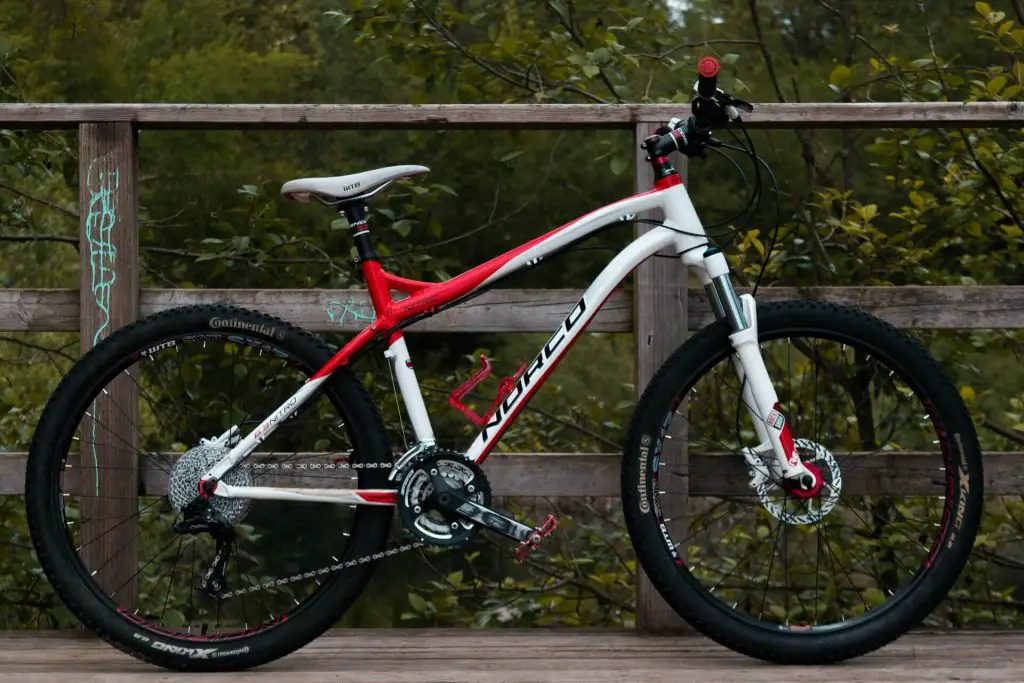 1. Handlebars
Mountain bikes have flat handlebars, hence only one grip location.
The handlebar is usually wider than the drops on a road bike to give the rider better control of the bike.
In case you have problems with numbness in your hands while biking, read here what you can do. 
2. Weight
When looking at a road bike vs. mountain bike, the weight of mountain bikes is higher than road bikes, because the bikes are built more robustly for the different off-road terrains. The frame, brakes, suspensions, etc. make the bike heavier.
3. Frame
In the case of road vs mountain bike, a mountain bike has a shorter reach and top tube.
The effective top tube is an imaginary level tube from the center of the seat tube to the top of the head tube, giving you the possibility to compare the reach on different mountain bikes, regardless of where the actual top tube is.
The shorter reach gives a more upright riding position that keeps the center of gravity low for better stability in rough and steep terrains.
The frame is built much more robustly to handle off-road riding on muddy and rocky trails.
The material used for the frames is ranging from steel to lightweight aluminium and carbon.
Because these bikes are used in off-road terrain on rough and loose surfaces, they are built with suspension systems that absorb impacts from rocks and holes in the rough surface.
Hardtail bikes only have a suspension fork and are the most affordable types of mountain bikes.
Other, and more expensive bikes, also have a rear suspension.
4. Gearing
Mountain bikes usually have one front chainring (often called 1x, pronounced "one byâ€) and between 9-12 cogs in the cassette in the rear. 
The reason why many prefer only one front chainring is that it decreases the chance of the chain coming off and saves weight for a front derailleur (the part that pushes the chain from one chainring to another). And that again means less maintenance.
With only one front chainring, the rear cassette has to have a wide gearing range. The gear range is the difference between the lowest and the highest gear. 
The wide gear range is important for you to easily climb up hills and also go faster downhill, even with one chainring.
Bikes with two chainrings are usually cheaper in the long run, as the parts are cheaper to change. Another advantage is that there is a smaller gap between gears, making it easier to maintain the cadence when shifting.
Compared to road bikes, mountain bikes have a wider gear range with lower gearing.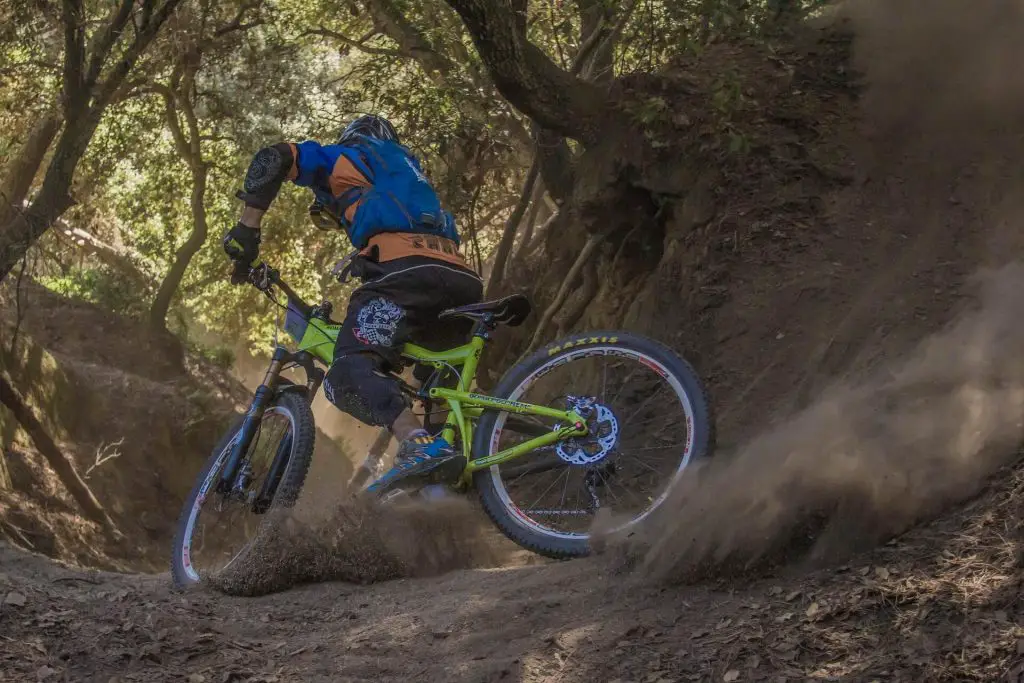 5. Brakes
As mountain biking often includes steep downhill driving and driving on loose dirt, gravel, wet conditions, etc., it is needless to say how important the brakes are. That is the reason most mountain bikes have disc brakes instead of rim brakes.
Compared to rim brakes, the disc brakes require less power from the mountain biker.
Hydraulic disc brakes brake with brake fluid and are fully sealed from the elements and they are trickier to maintain but require less cleaning than cable-operated disc brakes.
Cable-operated disc brakes are cheaper and somewhat less efficient than hydraulic disc brakes. They are mostly found on mountain bikes in the lower price range.
6. Tires / Wheels
The normal wheel size today is either 27.5-inch diameter or 29 inches, some also 26 inches. The tires are around 2,25-2,5â€, fat tires are around 4-5â€.
The wide and knobby tires are usually soft and run at low pressure 20-35 psi (pound per square inch), which helps absorb bumps on the road and uneven terrain. 
The pattern on the tire depends on what type of mountain bike riding it is for. 
7. Price Range
The cheapest mountain bike costs around $300, usually a hardtail, and the price goes up to around $2000.
This bike is in the $1000-1500 range, and has front suspension and hydraulic disc brakes.
Mountain Bike Pros And Cons
Pros
Riding a mountain bike is more of a full-body workout, as you use your upper body to control the bike in jumps, loose surfaces, rocks, etc.
Mountain bikes can be used on both roads and dirt roads. They are not as fast and require more energy than a road bike, but it is possible.
Built to be durable.
Mountain biking is a lot of fun, and not only about speed and distance.
Mountain bikes are cheaper than road bikes.
Spare parts are usually cheaper than ones for road bikes.
Cons
More maintenance.
Heavier.
Driving on paved roads is hard.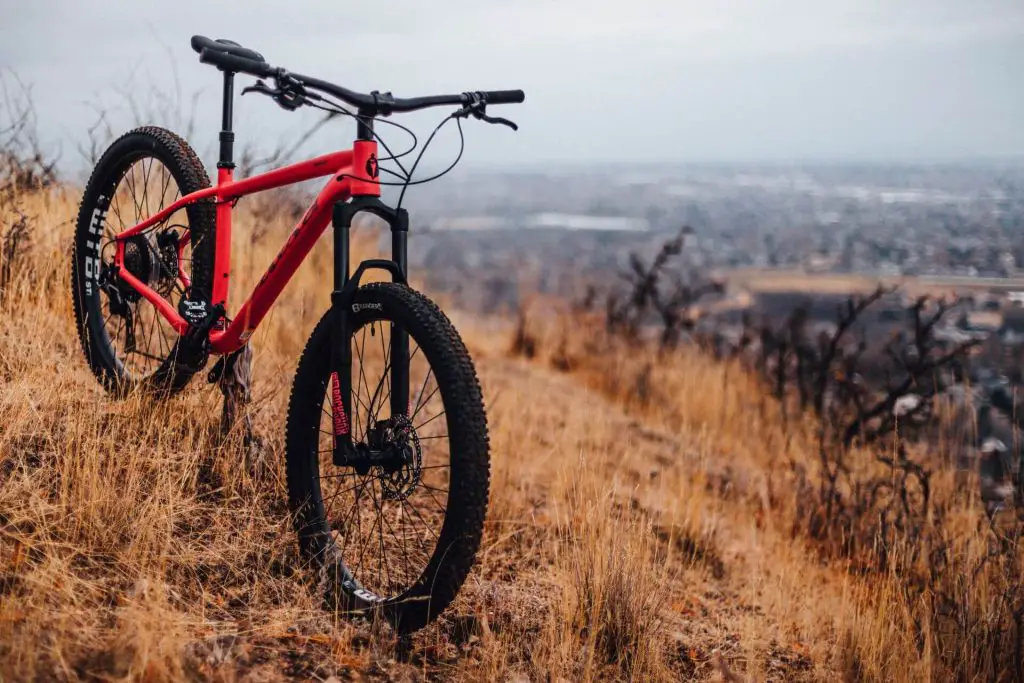 What Are The Differences Between A Road Bike vs Mountain Bike? 
Road bikes are driven in the traffic, while mountain biking is done without cars and the cars exhaust around. That is also the reason why many people possess both types.
Mountain biking is a full-body workout, whereas road biking is mostly for the lower body and core.
The price level for mountain bikes is lower than for road bikes
When it comes to road bike vs mountain bike speed the road bike is faster hence the lower weight.
Which Is The Right Bike For Me?
The most important thing you should ask yourself is, do you need the bike for roads and pavements only, or do you also want to ride on gravel and off-road?
Because the mountain bike vs road bike difference is primarily where they are used.
For commuting, cardio training, replacing car- and/or public transport – go for the road bike.
For off-road and cross country biking, go for the mountain bike.
Equipment / Accessories
The accessories you need for you and your bike depend very much on your use of the bike. 
Helmets are a must when riding a bike. There are different categories to choose from.
If you have to leave your bike in a public area, a good lock is worth it. In this article from Forbes, several U locks are recommended, among them is this one.
Gloves are recommended for longer rides, here is a shock-absorbing pair with anti-slip.
Other things you might need:
FAQs
What Is Better: A Mountain Bike Or Road Bike?
Mountain bikes are harder to pedal and slower on the pavement. But they are very versatile and can be used on almost all surfaces, and you're riding in an upright position. Hybrid and cross bikes are almost as easy to pedal on paved surfaces as road bikes.
Is A Mountain Bike Harder Than A Road Bike?
A test showed a 51% increase in the effort needed to ride a mountain bike on a grassy, leafy trail with obstacles, compared to a road bike on a paved surface. The test is assuming that the mountain bike course and the road ride have similar turns and grades. 
Can You Use A Mountain Bike for Road Biking?
Are you wondering if you can ride on the road with your mountain bike? The answer is yes, you absolutely can. Mainly because of the thickness of the tires it will feel different from riding a standard road bike.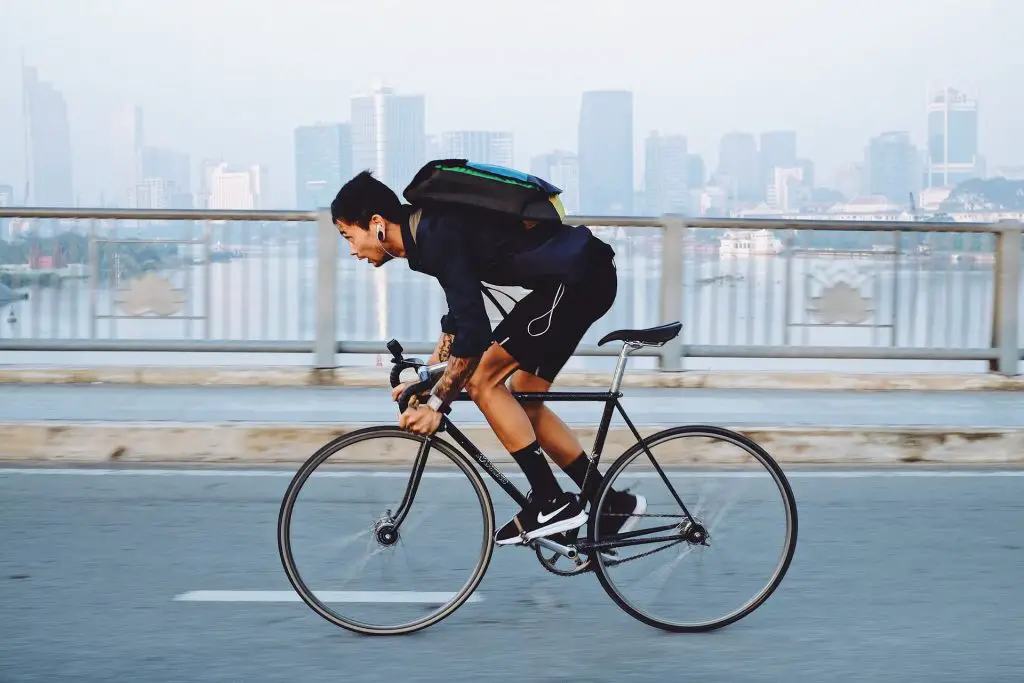 Conclusion
The difference between a road bike and mountain bike is quite big – the two types of bikes serve different purposes. They both have advantages and disadvantages. 
So you have to ask yourself, do you want to do on-road or off-road biking?