Are folding bikes good for long rides? The short answer is, yes they are. They can perform just as well as full-sized bikes if you purchase the right one!
Folding bikes, also known as foldies, are the ultimate tool for easy commuting, especially for travelers who plan to visit different locations within a short period of time. 
In fact, folding bikes have become a popular choice among residents in highly populated urban cities like Singapore as they can store them easily in their apartments.
With more relaxed traveling restrictions, you might be thinking if you can visit all the places in your dream city much quicker if you brought a folding bike. 
You might also be feeling adventurous and wish to take your folding bike out for a cross-country ride!
But before you start marking locations you want to check off in a day, find out if your folding bikes are good for long rides with the below tips that I will be sharing with you.
Let's keep cycling!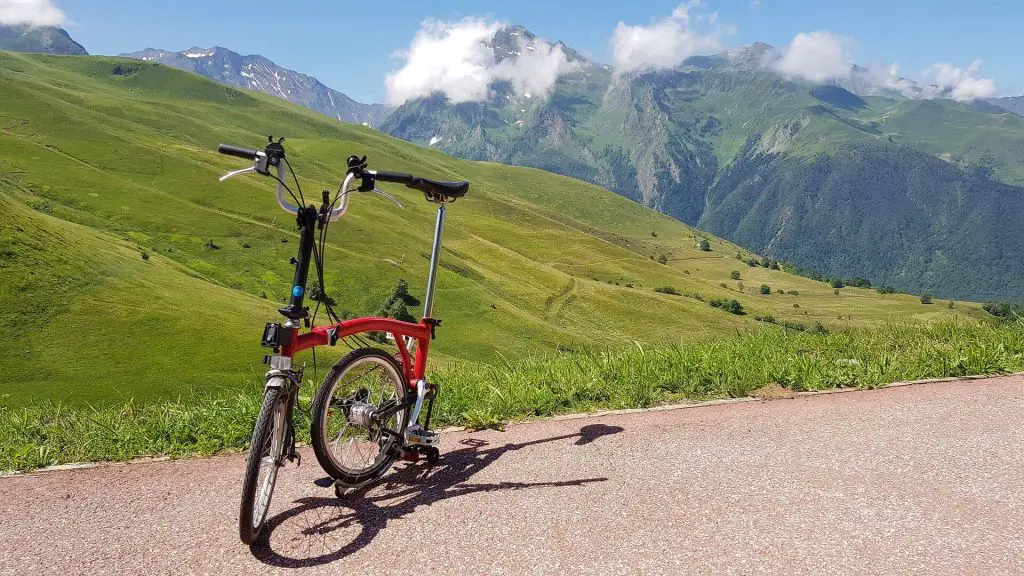 Disclosure: This post may contain affiliate links, meaning I will get a commission if you do sign up through my links, at NO EXTRA COST to you. I hope this guide will be useful to you! Thanks!
Related Posts
What Is Considered A Long-Distance Bike Ride?
A long-distance bike ride is anything over 50 miles in a day. Some riders may consider 100 miles a day as a long-distance ride as well. But if you are pushing for a daily 200-mile ride or longer, congrats, you are now an extreme rider and clearly loving it!
What Are The Advantages Of Folding Bikes For Long Rides?
Are foldable bikes good for long distance, really? Here are some advantages of folding bikes for long rides:
1. Built To Go The Distance
Most riders purchase folding bikes with the intention to commute, which is why most would think that folding bikes are meant for short distances. However, today's foldable bikes can for long rides and are built more durable with different frame designs to cater to every rider's need.
A folding bike for long distance should have stronger carbon fiber frames (often used in higher-end mountain and road bikes) for more stability. Some riders may change handlebars or larger wheels for more comfort. 
2. Time-saving Transportation
Folding bikes' design has their perks: you don't have to use 20 minutes to disassemble them (and realize that you might have forgotten your Allen keys to unscrew them!). Instead of 20 minutes, you have 20 seconds to stop, fold and roll it into a bag. 
3. Carriage Of Convenience
Whether it is on a train, as a carry-on luggage on the plane or hanging out beside you in a cafe: folding bikes are built lightweight with a compact design that can fit easily into any suitcase and carried around without worrying about finding the nearest bicycle parking. 
4. Go Greener!
Trying to bring a regular bike to a faraway destination often requires a car : you either need a roof-rack or a rear mount on your car to transport your bike safely. And if you do not have either, you will have to find different angles to squeeze the bike into the car trunk!
With a folding bike, why hail a taxi when you can bring it on a public transport, the greener way?
What Are the Disadvantages Of A Folding Bike For Long Rides?
Folding bikes may seem like the perfect invention but there are definitely things to look out for before purchasing one. 
Let's look at the disadvantages of folding bikes below:
1. Fighting the Need For Speed
Most folding bikes come with 16" to 20" wheels, which are smaller than the average regular bike of 26" to 29" wheels. 
While this can make pedalling easier and accelerate faster, you are constantly pushing to maintain the same speed and cover more distance than a regular bike.


This makes tires the biggest drawback in a folding bike for long rides. 
However, there are definitely folding bicycles with larger wheels if you want to be a speedy roadster! 
2. Not Suitable For Off-Road Riding
Off-road riding comes with lots of rocks, bumps and debris. This makes riding on a folding bike slightly uncomfortable as you will experience a bigger impact when you ride over a bump due to its lightweight frame. 
You may opt for a mountain folding bike that is more suited to rough terrains and even uneven roads in your area.
3. Challenging Downhill Control
Due to its smaller frame and smaller wheels, they have less wind resistance which can be challenging to control them during downhill rides. 
But not to worry, there are now folding bikes specially designed to curb this issue such as the Ancheer Mountain Folding Bike. 
Cheers to innovative solutions!
So are folding bikes safe then? Absolutely! There are ways to work around it with modifications and extra gear. 
Time to bring it out for a ride!
Best Folding Bike For Long Distance Riding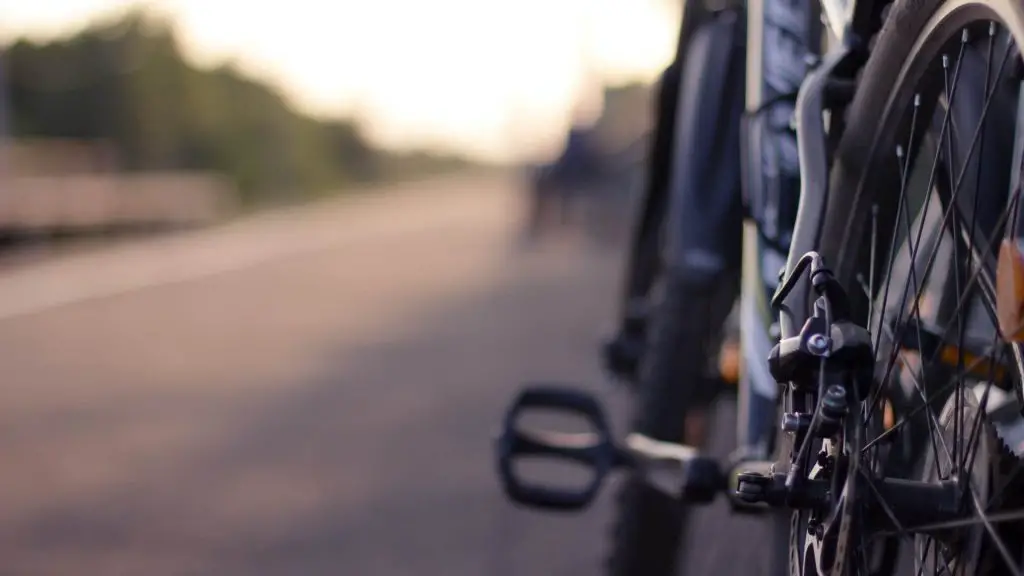 Now that we have established "are folding bikes good for long rides?", there are a number of things to note when it comes to choosing a good folding bike for long distance riding.
A bike that is fully adjustable 
You will want to go for a bike that is fully adjustable so that it fits your body frame and provides the most comfortable and correct support when you are on your bike.
A comfortable saddle 
You may also consider a bike that has a comfortable saddle to avoid the butt sores that often occur with long distance riding. Also, saddles are usually reasonably priced so you can always purchase a more comfortable saddle to replace it.
Folding bike has a rear carry rack and fenders
Lastly, you will want to look out for a folding bike that has a rear carry rack and fenders which will come in handy during your long distance riding. 
The rear carry rack is useful to keep your bike tools and your necessities, whereas the fenders will prolong the life of your bike by protecting your bike's moving parts (and also your clothes!) from any mud, dirt, or debris. 
Let's look at some of the best and most popular folding bikes that everyone is searching for: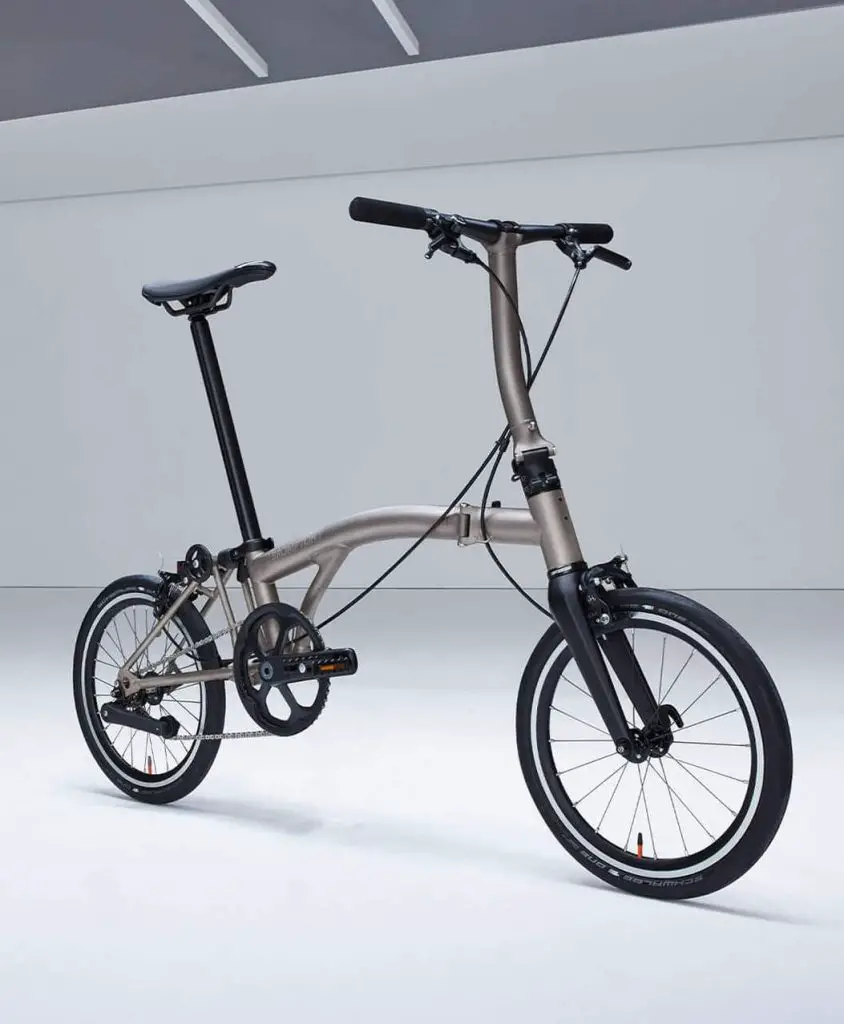 Brompton, UK's largest bicycle manufacturer, has been the market leader for folding bikes. Brompton folding bikes are made in England and are a cycling icon, to a point that it is hard to miss a Brompton in the streets of the UK.
Brompton Folding Bike: T Line – Urban
Price: From $5,020
Pros:
This upcoming Brompton T Line bike is made out of precision-engineered titanium, perfect for long-distance riding. 
The lightest bike ever produced by Brompton at 17.5 lbs and a carry load of up to 243 lbs, it is the best bike for city performance on long rides. 
Cons:
The downside to this product is that its price is on the steeper side. Also, Brompton folding bikes often go out of stock fairly quickly due to their high demand. 
Do note that Brompton is planning to produce only 2,500 T-Line bikes this year, so keep your eyes peeled on its availability near you.

Dahon is the world's largest manufacturer of folding bikes which is why their bikes can be easily found in many locations worldwide. Their production facilities are located in China, Macau and Bulgaria. 
Dahon Folding Bike – Mariner D8
Pros:
Coming in at an affordable price, the Mariner D8 has eight-speed gear that makes cruising and going into high gear easier. You will enjoy a smooth ride over bumps, with fenders and a rear rack to keep dirt at bay. Tall riders will find this bike suitable. It also weighs 28 lbs and can carry up to 230 lbs.
Cons:
Some customers found that the bike saddle was rather uncomfortable, but it can be easily replaceable. 
Decathlon's brand of bikes was formerly known as Decathlon Cycle before renaming it to B'Twin. It is some of the most popular bikes out there due to its lower price range and value for money. 
Decathlon Folding Bike – Tilt 500, 20"
Price: $ 449
Pros:
The Tilt 500 is the best bike if you are on a budget. It comes with a 7-speed gear and just 15 seconds to unfold, making it a very convenient bike to bring on. 
Cons:
Some customers claimed that it requires a lot of adjusting at the initial stage. There were cases of stiff hinges, squeaky brakes and a loose seat post. However, once these are fixed, the bike is good to go.
It weighs on the heavier side at 28.7 lbs.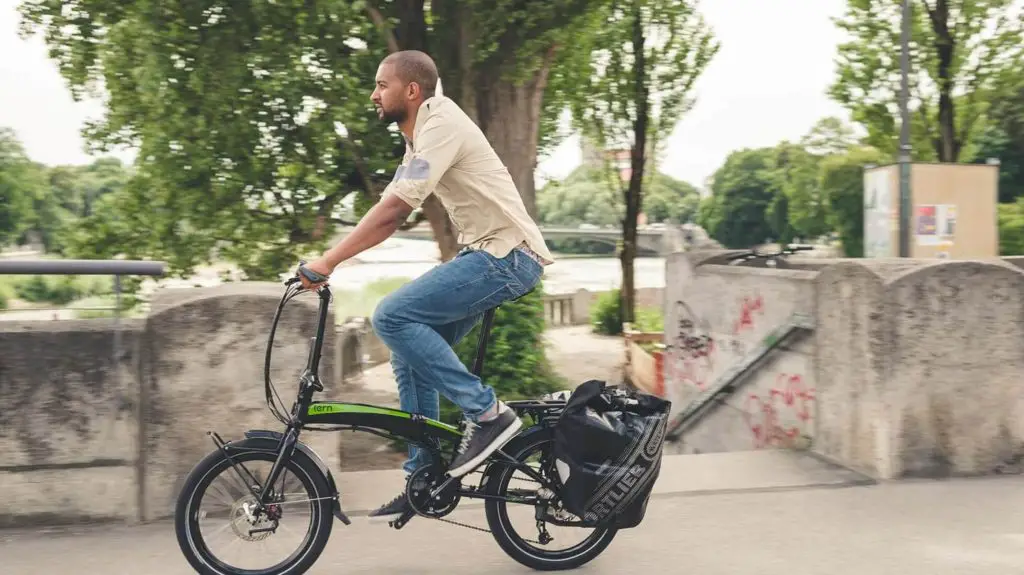 Fun fact: Tern was founded by the wife and son of David T. Hon, founder of the Dahon folding bikes. No wonder these bikes are so sturdy! Tern was established in Taipei, Taiwan and is now a leading brand in folding bikes.
Tern – Verge S27h
Price: $1,900
Pros: 
The Tern Verge S27h is made specifically for touring, hence, it can handle long distance riding. It comes with a whopping 27 speed gear, and fits taller riders with its adjustable seat post. 
It also comes with a bike bump in its seat post!
Cons:
It is a heavy-duty bike, but it is also especially heavy at 36.54 lbs. 
When folded, the bike dimensions are slightly larger than your regular folding bike. Also, the main parts of the folded frame are held with a tiny magnet, which can easily come off with a slight movement and voila – your bike will unfold itself.
Founded in Los Angeles, this up-and-coming bike brand is making waves with its folding bikes that are sturdy yet a great bargain in price. 
Xspec Folding Bike – 20" 7 Speed Compact Bike
Pros:
With an unbeatable price of $249.99, it is no surprise that this bike is one of Amazon's Choice for adult folding bikes. It has durable wheels, a 7-speed shifter and a sturdy folding mechanism frame, you will have no doubt that this bike is going to be durable for long rides. 
It also folds flat in seconds and the seat is comfortable for riders up to 6 feet tall.
Cons:
It weighs around 36 lbs, which is considerably heavy in comparison to the other bikes on this list. 
You may need some time to set up this bike as some customers reported that no instructions were included. You will also need to seek out a professional to set up your bike for the best performance.
Schwinn is a long-time American brand, with its roots dating back to 125 years ago. Although they have outsourced their production to China and Taiwan, their products remain high-quality and a favorite of many.
Schwinn Folding Bike – 20" 7-Speed Drivetrain
Pros: 
At 33 lbs, it has a 7-speed twist shifter that allows smooth gear transitions. It also comes with a rear carrier that includes a detachable heavy gauge nylon bag. 
For long distance riding, it is comfortable and can take a 50-mile ride with no issues and comes with low gearing. 
Price-wise, this bike is also great if you are on a budget. 
Cons:
This folding bike has one big downside, which is that it doesn't stay folded well and the folding process is more complicated compared to other bikes. 
Some use cable ties to keep their bikes folded.
Tires may not grip as well in rainy conditions. You  may want to change your seat saddle out for something of your preference.
Like many folding bike brands, they are headquartered in California and manufactured in Asia. It is one of the most affordable folding bikes in the market and most of their bikes are suited for taller riders of 6'3".
ZiZZO Folding Bike – Via 20" Lightweight Aluminum Frame 
Pros:
One of the plus points about this bike is that it is lightweight at 26.5 lbs. It has rust-resistance 7-speed gear that makes traveling on roads and hills equally smooth. It also has a maximum weight capacity of 240 lbs. 
The bike is also super easy to set up and folds up small.
Cons:
Some may state that "you get what you paid for". The price range sometimes indicates the quality of the bike, and some felt that the bike was made with cheap parts at the most crucial areas like the crank. 
However, this incident seems to occur on a case-by-case basis and many still love it!
And the Best Folding Bike For Long Distance Riding is:

The Xspec Folding Bike – 20" 7 Speed Compact Bike
Not only does this bike have all the criteria required for a long distance riding bike (fully adjustable seat, a decent saddle, and rear carry rack and fenders), the price of this bike at $249.99 makes it the most affordable on this list without sacrificing its quality.
Height is often a concern when it comes to choosing the best collapsible bike. The best folding bikes for tall riders (up to 6'2" height) are as follows:
Our top pick for the Best Folding Bike For Tall Riders is:
The ZiZZO Campo stands tall, catering to riders up to 6'3" with an adjustable height handlebar and seat post. It also comes with folding pedals and is considerably lightweight at 28 lbs.
The lightest folding bike in the world is the Hummingbird Single Speed, weighing 6.9 kg (15.21 lbs). It is made in England and has 3 gearing combinations (60-gear inches, 65 gear inches, and 72 gear inches).
However, their weight is offset by their rather steep price of £3,495.00 ($ 4,460.35).
Are Folding Bikes Good For Exercise?
Absolutely yes, folding bikes are good for exercise. Folding bikes are not only a great way for individuals who are looking to get toned or lose some pounds, but also perfect as cross-training for athletes. Nothing gets more convenient than a folding bike that is ready to go in seconds for a quick sweat!
How Fast Can You Go On A Folding Bike?
You can go as fast as 14 mph to 20 mph on a folding bike if you are an experienced cyclist. The average speed of folding bikes with 16" up to 20" wheels can range from 10 mph to 12 mph, depending on the cyclist's endurance and fitness level when generating speed.
How Far Can You Ride A Folding Bike?
You can ride a folding bike up to 100 miles. Folding bikes are commonly known for shorter commutes, but it is not impossible to ride a century (100-mile) or a double (200-mile) distance. It often depends on the rider's comfort and ability to push further mentally and physically.
Some riders do opt for modifications on their folding bikes such as larger wheels to ride comfortably for an even longer distance.
Fun fact: how far can you cycle on a Brompton? If you are Jack Shuttleworth and Mark Donnelly-Orr from London, England, or James Houston from Great Britain,  you can take your Brompton bike on a 2,500 km (1,553 miles) race around Ireland.
Do Folding Bikes Break Easily?
No, folding bikes do not break easily. They are made to withstand your weight and are made to be durable and geometrically strong. However, do note that most folding bikes have a maximum weight capacity between 220 lbs to 242 lbs, and exceeding the weight limit may cause more damage to your folding bike.
Hence, are folding bikes safe? Yes, folding bikes are safe as long as you ride within the bike's maximum weight capacity.
How To Travel With A Foldable Bike?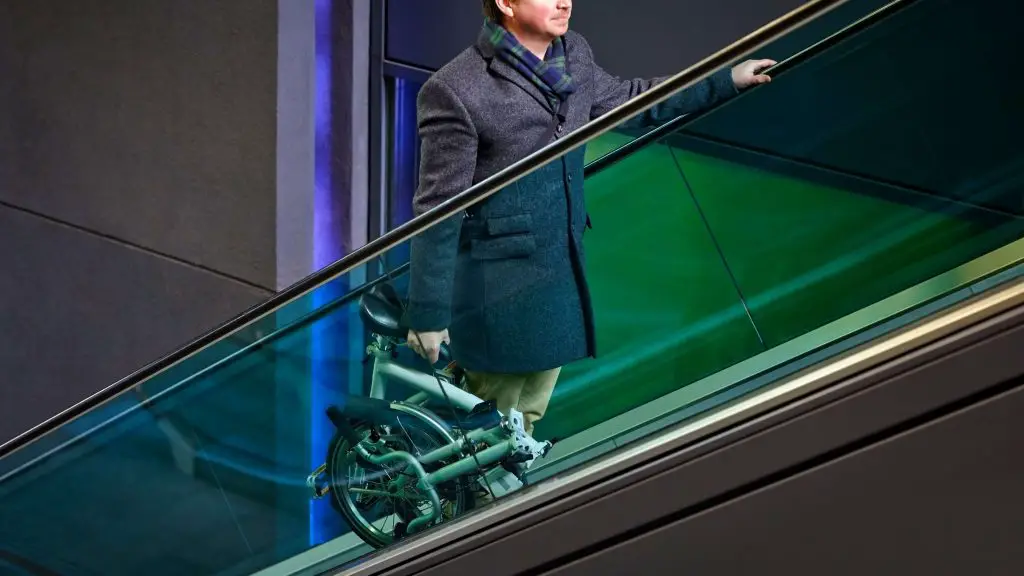 You can easily travel anywhere with a foldable bike whether it is by train, plane, bus or car. We will go through some of the ways to take your foldie on different modes of transportation:
Every country has its own set of rules when it comes to bringing a bicycle as a passenger carriage. In the UK, trains may have a 'peak-time' slot (Mon-Fri, 7 – 10 am and 4 to 7 pm, towards and away from London respectively) where full-sized bikes are not allowed. 
Luckily, the folding bike bypasses almost all of these (when folded, of course). No need for dismantling either!

Long distance train rides will have allocated spaces for bikes but it can be rather limited, especially during peak travel seasons. You are better off keeping it folded next to you in a bag! With no additional fees.
Carry-on baggage
Some may like to keep their folding bikes with them at all times. To avoid additional security checks, keep your folding bike in an travel bag and as compact as possible. However, this will limit your weight allowance for other carry-on items (such as your laptop).

Some riders claim that despite following the above, they still faced additional scrutiny and in some cases, they were required to check in the suitcase. If you do not want to take that risk, you can opt for.

Checked baggage
Some folding bikes come in sizes that are too large for carry-on. You can definitely fit a folding bike into a large-sized suitcase like this SCI-CON TSA Bike Travel Bag.

There is always a risk of baggage handlers treating your bag horribly and damaging your bike, so it is best to use a hard case over a soft case. Put some tennis balls or some soft cloth where there are gaps in the bag to protect your bike. 
Some countries will ban you from bringing a bike on a bus to free up space but in most countries, you are allowed to bring it, provided that you have your folded bike in a suitcase. In most cases, they will allow it as they will treat it as normal luggage.

Always check the local bus system's rules and regulations before you consider bringing it along with you. If you are lucky, the bus may have a bicycle rack mounted at the front for you to place your bikes!
Just like any suitcase, you can place them in the car's trunk where it is large enough to fit two folding bikes comfortably. Some cars may come with mounted bike racks.
Which Type of Bicycle Is Best For Long Ride?
The best type of bicycle for a long ride is a touring bicycle, a special type of road bike. Its durability on rugged terrains and on-road pavements makes it great for long rides. Touring bikes have a more relaxed geometry design which allows riders to be more upright for more comfort over long distances.
Touring bikes are usually not folding bikes, which brings the next question:
Yes, you can definitely tour on a folding bike. If you would like more stability on your bike, you can always modify certain bike parts, whether it is your saddle or your wheels, to suit your needs. It is a great asset when you can conveniently transform this "luggage" into a mode of convenience!

Also, it will be a great conversation starter when you are touring!
Are Road Bikes Good For Long Rides?
Yes, road bikes are good for long rides, provided that it involves pavements (and not mixed terrain and off-roading). They are usually built for comfort: equipped with drop bars for your hands to easily change grips to relieve pressure and provide high pedaling efficiency to get the most out of your ride.
List of folding road bikes: 
Folding Bike vs Regular Bike
Below are the differences between folding bikes vs regular bikes.
| | |
| --- | --- |
| Folding Bike | Regular Bike |
| Easier storage (can keep in small apartments) | Difficult storage (needs to be kept outside) |
| Better security (you can bring it with you indoors) | Less security (exposed to high risk of being stolen when locked in public bike spaces) |
| More difficult to ride (due to its longer handle post and shorter fork) | Easier to ride |
| Better for commuting  | Troublesome for commuting |
| Less comfortable on long rides (smaller average wheel size from 16" to 20") | More comfortable on long rides (larger average wheel size from 26" to 29") |
| Less fitting frame to body type (limited to certain heights) | Better fitting frame to body type |
| More expensive (range from $ 300 to $ 4,850) | Cheaper (range from $ 100 to $ 3,500) |
..
What Do I Need For A Long-Distance Bike Ride?
You do not need to be really fit to take your folding bike to long distance rides. Imagine commuting to your favorite restaurant 10 minutes away and doing the same route multiple times. Possible, right?
But every long distance folding bike ride comes with a list of items you will need to make sure your ride is enjoyable, stress-free, and painless.


Below are essential resources that I bring in my long distance ride so you can make your ride a fun one just like how I do with mine!
Clothing
One of the biggest problems with long distance riding is the constant friction between clothes and skin when riding. Bib shorts are padded bike shorts that come with shoulder straps so it holds your shorts in place and reduces chafing. 
If you are prone to chafing, you can consider a chamois cream as well.
Cycling jerseys are tight-fitting shirts that are not only more aerodynamic but also less annoying than cotton shirts that flap around with the wind. They come with 3 rear pockets that can fit all your necessary items.
Shield your eyes from the UV rays (and insects) on sunny days with tinted glasses. 
Mitts are honestly my best friend for extra comfort on the handlebar. You will get fewer blisters, fewer sores, and less dirt on your palms. 
To get the optimum performance out of your long distance riding with your bike, you will need stiff soles and snug shoes. Most are designed for clip-in pedals to get the maximum efficiency to generate speed. 
A good windbreaker jacket will keep you well-ventilated, rain or shine. Get a windbreaker jacket that comes with pockets and reflective stripes that will protect you well on the road.
Protect yourself from wind, dust and sun rays with a neckwarmer on colder days. They are elastic to fit most adult head sizes and comfortable under a helmet.


As safe as cycling may be, there may be some unforeseen circumstances, and collisions can happen, especially on the road. Always wear a sturdy bike helmet like this Helmet that is also bright so can be visible at all times!
Bike Tools
Most essential bike tool to remove tires off a wheel.


You should always have a spare inner tube ready in the case of tire punctures. It is the quickest way to fix a puncture especially when you have low visibility. Make sure it is the right size for your tires and valve type for your pump. Standard folding bike tires are usually 16″, 20″ or 26″.
Patches are great fixes on punctures to get your tires going. No one has time for a vulcanizing fluid!
Mini bike pumps are extremely portable and can come in handy. 
An all-in-one tool kit that has all the essentials: Allen and Torx key that fits your bike, a Phillips head screwdriver and a chain-splitter.
Sustenance
Get a large reusable water bottle that will sustain you throughout your long rides. Filling it with plain water has multiple uses: you can wash your hands, cool your head or wash off any dirt or wounds.
You will definitely need some tasty high-energy snacks. I usually bring along CLIF bars. Or some trail mix to keep you going. 
Bring a couple of $20 notes and a card along with you especially when you make a quick stop at a restaurant. And remember to keep safe and together with a secure bag.
Additional items
While you may have scarfs and long sleeve tops to protect your skin, there are parts of your face not spared from the sun. Apply sunscreen and bring a couple of sachets with you whilst you're on the go.
I personally like this waterproof bag that you can clip at your handlebar. You can view your phone visibly as a navigation aid and it is large enough to keep your necessities such as a fast charging power bank, energy balls or snack bars, tire repair kit, plasters and more. There is also another type of bag just for storage that can be attached to your bicycle frame.
Conclusion 
If you are looking to travel around cities this summer, you should consider bringing your folding bikes. They are not only convenient and easy to set up but also comfortable.
Folding bikes are good for long rides definitely, and they can definitely save you money and time as opposed to other modes of public transport. 
You can also bring it for intermodal commutes between train and bus rides but heads up, your sexy bike may get some unwanted attention and curious stares!
Are folding bikes worth it for you? Are folding bikes really good for long rides?  Share your thoughts and experience in the comments below!