Can a woman ride a 24-inch bike – When riding a bike you want to feel comfortable and secure, which makes size a very important factor. 24-inch bikes are the biggest size provided to children, so is it wouldn't be ideal for a woman to ride one?
This article will be exploring the 24-inch bike, determining whether this bike is only suitable for children or women alike.
Disclaimer: Some of the links in this article are affiliate links and I may earn a commission if you click on them, at no additional cost to you. Hope you find the information here useful! Thanks.
Related Articles: 
Understanding Bike Sizes
When it comes to bike sizes, this is measured in a number of ways. It is all determined by the type of bike we are talking about; there is the mountain bike, the road bike and the children's bike.
Whilst a mountain bike is measured through height and the road bike is measured according to the rider's reach and posture, the children's bike is measured based on the size of the wheel.
With a child, it is essential for them to sit comfortably on the bike and for their feet to reach the ground sufficiently – that is why their bikes are measured through the size of the wheel.
The size of the wheel determines whether a person's feet can reach the ground, but does this mean it should only be for children?
Ride comfortably with this Women's Beach Cruiser Bike
Can Women Ride 24-inch Bikes?
So, can a woman ride a 24-inch bike? The answer is a strong yes. Just because the bike is made with children in mind, that does not mean that women can't ride the bike too.
There are certain factors that come into play when designing the 24-inch bike – the height of the cyclist and how the cyclist intends to use it. So long as these are met, an adult woman will have no trouble riding this bike.
What Height Does A Woman Need To Be?
Since 24-inch bikes are primarily made for children, it is essential to consider the cyclist's height. It is true that women have the complete freedom to ride this bike if they choose to but it should first be known their height.
Once this is known, then can a woman decide whether the 24-inch bike is the best choice for them.
In order to determine the ideal height, it is necessary to know the size of the bike frame.
The bike frame can be measured in different ways depending on the type of bike. However, it has been recognized that to ride a 24-inch bike, a woman would need to be 5 feet 4 inches or under.
Why Do Women Opt For A 24-inch Bicycle?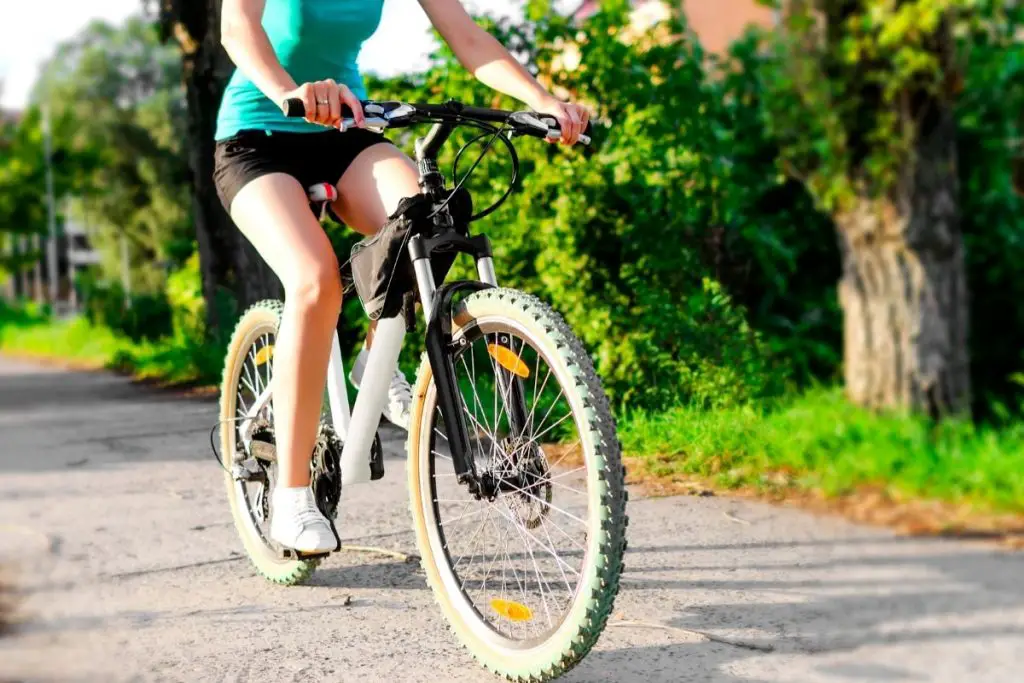 Now, you may be wondering why women would openly choose to ride a bike made for children. There are plenty of bikes out there, so why choose anything else.
Well, the answer to that is simple – there are not enough bikes aimed at adult women. There are bikes for men, bikes for boys, bikes for girls, but when it comes to women they unfortunately don't make the cut.
Simply painting an adult bike pink and adding a basket at the front does not mean it is designed for women.
There is much more to consider:
Height (sitting and crotch)
Weight
Shoulder-to-grip distance
Hips
Hand and feet size
Unfortunately, this is not something that all bicycle manufacturers keep in mind. For plenty of women they will find that their hips are too wide or that their shoulder-to-grip distance is too short. In order to grow, it is important for manufacturers to think of these factors.
However, this does not mean that there are no manufacturers at all who take this into consideration. The reason why women consider the 24-inch bike is because ordinary bikes have little to offer for women, especially for those who are petite or short in stature.
Get one of these Men Women, Comfortable Memory Foam Sweatproof Bike Saddle to ensure a comfortable riding experience
Is It Safe For An Adult To Ride A 24 Inch Bike?
Although a woman is fully capable of riding a 24-inch bike, we should still remember that they are designed for children. Because of this, it shouldn't be considered safe. However, this is not a straightforward answer.
A woman's height may be suitable for the bike but this doesn't guarantee the proportions of a woman. For example, women naturally develop wider hips yet the seats are not designed for this. Furthermore, after a while of riding it could become uncomfortable for women.
But despite this, it can be argued that the 24-inch bike is still safer than a bike too big and designed for a man. At least with a smaller bike a woman can reach the ground, hold onto the handlebars comfortably and ride with ease.
As long as the woman is riding the bike sensibly, is not going too long a distance and feels comfortable riding then it can be safe. However, the factor of safety is all dependent on the individual.
Be safe and vigilant on busy roads with this Rotatable Bike Mirror
Final Thoughts
Overall, women are fully capable of riding 24-inch bikes so long as factors are met. In order to ride a bike designed for children, the woman has to be of a suitable height – this is 5ft 4 and shorter. As well as this, they have to feel comfortable enough on the bike to ride it safely.
The reason why women contemplate the idea of riding a bike such as this one is because of the lack of options provided for them.
Unfortunately, many bikes are made standardly with the measurements of a grown man in mind, so to paint the bike pink is not enough to consider it suitable for women.
A woman's bike needs to be appropriate for their height (women are typically shorter than men). As well as this their feet have to be able to reach the ground and they need to feel comfortable reaching for the handlebars. 
With the average height of a woman being 5ft 4/5ft 5, a 24-inch bike is a reasonable option. However, to be sure this is the right pick for you, visit your bike store and stand above the bike.
By doing this you will be able to know if it is the right size for you. Do not be afraid to ask for advice from a bike salesman.