Portugal's Atlantic Coast boats more than 800 kilometers of breathtaking coastline. Cycling the Portugal coast is one of the best ways to experience its magnificence. 
Bike through vibrant cities, quaint villages, cobbled stone streets, serene pastures, and picturesque views of the Atlantic ocean. 
The route starts in the North of Portugal and the historical city of Porto and ends in the South of Portugal with the beautiful beaches of the Algarve. 
What better way to spend your days off than pedaling along this sunny coastline with pleasant, Mediterranean weather all year round. 
Keep reading and find out all you need to know about cycling through the enigmatic Atlantic coastline of Portugal, our writer Divya has got you covered! 
Summary
Is Portugal's Atlantic Coast Good For Cycling
The Best Time To Cycle Portugal's Atlantic Coast
How long does it take to cycle Portugal's Atlantic Coast
Portugal's Atlantic Coast by Route Sections 
Where To Stay When Cycling Portugal's Atlantic Coast
Best Self-Guided Tours For Cycling on Portugal's Atlantic Coast 
Do's and Don'ts Cycling Portugal's Atlantic Coast 
Road Safety & Signage Along Portugal's Atlantic Coast
What to Pack On Your Cycling Trip To Portugal 
Best Day Cycling Routes on Portugal's Atlantic Coast 
Affiliate Link Disclosure
Some of the links in this article may be affiliate links and I may earn a commission if you click on them, at no additional cost to you. Hope you find the information here useful! Thanks.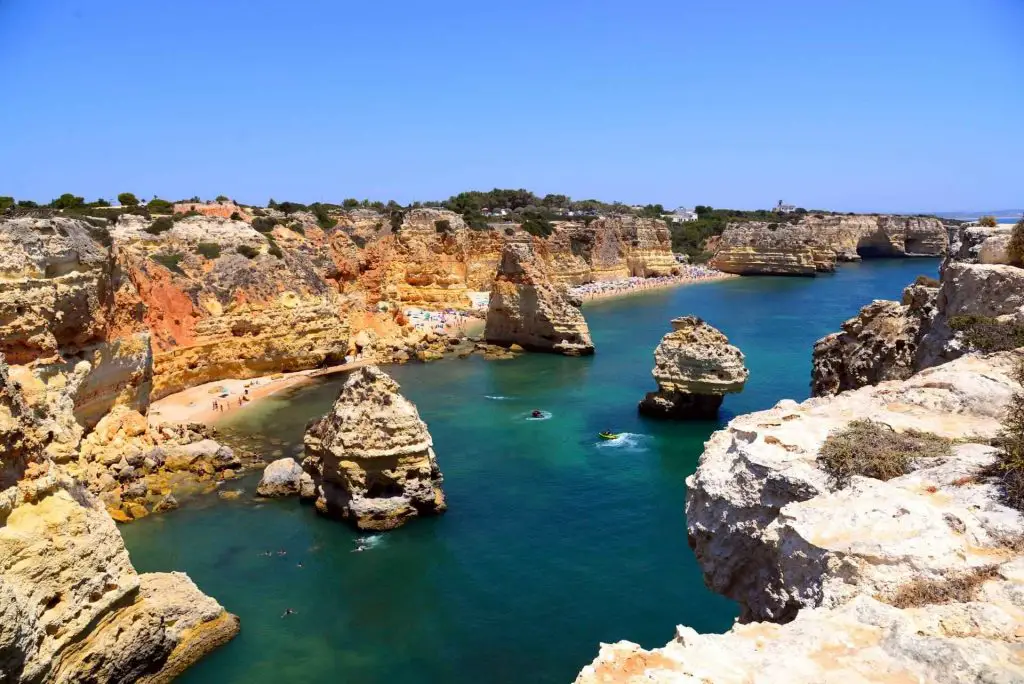 Is Portugal's Atlantic Coast Good For Cycling
Cycling in Portugal is a great way to explore the country and learn about Portuguese living. 
Experience Less Urbanised Parts Of The Region 
By cycling Portugal, you give yourself the opportunity to venture into the less urbanized parts of the region. 
The rural parts of Portugal may fall short in terms of cycling infrastructure like cycle paths. However, backroads from North to South are very accessible and have little to no traffic. 
Low Density of Cars
As most of Portugal's population is situated in the big cities like Porto and Lisbon and the townships right outside of the cities, there is a low density of cars on the backroads.
The rural areas of Portugal have a much less number of residents and so do some parts of the coastlines, providing riders with almost car-free roads. 
Cycle Past Endless Scenic Views 
The Atlantic Coast better known as the 'Silver Coast' offers some of the best cycling in Portugal. 
Pedal past picturesque vineyards and stop by in quaint fishing villages for lovely Mediterranean meals with fresh seafood.  Experience all that the coast has to offer on two wheels. 
Pleasant Weather All Year Round
Cycling the Atlantic Coast of Portugal is hands down one of the most epic ways to travel the coastal regions and you can do it any time of the year. 
The maritime weather in the coastal region of Portugal is great for cycling throughout the year. 
With an average temperature of 16 Degrees and a sunny climate throughout the seasons, this makes it ideal for bike rides. 
The Best Time To Cycle Portugal's Atlantic Coast
Portugal's climate makes it great for cycling all year round. However, the best time to go on an Atlantic Coast of Portugal bike tour in our opinion is during off-peak season (November to March).
This is because the summer months of July and August can be really hot and humid.
If you still wish to cycle throughout the Atlantic Coast, you can space out your cycle tour with more breaks in between so that the heat doesn't get to you. 
Or you can pick to explore a part of the region that is still fairly pleasant and not too hot to cycle. The summer months also have an influx of tourists and the roads will be busier than usual with bars and tour buses.
During off-peak times, cyclists have the opportunity to still have an amazing experience when it's less crowded with tourists and there will be fewer cars on the road. 
In the spring months of May to June, you'll experience the beauty of flowers and crops blooming as you leisurely cycle one of the best bike trips Portugal has to offer. 
The early summer weather is warm and inviting, this is my favorite time to visit. 
The autumn months starting in September and lasting till November are great for cycling tours on Portugal's coast as well. 
It is also when the harvesting season is in full swing, especially in the wine regions of Douro and Alentejo. 
Bike riding in Portugal during the early winter months from January to March is still quite pleasant. 
With sunshine and more frequent rain showers compared to other seasons, nothing a raincoat and some waterproof cycling shoes can't handle.  
The mild winter temperatures on the Atlantic Coasts fluctuate between 16 degrees to 19 degrees, making for a nice, breezy cycle. 
Related Posts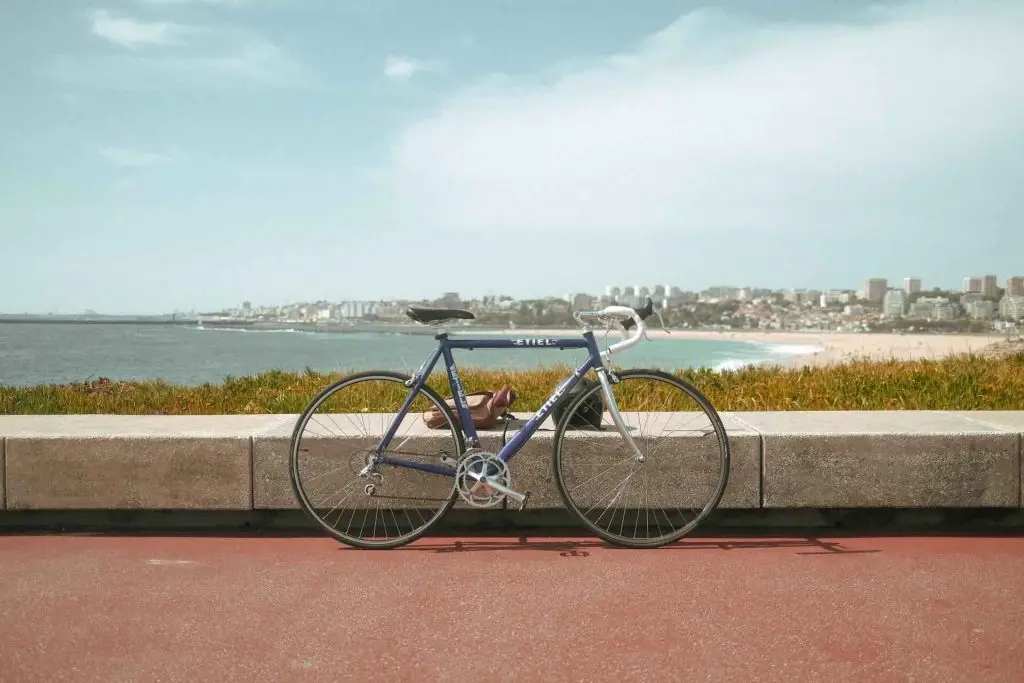 How Long Does It Take To Cycle Portugal's Atlantic Coast
So how long does it take to complete the Atlantic Coast of Portugal bike tour?  
Porto To Lisbon
The most popular silver coast bike tour Portugal has to offer departs in the North from Porto and ends in the South in Lisbon. 
The journey is approximately 400 km, covering around 50 km daily, and usually takes around 7 days to complete. 
However, you can opt to take a longer route that covers Sintra which usually takes 10 days. 
The terrain is fairly flat, it falls under the road-cycling category and mostly follows tarmac roads and cycle paths with occasional hills to conquer. For those who find this strenuous, most tours offer the choice to use e-bikes. 
Lisbon To The Algarve 
If you don't want your biking adventure in Portugal to end in Lisbon, there is always an option to ride further south from Lisbon to the Algarve. 
Cycling past the Algarve is a sight to behold, so don't think twice about moving on to the next phase of the Atlantic Coast. 
Here you can expect to take about 10 days to complete this route with an average of 50 km of daily cycling. 
This route covers roughly around 500 km, however, that is if you opt to go all the way to Faro. 
There are also other versions of this route available from Lisbon to Sagres or Albufueira that take around 7 to 10 days to complete. 
The Algarve To Porto
You may also do these tours the other way round, starting in Algarve and working your way up to Porto. 
This is especially beneficial if you want to also ride the Camino Portuguese from Porto. 
If you opt for group cycling tours in Portugal, you will experience cycling socially with plenty of pit stops for a variety of food and occasional dips in the ocean. 
If you're planning to cover all of the Atlantic Coast I suggest following a small group tour. 
Group tours allow you to have a leisurely ride and enjoy the sights without the hassle of managing logistics. 
They'll take care of the accommodation bookings and shuttle your belongings. You can even opt to sit out on some days if you're too tired as they usually have a support vehicle.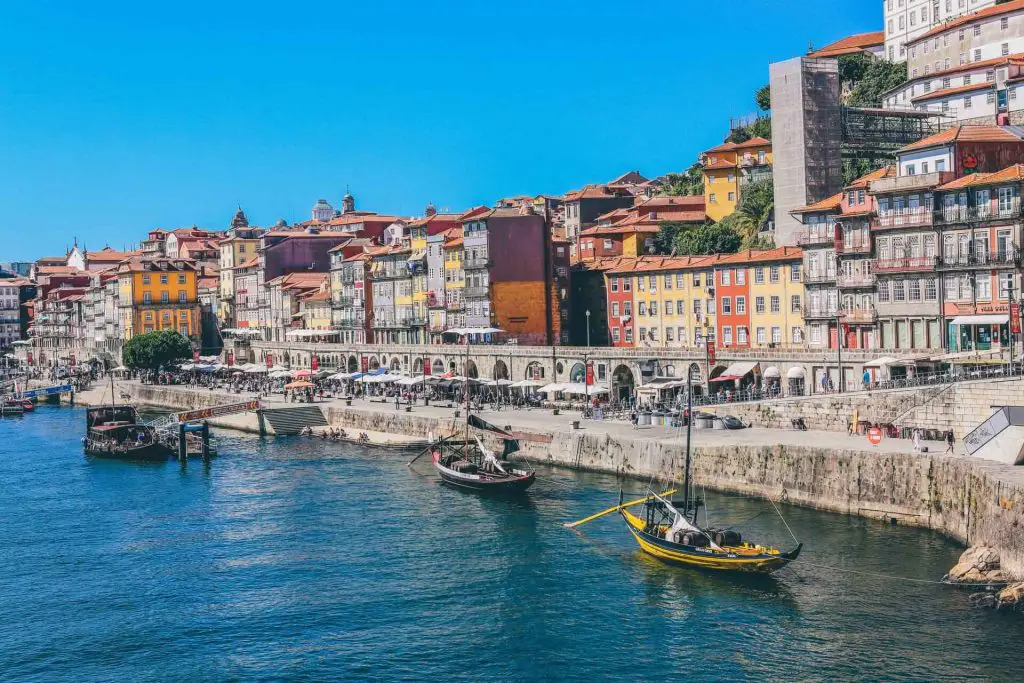 Portugal's Atlantic Coast by Route Sections 
To ride across Portugal's Atlantic coast all in one biking holiday might not be entirely possible unless you have about a month to spare. 
However, you may always do either the popular first half from Porto to Lisbon first.
Or the second leg from Lisbon to Algarve first, it's really about what you want to experience and how many days you're ready to commit to. 
In this segment, we break down the Atlantic Coast of Portugal cycling routes by section and what your itinerary may look like. 
The 1st Section: Porto to Lisbon
As I've mentioned above, there are two cycling routes that you can choose from depending on your fitness level and the number of days you have.
 Both routes start in Porto and end in Lisbon, here is a general itinerary you can expect. 
The cycling tour will begin in the vibrant, historic city of Porto. 
It is known for its Port wine and the city center, Ribeira is a UNESCO World Heritage Site. There are plenty of monumental attractions and cultural experiences to immerse yourself in. 
Day 1: Spend the day in Porto
Spend the first day or a few exploring all Porto has to offer, the city is both pedestrian and bike-friendly with easily accessible and connectable cycle paths. 
Find yourself in Old Town with views of buildings that have traveled through time and a glass of Port wine in your hand. A must-see sight is the sturdy Dom Luis Bridge, constructed in the 1800s, it crosses the Douro River between the cities of Porto and Vila Nova de Gaia. 
As you leave Porto, you'll come across many significant cultural and historical spots as well as places of outstanding natural beauty. 
Day 2: Porto to Furadouro
On the first day of the tour, you'll set out to Furadouro. 
Tail along the Atlantic Coast and pass by many small townships hugging the coastline. 
The ride is flat and easy. Stop by for a swim or to bask in some sunshine before heading to Furadouro for the night. It is a beautiful town surrounded by pine forests. 
Day 3: Furadouro to Aveiro
Next, you'll enjoy another day of easy cycling through the pine forests to get to Aveiro. Take the time to explore the Natural Reserve of The Sao Jacinto Dunes abundant with birdlife before catching a ferry to Aveiro. 
Aveiro is known for its canals, colorful and beautifully tiled houses spanning its streets, and vibrant fishermen's boats better known as Moliceiros. 
Day 4: Aveiro to Figuera De Foz OR Coimbra
From Aveiro, you will travel to the district of Coimbra, you will first travel a distance of 35km to a seafront village called Praia Da Mira where you will be presented with two options. 
The first option is to transfer to Figueira Da Foz via a small boat or ferry. After spending a day at this popular holiday destination, from there, you will continue on to Sao Pedro Moel. 
The second option is to stay an extra day or two and go off the path. Cycle along the Mondego River till you reach the heart of Coimbra, a charming medieval city. 
Day 5: Figuera De Foz OR Coimbra to Sao Pedro De Moel 
Then rejoin the Atlantic Coast cycling path near Carrico that'll lead you through the Pinhal de Leiria pine forest, a royal pine forest built in the 14th century by the reigning king, an area with amazing wildlife. 
Arrive in the pristine town of Sao Pedro De Moel, it's waves are meant to be the best in Portugal for surfing. 
Day 6: Sao Pedro de Moel to Obidos (transfer to Lisbon on day 7 or continue)
From Sao Pedro de Moel you take a thrilling, slightly elevated ride and arrive in a more touristy area, Obidos. It is a beautiful, well-preserved, medieval village with a magnificent castle towering over it. From Obidos, you can choose to take a transfer to Lisbon and end your Portugal biking tour. 
Day 7: Obidos to Sintra 
Or you can choose to take the cycling route to the majestic village of Sintra, a UNESCO World Heritage Site. You will also ride past other beautiful spots where you can choose to stop for the night such as Peniche and Ericeira. 
Day 8: Sintra to Caiscais (transfer to Lisbon on day 9 or continue)
Your last ride will be from Sintra. You will get the opportunity to witness the Cape Roca on your way to Cascais, where you will take a half an hour transfer to Lisbon. 
The 2nd Section: Lisbon to Algarve
This cycling route that'll take you along the South of Portugal starts in the hilly capital city of Lisbon. 
This popular tourist city is rich in history, fine architecture, and Portuguese gastronomy and is surrounded by beautiful Atlantic beaches. 
Day 1: Spend A Day In Lisbon
Spend a day or two taking in Lisbon's captivating charm before you make your way to the wondrous sea-breezed region of the Al garve. 
Day 2: Lisbon To Setubal
From Lisbon, you will ride along limestone cliffs within Arrabida Natural Park and past sandy white beaches across Setubal Bay. Stopping for the night in Setubal, a port town with lovely squares, good local food, and a natural reserve for bottleneck dolphins. 
Day 3: Setubal To Santiago de Cacem
On the second day of biking, you'll first take a ferry transfer to Troia Peninsula. As the Peninsula is pretty much a sandbank, you'll start the day with a flat ride. 
On this ride, pass by Roman ruins, fishing communities, rice fields, and sand dunes as you arrive at Alentejo, where you can stop at Comporta a hot beach holiday spot, for a meal.
From here on out till you reach Santiago de Cacém for the night, the terrain is exciting with lots of ups and downs. 
Day 4: Santiago de Cacem To Vilanova de Milfontes
The next day is not as exciting but is slow and beautiful as you cruise along the Atlantic coast. The roads are quiet with small villages surrounded by forests. Stop for the night at the village of Vilanova de Milfontes, a favorite spot for local tourists. Its cobbled streets and local seafood will capture your heart. 
Day 5: Vilanova de Milfontes To Aljezur
Next, cycle the longest stretch to Aljezur. This ride will be one to remember as you'll be riding across the Vicentina Natural Park and some of the most stunning beaches like Cabo Sardao. 
You'll then cross over to the Algarves as you arrive in Aljezur for the night. Aljezur is known for its sweet potatoes, be sure to try them cooked in a few different traditional Portuguese ways! 
Day 6: Aljezur To Monchique
For your following ride, you'll want to mentally prepare yourself as it is the most difficult due to the elevation, as this route takes you to Foia, the highest point in all of the Algarve. 
However, the views make it so worth it! Descent in the picturesque mountain village of Monchique for the night. 
Day 7: Monchique To Albufeira
Although you'll be going from the mountains to the sea, the route down is fairly flat. Travel to Silves on the banks of river Rio Arade. Make a stop at the Algarve's best-maintained castle where you can have a nice coffee at a lovely cafe within the castle. 
You'll pass by the agricultural village of Algoz and a small but vibrant town of Guia which is apparently where Chicken Piri Piri was discovered. Get your original Piri- Piri fix at Ramires, it is highly rated and claims theirs is the best! Then head down to Albufeira, one of the most popular seaside townships along the Algarve. 
From Albufeira, you can stay on and explore the rest of the Algarve Coast for a few more days or take a train back to Lisbon or a flight back from Faro Airport.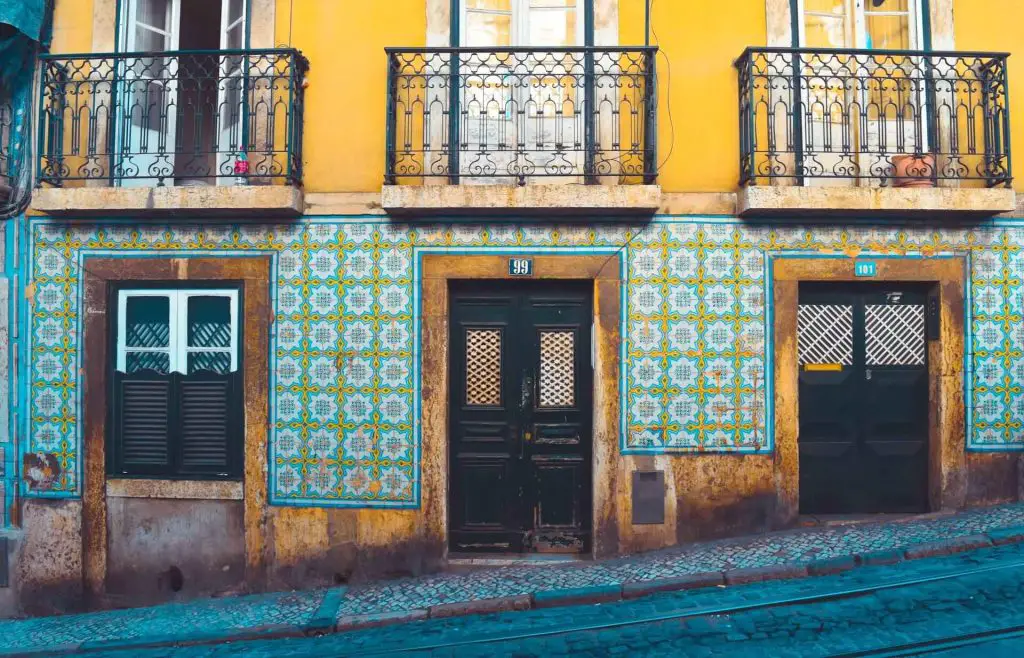 Where To Stay When Cycling The Portugal Coast
From elegant and historic five-star castles to stylish boutique hotels, delightful farmhouses, quaint guesthouses, and budget-friendly youth hostels, Portugal has plenty of variety to offer in terms of accommodation. 
Accommodation here is also reasonable and good value for money in comparison to other parts of Europe. You'll be able to find basic lodgings for as low as $40 a night in any part of the country. 
You may have to fork out more in big cities like Lisbon and Porto, and you can expect prices to be steep in Algarve during summer. Our advice is to make bookings well in advance, especially if you're traveling in peak season. 
Here I've listed for you some of the best types of accommodations you'll find when you're cycling tours Portugal's Atlantic Coast along with some location-specific suggestions. 
Let's start with budget-friendly options and make our way to some of the lavish, upmarket choices. 
Camping 
Camping in Portugal is a great way to travel inexpensively as it should cost you no more than $10 per person a night even in the best locations. There are also plenty of campsites in Portugal to get your camp on! 
The Roteiro Campista has all the information you need on the campsites in Portugal. A number of campsites require an international camping card for access and benefits, and it also covers third-party insurance when camping. 
It is legal to camp outside of designated campsites, however, it is advised to find out locally if you can camp in a specific area. 
One of the best campsites in Albufeira, Camping Albufeira is open throughout the year. It has facilities such as swimming pools, a playground, and even a restaurant and bar on site. 
This campsite in Portugal is located 1.5 km from the city of Albufeira. It is open all year round, and from July to September you can use a swimming pool with a children's pool, playground, tennis court, restaurant, bar, pizzeria, and a disco.
Youth Hostels 
There are over a hundred youth hostels scattered throughout Portugal. Most of these hostels are conveniently located near tourist attractions and have amenities such as wifi, cafes, bars, and bike rentals. 
Hostel rooms provide basic facilities, however, at some hostels, you can get family rooms or book a whole apartment unit. The prices at hostels vary between $14 to $20 a night depending on the season, location, and facilities available.
Lisbon is home to many centrally located, well-equipped, and well-designed Youth Hostels such as Home Lisbon Hostel and Yes!LisbonHostel. 
Guesthouses 
Guesthouses, also known locally as 'alojamento local' are often situated in cozy and comfy townhouses. 
These usually come with en-suite facilities and sometimes breakfast. In smaller villages, you'll also find 'Bed & Breakfasts' where you can rent a room in a private residence. 
The prices for these types of lodging are around $50 a night on average for a double bedroom. Each room's facility and the quality can be quite varied, it's best to see pictures or get in touch with the premise's manager before making a booking. 
Situated across the Douro River, 1982 River House is a quaint guesthouse overlooking picturesque views with rooms set in a classical design with beautiful stonework. 
Hotels And Resorts 
Portugal has a range of hotels, from one-star hotels with basic facilities that start at around $40 to luxury resorts and all-inclusive resorts that can cost a fortune. 
You get good enough facilities at around $80 to $100 a night at 2 or 3-star hotels. Air conditioning and heaters, satellite TV, ensuite rooms, swimming pools as well as a decent breakfast spread will usually be available.
There are also many beautiful inns and boutique hotels with a historic vibe that you can opt to stay at. Prices can be either very reasonable or high, depending on the location and facilities offered. 
One of the best wellness resorts and spas in Portugal is Quinta Da Comporta, situated in Comporta just an hour's drive away from Lisbon. 
Villas And Apartments 
If you're going in a big group while cycling the Portugal Coast, it might make more sense to book up a whole apartment or self-catering villa. From one-bedroom units to six-bedroom villas with pools and garden grounds, most tour operators can assist you in booking a place. 
However, some of these premises may have a minimum rental period. 
Aveiro Rossio Apartment is a 2-bedroom holiday apartment with charming city and river views.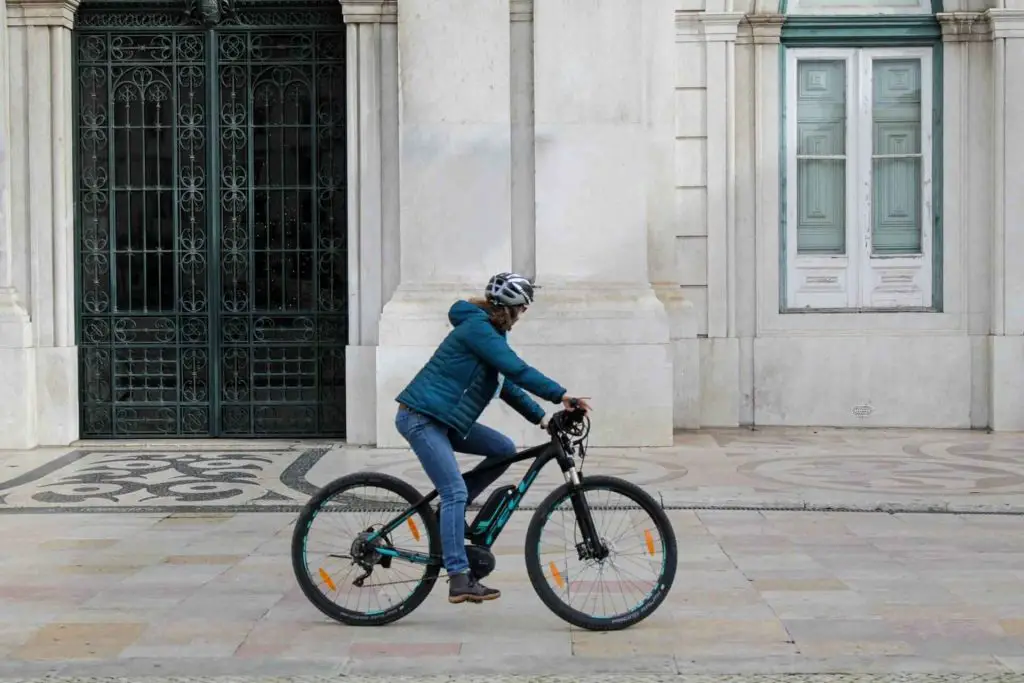 Best Self-Guided Tours For Cycling The Portugal Coast
The best types of bike tours Portugal has to offer are fully-guided group tours and self-guided tours. 
If you do not want the hassle of planning your travels or if this is your very first biking rendezvous and you're riding solo, it's better to go on a fully-guided tour. 
However, if you're a well-seasoned cyclist and have a thirst for adventure, opting for a self-guided tour is great. 
It isn't as rigid as a fully-guided experience and it is not as daunting as planning the whole trip on your own. 
Plus it can be pretty overwhelming to navigate Portugal cycling routes on your own if it is your first time in the country. 
Self-guided trips are planned out for you by bike tour companies. 
You'll have access to a GPS unit, support, and handling of logistics by the tour company. The great part is you have the independence and flexibility to explore at your own pace for a lesser price. 
Here are the top 3 self-guiding cycling tours Portugal-focused that are worth mentioning. 
Portugal Bike Tours is a popular biking tour company that has cycling tours that run throughout the country for all levels of fitness. You can also rent bikes including e-bikes from them. It is highly rated on Tripadvisor and has a Traveller's Choice badge. 
For cycling the Portugal Coast, you can opt for several of their self-guided tours, the easiest one is Along the Silver Coast. 
There is also The West Coast & The Algarve that covers Lisbon to the Algarve region. 
Responsible Travel is another great option although non-local, for guided cycling tours Portugal-focused.  
They have two self-guided cycling tours that you can choose from for cycling Portugal's Atlantic Coast, or you can do both. There's one from Porto To Lisbon and another that explores the Antelejo and Algarve regions. These tours were both highly rated on the website. 
With each self-guided tour, you have the option of renting bikes & e-bikes. You will also be provided with airport transfers, luggage transfers, accommodation bookings, maps with backup service, and area descriptions. 
The other great thing about choosing this tour provider is that you know that you'll be 'traveling responsibly'. 
The company makes it a point to ensure every holiday that is curated by them respects local cultures, follows government policies and guidelines, and minimizes negative impact on the environment.
This last tour provider has been organizing cycling holidays for 30 years in Europe. They have an 8-day self-guided tour from Porto to Lisbon that that are highly recommended on their site. 
Euro Bike's self-guided tour is for a minimum of 2 individuals and takes you across mostly flat coastal paths. 
Do's and Don'ts Cycling Portugal's Atlantic Coast 
To ensure your adventure of cycling the Portugal Coast is an enjoyable and safe experience, here are a few do's and don'ts to get you by. 
Go Digital 
When it comes to maps, having a printed copy can be useful for an overview of a region or to familiarise a route. 
However, that shouldn't be your only copy of a map. 
Cyclists should not be dependent on printed maps as these maps are often inaccurate, obsolete, and lack detail. 
For accurate navigation in real-time while cycling the Portugal Coast, you should use an online map app that is downloadable to your phone or get a GPS unit. You need these to link you to the back roads and hidden cycling paths. 
Recently, Google Maps has been updated to provide accurate directions and cycling routes Portugal has, so that is a great free option you can use. 
Speak A Little Portuguese 
Learning just a few basic words and greetings in the country you're visiting is never a bad idea. 
In Portugal, predictably so, Portuguese is the local's first language, and outside of big cities and touristy areas, many locals do not speak English. 
Knowing a few simple phrases shows that you're respectful of the local language and culture, it will also make it easier for you to communicate when you are cycling the Portugal Coast. 
A tip here is to write down a few important phrases in the 'Notes' section of your phone, which makes it easier for you to refer to. 
Here are a few important phrases to take note of: 
For basic conversations: 
Ola: Hello
Bom dia/Boa tarde/Boa noite: Good morning/ good afternoon/ good night
Por favor: Please
Com licença: Excuse me
Obrigada: Thank You
De nada: You're welcome
For directions: 
Você pode me dizer onde fica…: Can you tell me where is…
Como eu chego ao…: How do I get to…
Qual é a distância?: How far is it?
Do Take Spares 
When going on a cycling tour, you should always have a toolkit accessible to you. 
Whilst biking long distances it can be quite tough to find a bike shop around the corner, there may be long stretches of quiet roads. 
So, carrying a spare inner tube and pump along with a toolkit is the sensible thing to do. 
If you're flying on your own bike, be sure to check if local bike shops will have what you may need in case of an emergency. 
This allows you to prepare beforehand with all the spare supplies you will need on the trip. 
Here are a few highly rated local bike shops you can visit. 
Don't Forget The Paperwork 
This is extremely important, do not ever leave your paperwork in your main luggage or at the hotel. 
If you get involved in an accident or for any reason you come in contact with an official authority, they will likely ask to see your passport.
You should also have copies of your insurance policy with you in the event of an accident. 
Don't Overlook Luggage & Bike Transportation  
Thinking about how to manage to move your luggage and bike around Portugal? 
Well, it isn't something you should leave to figuring out once you're there, it requires strategic planning. 
The easiest way is of course to engage with a tour provider who'll make all the arrangements for you or to hire a bike in Portugal.
However, if you wish to cycle on your own and manage logistics on your own, you'll have to be wary that not all trains and buses will carry bikes. 
Don't Let The Heat Get To You
Portugal is one of the sunniest European nations, so don't be surprised when it gets a little hot and warm, especially in the summer. 
Biking in the heat may cause dehydration, so make sure you're getting enough agua, carry a bottle or two with you just to be safe. 
You may also want to have sweatproof sunscreen, UV protective clothing, and biker sunglasses to protect you from the blistering sun.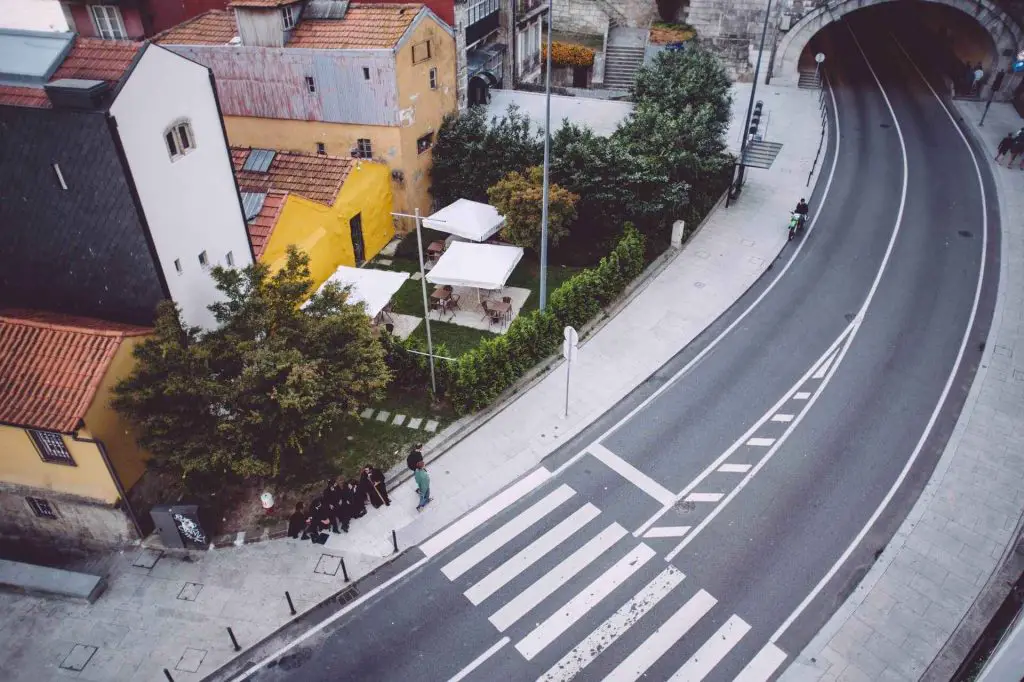 Road Safety & Signage Along Portugal's Atlantic Coast
Long-distance cycling in Portugal is definitely a great opportunity worth doing.  However, the cycling routes across the Atlantic Coast are varied and involve a lot of road cycling. 
In most cities, there are dedicated bike paths, but there are no designated routes for getting in and out of the cities. 
In the less urban areas, there are no cycling paths and the terrain can be pretty unpredictable. 
There are a lot of cobble-stoned paths that will make for some rough cycling too. Biking routes such as the EuroVelo 1 are not very well developed and lack signages. 
When it comes to road cycling in Portugal, there are a few things to take note of. 
Portugal may have worrying road accident statistics, however, it is not really much cause for concern. 
As a lot of your cycling is going to take place on country roads, the challenges you'll have to prepare yourself for are road conditions, cycle repairs, and your next meal. 
Nevertheless, to keep yourself safe, make it a point to always wear your helmet even though you're not required to in Portugal. 
Even if you're just cycling a short distance, it is always best to buckle up. 
It is also a good idea to do a simple check on your bicycle gear before you go on the road. 
Check if your tires have enough air and if your reflectors and lights are working well. 
If you do not have reflectors, invest in one or if renting, make sure the bike has reflectors as it is legally required in Portugal. 
If you're cycling the Portugal Coast later in the evening when it can possibly get dark, wear a reflective vest or bright clothing to increase visibility. 
It also might do you some good to familiarise yourself with bike hand signals to communicate with other riders and drivers on the road. 
In Portugal, road signs follow a system of numbering.
These are not consistent along Portugal's Atlantic Coast, some parts of the region are better than others.
You'll probably come across backroads that have no signs at all so it is best to not rely on signages to follow a route, you may get lost or confused.
 It is always best to use a GPS or a map app to ensure you're on the right track. 
In terms of safety, take note that warning signs in Portugal are often in red or yellow color to warn you of potential danger ahead.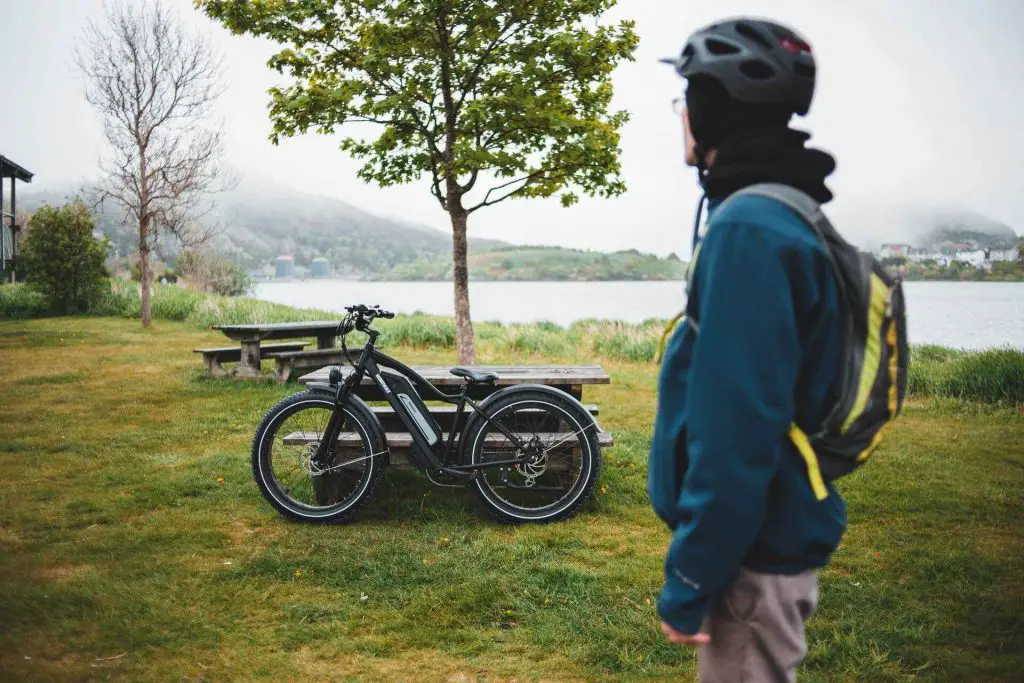 What to Pack On Your Cycling Trip To Portugal 
If you plan on cycling the Portugal Coast it is essential that you're adequately prepared with the right cycling gear, tools, and weather-appropriate cycling outfits. 
Here is a list of a few important items that all cyclists should have on them whilst traveling on two wheels. 
Cycling Gear 
These are the essential bike equipment that you'll need for any bike tour. 
The touring bike is of course the most important equipment you'll need. Whether you're purchasing your own or rent, it is essential that the bike caters to your needs and is durable and comfortable for long-distance cycling. 
Cycling Clothes
When on your trip you'll want to pack clothing to wear on and off the cycle. 
It is best to be practical and pack lightly as your luggage will be moved around a lot or you might even consider riding with a pack. 
Let's cover all the cycling clothing you'll need whilst cycling the Portugal coast.
It is essential to invest in cycling wear as you want to wear clothes and shoes that allow you to move with ease on and off your bike. 
A tip I'd like to share with you is to try out several clothing brands and styles to see what supports your body best. 
Repair Tools 
Before you set out for every ride, it is essential to thoroughly inspect your bike for any wear and tear or possible damages that may need repairing. 
You'll avoid accidents and it'll be easier to find a bike shop in a town or city as opposed to when you're on the go. 
You also do not want to be carrying too many repair tools while cycling the Portugal Coast with you as it may be unnecessary and add on too much weight. 
A tube repair kit is all you need most of the time. However, if you're going to be going through rough terrain it is always good to be prepared. 
Here are some essentials that you may need while cycling the Atlantic Coast of Portugal.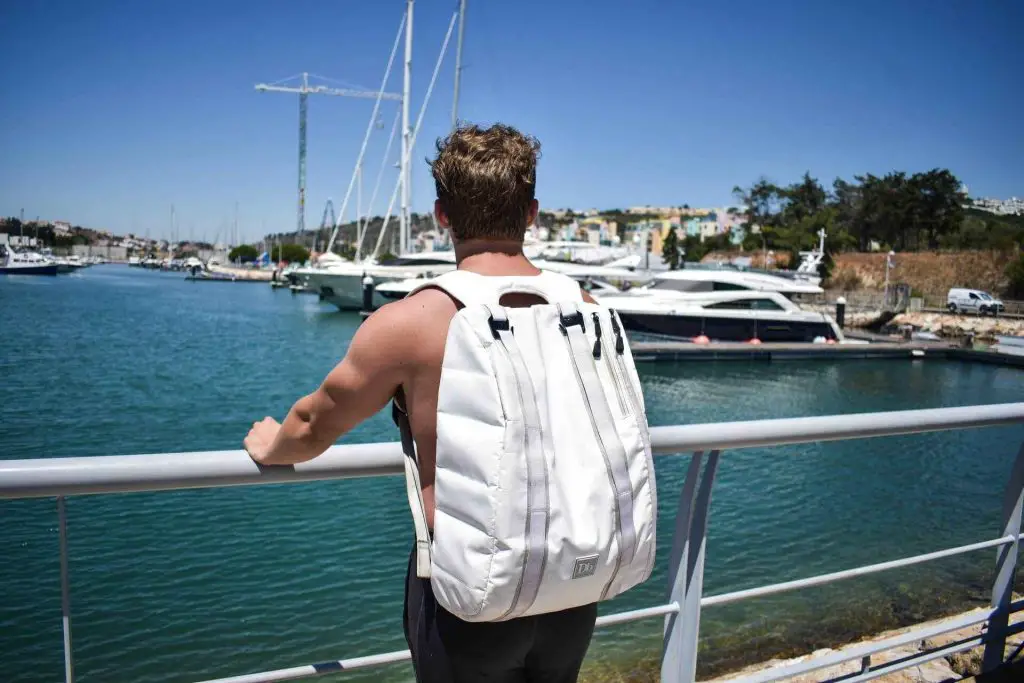 Best Day Cycling Tours on Portugal's Atlantic Coast 
If you're only able to visit Portugal over a few days or do not want to spend most of your time cycling but would still like to have a biking experience, opt for a day tour. 
There are plenty of day biking tours that you can go on during your stay in Portugal. Many of these tours take cyclist tourists to popular parts of the city, nearby countrysides, valleys, touristy seaside towns, and coastal paths from the city. 
Here I share with you four of the best day cycling tours in Portugal. 
This guided tour is operated by Lisbon Cycle Tours and is 3 hours long. This tour is available on an e-bike and is also highly rated on Tripadvisor. 
Explore Lisbon's seven hills on wheels, cycle along cobblestoned streets, and discover old quartets and Lisbon's hidden gems in the Alfama, Chiado, and Bairro Alto districts. 
Enjoy spectacular views from Sao Vincente and visit the charming village situated in the Castelo de S.Jorge, it is also the highest point of Lisbon. 
This guided tour is operated by Lisboa Authentica and is also highly favored on Tripadvisor. It is a 7-hour-long tour that takes you to the enchanting town of Sintra which is filled with shrines, palaces, and castles. 
You will cycle past the mountains and you have the option to cycle to the westernmost point in Europe, the Cabo Da Roca. Climb up to Peninha Sanctuary and enjoy picturesque views of the coastline. 
This full-day guided bike tour takes place in Pinhao which is in the Douro Valley and is organized by Live Love Ride Tours. It starts with a transfer from Porto to Pinhao where you'll ride on a bike of your choice, hybrid, road, or e-bike according to your pace and guided by local guides. 
Ride across quaint villages and by the Douro River, visit local wine estates and taste exquisite wine and cuisine from the region. 
This 3-hour guided tour around Porto is organized by Bluedragon Porto City Tours. Discover the historic city of Porto with the ease of an e-bike. 
Ride across and make stops at Clerigos Tower, Dom Luis I Bridge, and more on these exciting bike tours. This is the best Porto city tour recommended on Tripadvisor. 
FAQ
Is Portugal Good For Cycling? 
Portugal is a  good country for cycling, yes! It is one of the countries in the Iberian Peninsula and is in the south of Continental Europe. Hence the weather is sunny and the region is mostly dry all year round. 
Is Lisbon Good For Cycling? 
Yes, Lisbon is good for cycling! Lisbon has invested millions in upgrading its cycling paths to  provide locals and tourists with a secure and simple manner to explore the city and all it has to offer. There are many places and even apps that provide bike and electric bike rental services in Portugal. 
Can You Cycle On Roads In Portugal? 
Yes, you can cycle on roads in Portugal. Most of the roads in Portugal are decent and have no heavy traffic. Roads in Portugal have varied surfaces that range from great to quite bad for cycling. The biggest challenge in Portugal for cyclists is its cobblestone roads. 
How long does it take to cycle EuroVelo?
It can take a fit cyclist around two weeks to cycle EuroVelo. However, if you wish to stop for sightseeing and take a ride at a leisurely pace, it can take up to three weeks or even a month.
Is the Algarve good for cycling?
Yes, the Algarve is good for cycling. The Algarve is an excellent region for beginners as well as professional cyclists.  Coast by picturesque landscapes, seaside villages, and the hills of Monchique where it will be especially thrilling for experienced cyclists as the path is highly elevated.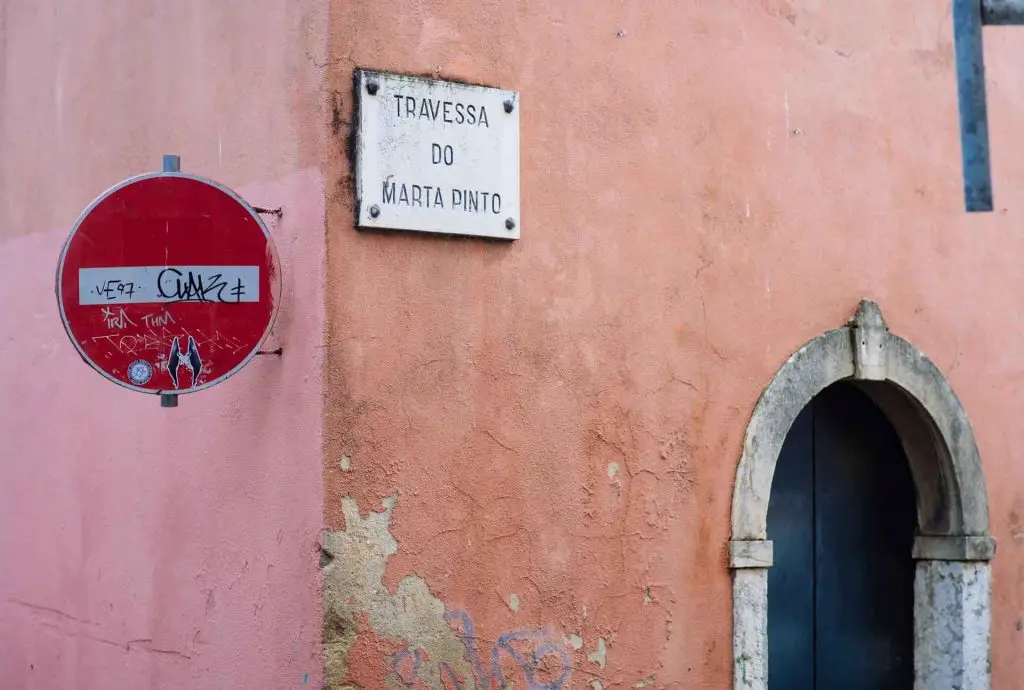 Well, there you have it, everything you need to know about cycling the Portugal coast. 
As you're planning your trip, take some time to explore many of the notable historical and tourist landmarks along the way. 
Also, fuel up on lovely coastal cuisine and local pastries, the food in this part of the world are so worth the calories. Gosh, I'm so excited for you! 
Cycling the Portugal coast is a must for every adventure cyclist out there! 
However, if you don't have the time to cover the entire route, you can tackle it section by section. Or if you don't intend on cycling the whole holiday, just take leisurely day routes on your way. 
Check out some of these articles to help you with bike repairs whilst on tour: 
Cycling the Portugal coast