How much is a mountain bike – Mountain bikes are some of the most specialized bikes available, and their whole design and construction are built to withstand some of the most difficult conditions and terrain a bike can traverse.
Their design and development have come a long way in the last 20 years, and even entry-level bikes are able to withstand a lot more punishment than ever before.
But how has value been affected by these developments?
While mountain bikes have become much more advanced, there has also been a considerable increase in prices, however, there are also several competitive entry-level offerings that allow beginners to get started in the sport without spending a fortune on a bike right at the beginning.
If you're a beginner cyclist looking for something to get you started, or someone a little more experienced looking for an upgrade, we're going to look at how much mountain bikes cost, taking into account the key factors that distinguish them from each other, the discipline of each style of a mountain bike, and how they are equipped/priced.
This will allow us to demonstrate the vastly different cost of each bike, as well as what the more expensive upgrades offer and why some disciplines are much more expensive than others.
Disclaimer: Some of the links in this article are affiliate links and I may earn a commission if you click on them, at no additional cost to you. Hope you find the information here useful! Thanks.
Related Articles:
Mountain Bike Type/Discipline
Entry-level hardtail mountain bikes represent the absolute best value for mountain bikers who want to get started in the sport without investing too much money at the beginning.
These bikes will allow you to build confidence and get used to mountain biking, without any worries about damaging a very expensive bike or component.
They also offer respectable performance for the price, and while they may not last as long as some more expensive options, or be able to handle quite as much punishment, they are a sound choice to get you out on the bike and offer exceptional value.
Almost every major bike brand will offer some form of entry-level hardtail in the 500 to 700 dollar bracket, and as you increase the expenditure here you will unlock slightly better options such as better brakes, better suspension, and a better groupset but the stock entry level componentry is often fine to get you used to using it, as well as tending to your new steed.
These hardtails represent some of the best value mountain bikes, and are capable of hitting almost any kind of terrain except for perhaps the most punishing downhill or enduro tracks.
Hardtails at this price point will offer several upgrades over their entry-level brethren, often including massively beefed-up suspension, better, more aggressive geometry, as well as a higher quality groupset and other accessories such as dropper posts and better wheels and tires. 
Many mountain bike brands offer excellent hardtails, and there is no shortage of smaller brands offering some excellent choices here. It's also possible to find some outstanding deals due to the competition at this particular price point, so keep your eyes peeled for extra value and sales that can make these bikes an even more enticing option for you.
Top-level hardtails can venture into the experimental and extremely niche, often offering state of the art materials and equipment, and cutting edge technology. Expect to see a lot of carbon and titanium at this price point, as well as the most expensive forks and accessories to create the ultimate hardtail package capable of going almost anywhere with confidence and finesse.
Full suspension bikes are some of the most capable mountain bikes, offering better comfort, traction, and downhill speed compared to even best hardtails.
The addition of rear suspension gives a lot more confidence in tackling more technical trails, however adding rear suspension also creates a lot of extra cost.
Full suspension bikes can be found below $2000 dollars occasionally, but these are often souped-up cross country bikes that are competing with hardtails for use on cross country trails, while bigger full suspension bikes are more geared towards all-mountain and enduro riding, which delivers a lot more punishment and requires much more suspension than these lower-tier bikes can offer.
Also, full-suspension bikes require a lot more maintenance and are harder to look after, making them unsuitable for total beginners.
Most people agree that learning to mountain bike on a hardtail will accelerate your understanding of the sport and your control/confidence, but if you do want the extra comfort and performance of a full-suspension bike, you will have to pay for it.
Downhill bikes represent some of the most specialist mountain biking equipment and are built to handle the most extreme and dangerous terrain you can find on the mountain.
As such they are built with massive amounts of suspension in both the front and rear, custom-tuned gearing for maximum speed and control, wide handlebars for extra grip, fat tires and big wheels for durability as well as hugely robust frames to withstand the immense punishment these bikes are subjected to.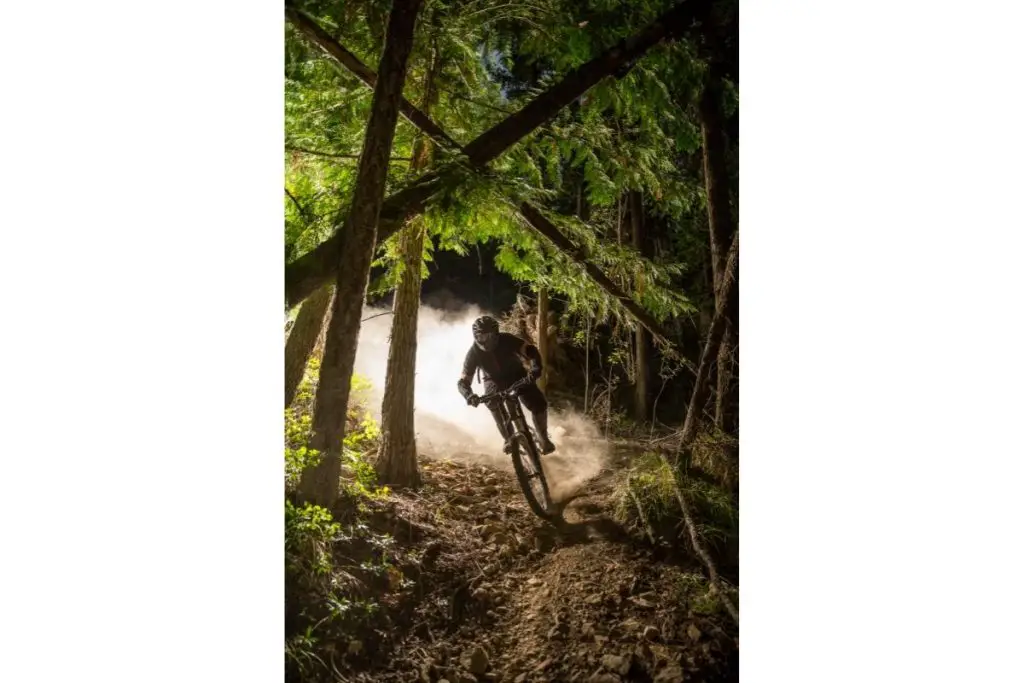 Downhill mountain biking is some of the most difficult biking you can do, and it's incredibly dangerous. These bikes are equipped to handle speeds of over 40 mph over massive rock gardens, huge slippery roots, and sheer drop-offs that would totally buckle most other mountain bikes.
The considerable extra expense of these bikes is down to all of these factors, and you shouldn't expect to find too many good offerings below the 4000 dollar price point.
E-bikes are a brand new phenomenon and have broken out in a big way in the mountain biking space.
E-bikes use a battery-powered motor to help assist or provide throttle to bikers, allowing greater speed both up and downhill.
This allows bikers to ride further and faster than ever, however, these bikes and the new technology don't come particularly cheap, and what's more, there are downsides, such as the extra weight and maintenance these bikes require.
Related Articles:
Final Thoughts
As you can see, the price of a mountain bike can vary quite dramatically depending on what you're looking for. The best way to budget is to think about your skill level. If you're brand new to mountain biking, it's best to go for a less expensive model. This will allow you to practice and take several knocks without too much fear of damaging your bike.
As you begin to develop your skills, you can start looking at more expensive mountain bikes.
How Much Is a Mountain Bike and the Cost of Different Types?