Are Roadmaster bikes good – When looking to buy a new bike you may be surprised to see how many brands of bikes there are to choose from.
It can be a bit overwhelming and you may not be aware of which brands are good and which are to be avoided.
That is why today we are reviewing Roadmaster bikes. We will tell you everything you need to know about this brand, as well as show you some of their best-selling products.
Read on to find out if this bike brand is the right choice for you.
Disclaimer: Some of the links in this article are affiliate links and I may earn a commission if you click on them, at no additional cost to you. Hope you find the information here useful! Thanks.
Related Articles:
Are Roadmaster Bikes Good?
Although the Roadmaster bikes are fairly priced, they may be improved in many areas, most notably component quality.
These bicycles are designed for beginners and casual riders who do not record a lot of daily miles and are indifferent to speed and performance.
So really the answer to this question depends on your skill level when it comes to riding a bike, and what you will be using the bike for.
If you are someone who cycles to and from work every day and also likes to ride somewhat competitively, then Roadmaster will not be a good brand for you to buy from.
If, however, you are a casual rider who likes to go on a quick bike ride on the weekends, then this brand is more suitable for you.
What Kind Of Bikes Do They Make?
Roadmaster makes bicycles that are cheap and can be used semi-regularly. The company's lineup includes mountain bikes and hybrids for men, women, and children.
Additionally, the collection has models with 24′′, 26′′, and 700c wheels that are suitable for riding on a range of terrains.
Roadmaster Bike Sizes
Roadmaster bicycles often come in a single frame size, which is unfortunately impractical for a lot of people.
This is a common occurrence with cheaper brands though, with the affordable steel bikes available on Amazon and Walmart.
Here's A Brief Guide To Ensuring The Correct Fit:
5'4″ – 6'2″ – 26″ Mountain Bike
24″ Children's Mountain Bike 4'8″ – 5'6″
700C Hybrid Bike: 5'4″ – 6'2″
Wheel Sizes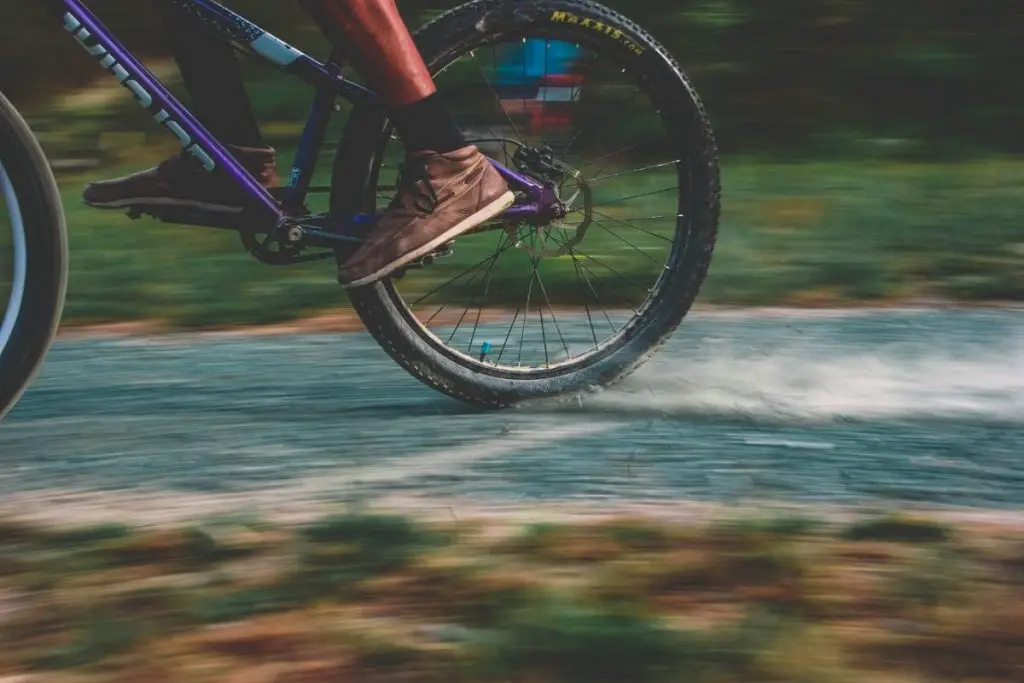 Roadmaster bicycles are meant to be enjoyed by the entire family.
These smart and economical two-wheelers are available in a variety of wheel sizes, including 24′′, 26′′, and 700c.
As a consequence, they are suitable for men, women, and both road and off-road riding.
However, keep in mind that these are budget bikes, and if you're looking for speed and performance, you're better off spending a bit more money on a bike with higher-quality components.
The Best Roadmaster Bikes
Roadmaster's product line includes bikes for men, women, and children.
The portfolio is mostly made up of hybrid and mountain bicycles with step-over and step-through frames, front suspension or no suspension, and a range of wheel sizes.
The brand's most distinguishing trait is its unbelievable value, so let's take a closer look at a couple of the models to see what this discount pricing gets you.
The Roadmaster Granite Peak is the brand's best-selling and most popular mountain bike model.
It's a simple and affordable mountain bike that's ideal for gentle terrain, leisure riding, and short commutes.
Granite Peak is constructed of bulletproof steel and is available in styles suitable for men and women.
The men's model has a step-over design, whilst the women's model has a step-through design, which simplifies mounting and dismounting.
The motorcycle is equipped with 18-speed transmission and simple-to-use grip shifters.
That's an adequate range of gears for climbing minor hills and cruising well on level roads.
Additionally, you'll have front and rear V-brakes, as well as a suspension fork that improves overall comfort.
As well as this, the Roadmaster Granite Peak boasts a roomy, comfy saddle and knobby multisurface tires that can handle both paved and unpaved terrain.
Here Are Some Key Features:
Suitable for riders between 5.4†to 6'2â€
26†wheels
Steel step-over frame (for men) and step-through frame (for women)
18-speed drive train
If you want to persuade your children to accompany you on bicycle adventures, you may as well ride the same bikes.
For example, the Roadmaster Granite Peak mountain bike comes with 24′′ wheels, making it suitable for both boys and girls.
It is available with a step-over and step-through steel frame, as well as components comparable to those found on the adult model.
This bike is best suited to riders aged 8 and up, or who stand between 4'8″ and 5'6″.
The Granite Peak for Kids is equipped with an 18-speed transmission, two V-brakes, and knobby mountain bike tires.
It's a fun, affordable bike that looks great and can take a hammering.
Additionally, it is equipped with a suspension fork that smooths down the ride and minimizes vibrations whether riding on dirt and gravel roads or moderate trails.
Here Are Some Key Features:
Comes in multiple colours
18 gears
24†wheels
If you prefer to ride on smooth city streets and paved roads, a 700c wheeled bike, such as the Roadmaster Adventurers Hybrid, is a much better option.
As is the case with the other Roadmaster models, this one includes a solid and durable steel frame.
However, it is devoid of front suspension, which is fortunate because this feature is not needed on smooth roads and would add extra weight.
It features 700c wheels and smaller tyres, making it perfect for paved highways but also capable of short excursions on muddy roads.
It is composed of 18 gears that may be accessible using simple grip shifters.
Additionally, it has reliable V-brakes, a plush seat, and platform pedals.
You might consider purchasing it if you require a low-cost bicycle for errands, cycling to work, riding around the neighbourhood, or exploring some modest local trails.
Here Are Some Key Features:
700c wheels
18 gears
Steel frame
Summary
Due to the low cost and simplicity of Roadmaster motorcycles, you should keep your expectations in check.
These bicycles are not designed for serious cyclists, but for recreational riders.
We enjoy the concept of purchasing a brand-new mountain or hybrid bike for less than $200.
This low price however has several disadvantages. The frames are hefty, the components are simple, and the aesthetics are ordinary.
Having said that, the majority of people who enjoy riding a bike to commute, run errands, buy groceries, or stay active would appreciate Roadmaster bikes.
We recommend them to novice riders still gaining fitness, as well as casual riders unconcerned with average speeds, Strava KOMs, and centuries.
Roadmaster Bike Overview – Are Roadmaster Bikes Good to Ride?