Are you searching for the best hybrid bikes for beginners? If you are, you've come to the right page! 
The best starter hybrid bikes are the best options for those looking to venture into the biking world – in both on and off-road conditions.
They are also excellent for beginners because they are less expensive than a full-fledged mountain bike and more durable than regular bikes.
When finding the best one for you, keep in mind that good starter hybrid bikes should have suspension, wide tires, low gearing, and upright seating. 
They should also be lightweight, easy to maintain, and affordable.
A hybrid bike is a type of bicycle that combines elements from mountain bikes and road bikes. 
They typically have wider tires and more upright handlebars than a traditional road bike, making them more comfortable to ride on roads or trails with the less-than-perfect pavement.
The first thing you should consider when looking for the best hybrid bike is its purpose. 
A good hybrid bike would have enough gears. 
This is so that you can ride it on any terrain or in any weather condition without having problems with shifting gears, as this can make the ride very uncomfortable for beginners.
Overall Best Hybrid Bike For Beginners: Schwinn Discover Hybrid Bike –  Men and Women
Best Quality Beginner Hybrid Bike: Giant Escape 1 Disc Bike
Best Hybrid Bike For Female Beginners: Marin Presidio 1 700c Bike
Most Affordable Hybrid Bike For Beginners: Marin Fairfax 2 700 S Bike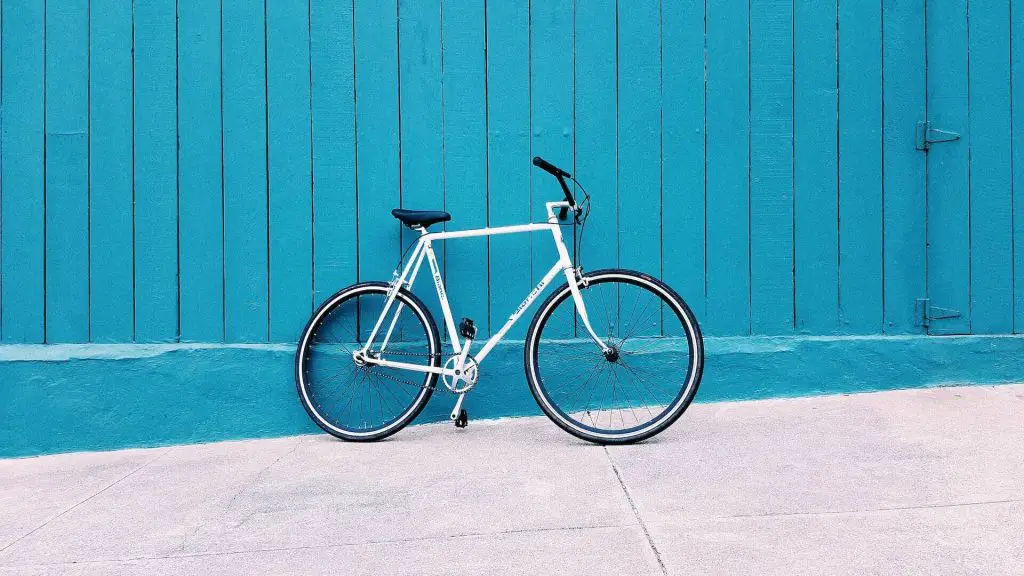 DISCLOSURE
Some of the links are affiliate links, and I may earn if you click on them AT NO EXTRA cost. I hope you find the information here helpful! Thank you!
Related Posts: 
21 Best Hybrid Bikes For Beginners 
My best choice for a hybrid bike at this grade is the Schwinn Discover Hybrid Bicycle. 
Equipped with a lightweight aluminum frame, this pick is one of the best hybrid bikes on the market. 
It has 28-inch wheels and SRAMs 21-speed stick shift, to assist you when you ride down steep hills and for more comfortable longer rides. 
This bike also comes with front and rear fenders that keep the tires dry in rainy weather, making this bike the ideal pick for fun days out. 
The Canyon Commuter 7 is a perfect urban commuter bike in a bike-friendly city. Its lightweight aluminum frame helps it stay rust free and makes it easy to store. 
This good beginner hybrid bike has a nice light feature on its pedals, which makes for safer riding at night, especially in the winter months when it's darker! 
This is now one of the best hybrid bikes, gaining popularity daily among hybrid bike beginners. It also uses an upright geometry that increases the speed you can achieve while out on the road.
If you like the retro look, this sleek, comfy bicycle is perfect for you! With 700c wheels and 7-speed twist shifting, the Schwinn Wayfarer Hybrid Retro-Style Adult Bike is the ideal choice for a beginner hybrid bike. 
The bike also has a rack on the back for storage, and it is priced perfectly for someone who does not want to spend a lot of money on a first bike. It comes with a broader seat, making this one of the best comfortable bikes on the market now. Not only is it ideal for urban biking or for just strolling along your local cycle route, it is also one of the best choices for family riders! 
This bike has a lightweight frame, which can be helpful for people who live in cities and have limited space for storage. This makes it a popular choice for a city-dwelling commuter. 
It is also built for hills and various types of surfaces making this bike the best hybrid you can buy on the market, especially if you're a beginner!
It has a flat bar, solid gearing, and compact frame geometry, making it a comfortable ride no matter where you choose to ride. The bonus for this bike is a lifetime warranty on the frame and forks, and the disc brakes are guaranteed to keep up with your ride. 
If you like a bike that offers versatility, the this Cannondale Quick Disc 4 is one to watch on the roads. With just nine gears and a 700c wheel size, this is ideal for training, riding around town, or an enjoyable off-road experience. 
This new model also makes the frame lighter than ever, especially because they are made from aluminum. 
It also has a built-in wheel sensor that tracks your activities in a phone app, which means you can monitor the speed of the street bike after your training session and set goals throughout the year. 
They also come with 360-degree reflective accents on the bike that ensure you are visibly seen during these darker hours, perfect for commuters who ride late at night.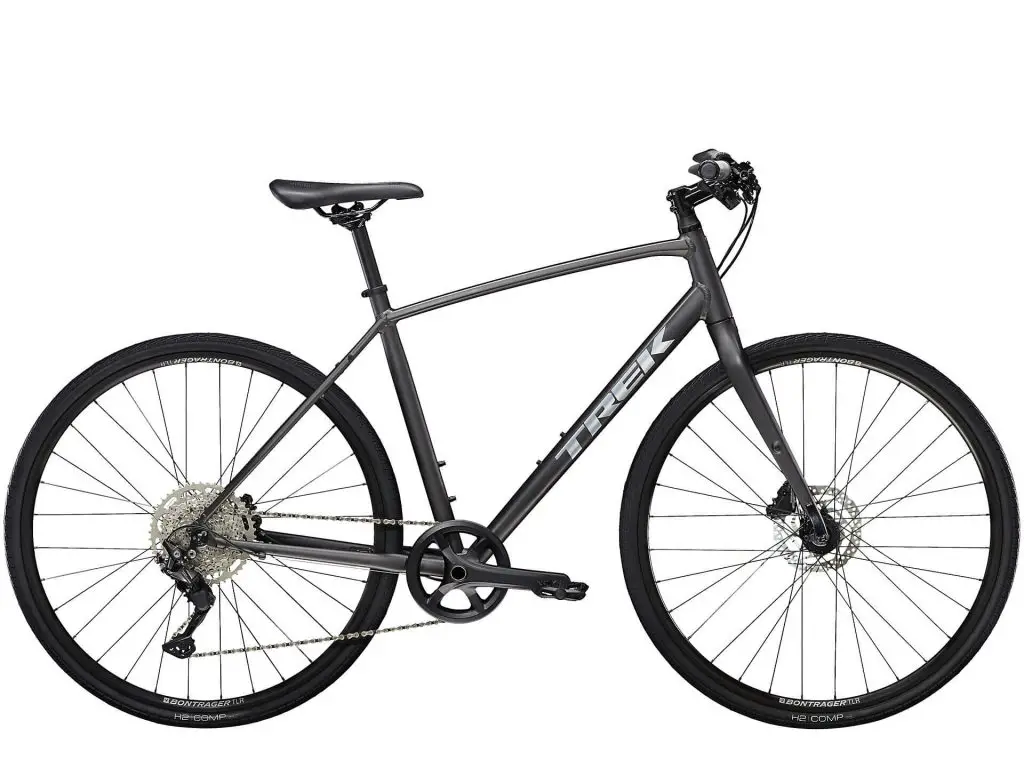 The Trek FX 3 Disc is the ultimate hybrid bicycle for beginners looking for productivity. It features a vibration-absorbent bar that makes riding more comfortable, giving you better control when riding these longer rides. 
It has 700c wheels and the option of having a rear light attached, which can be handy if you spend a lot of time cycling in darker hours. 
The aluminum frame makes the bike lightweight and easy to transport and store. The brakes on the other hand, are Shimano Hydraulic Disc Brakes with a lever, so you can quickly achieve a consistent stopping power while riding your bike.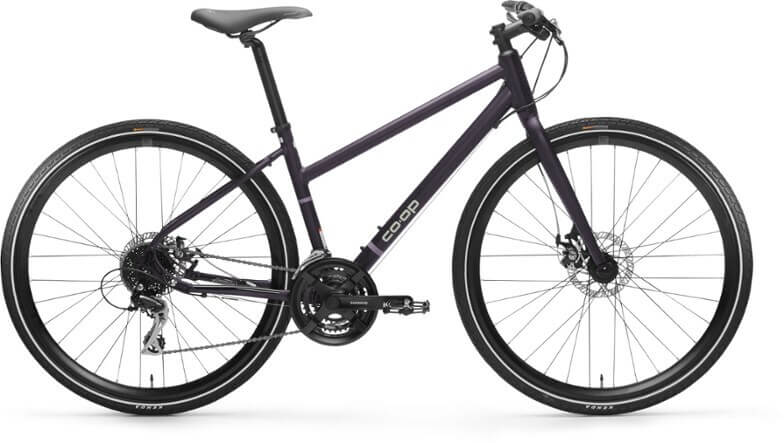 The Co-Op Cycles lightweight CTY 1.1 Step-Through Bicycle is ideal for those on the shorter end of the height spectrum. 
One of the bike's best features is that it has low crossbars, allowing for easier mounting and removal from the bike – making it one of the best hybrids for beginners especially if you're petite!
The seating layout makes it even easier for you to get into that upright position all riders strive to get on their bikes. It also has an excellent gearing selection, with 24 different gear options that can be helpful when you're riding on hills. 
Since it is smaller, it also helps you to speed if you are in a hurry to get somewhere, like work. The Co-Op Cycles CTY 1.1 Bike also offers mechanical brakes and puncture-resistant tires, making it ideal for gravel roads too!
The Marin Fairfax 2 700S Bike is valued at the lower end of the price spectrum, making it ideal for budget-conscious bike beginners. 
It has an aluminum Series 2 frame that is lightweight, cables that are located in the bike frame, as well as an integrated kickstand mount. There is also a Shimano drivetrain to help alleviate any shifting concerns during your bike rides. 
This is a popular choice, especially for anyone looking for a better, entry-level hybrid bike for beginners.
The fork is also made from lightweight aluminum, while the brakes are hydraulic disc brakes for easy stopping power on your rides. The 700c wheels are also puncture-resistant, giving you an easy ride.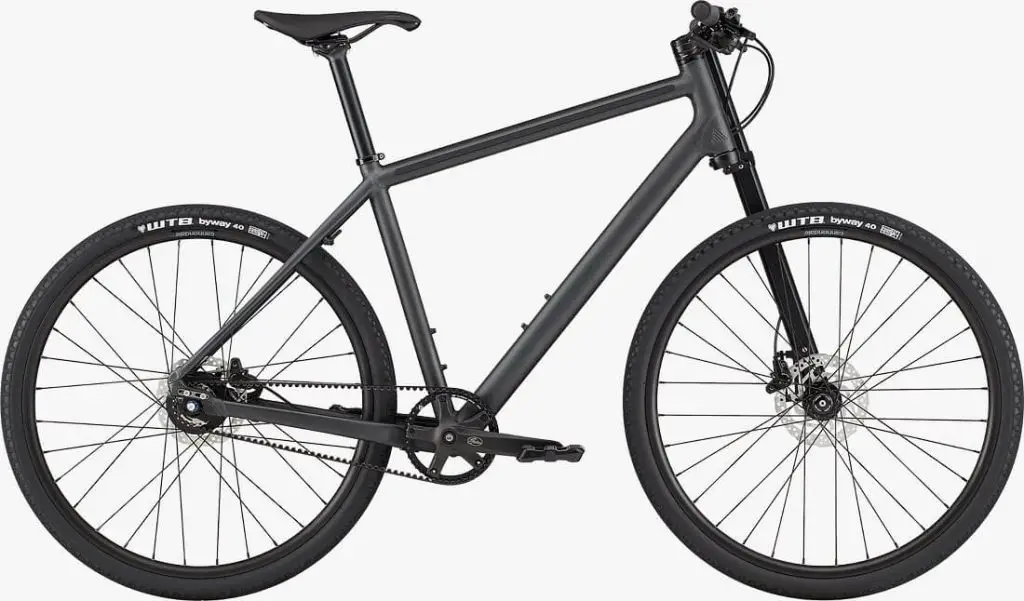 This bike is designed for the off-roader rather than the commuter who stays on the pavement. It has wider tires that help make it easier for the bike to gain friction in rolling roads and can be beneficial during rainy conditions. 
It has a backlight that is already installed, as well as a steel seatpost that will hold your saddle when you ride, making this bike one of the best hybrids for exploring more rugged conditions.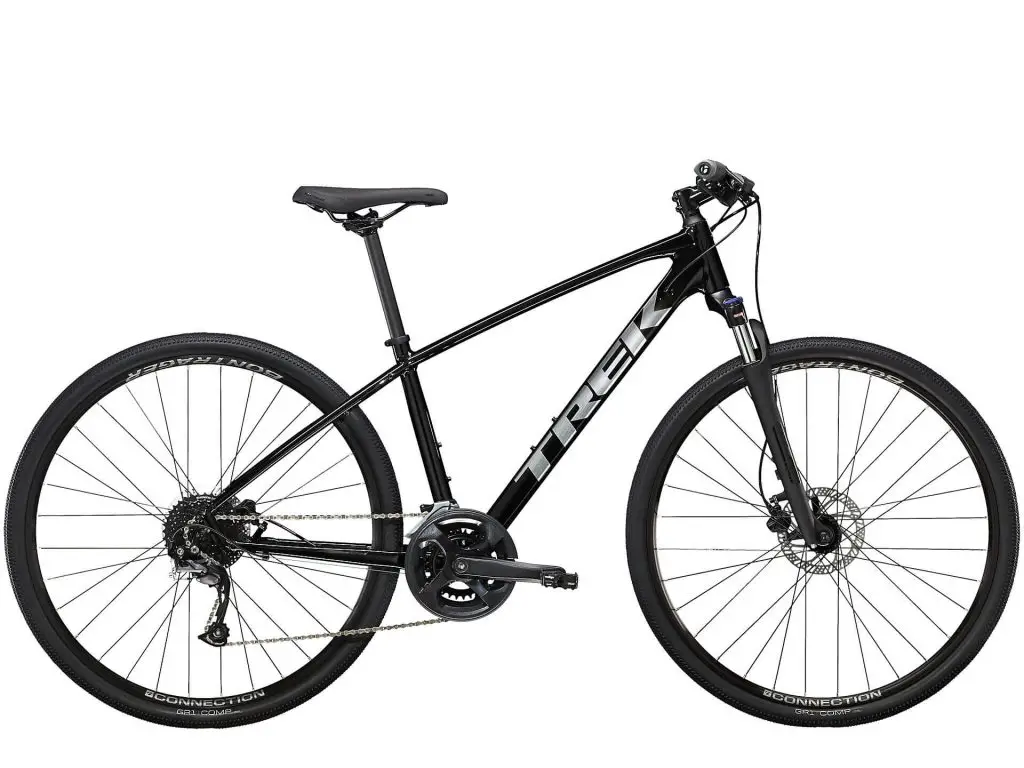 The Trek Dual Sport 2 is an excellent bike for people who want a bike that is easy to ride. It rides great over different surfaces, has a large gear selection, and has hydraulic brakes for added confidence when cycling on the road. 
It is known to be a "go everywhere" hybrid bike for a reason. Pavement and rough, bumpy roads, or bike paths to get you to work? No problem. It can take it all. 
You can even dress it up with different frames, lights, and a water bottle rack, keeping it sleek and minimalistic for you.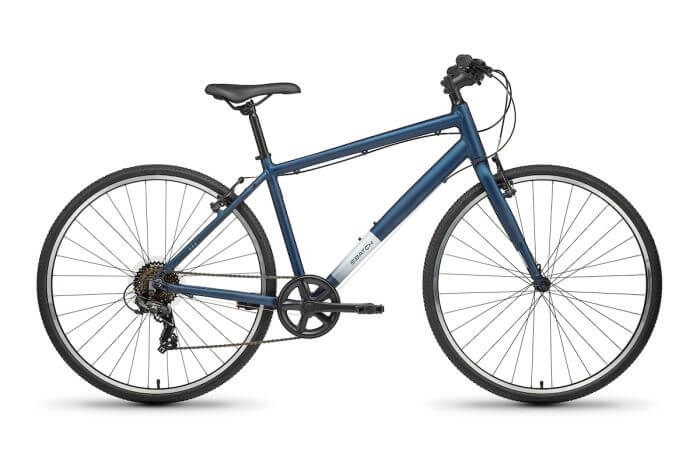 On the more affordable end of my list, we have the Batch Lifestyle 700c hybrid bike. As its name suggests, this bike comes with 700c wheels and flat bars that helps with a more comfortable ride on your bike. 
It also has a 7-speed drivetrain, making it simple for new riders looking to get their feet wet on a bike but unwilling to commit $500. 
This hybrid bike comes with a different brake system than any of the bikes on this list, which are all-out linear-pull alloy brakes, which are the most powerful type of brakes you can put on a bike. 
The frame is alloy as well, with steel forks that are more resilient and flexible, adding to the whys this bike is one of the best beginner hybrid bikes under $500 to ride around the town or your little city!
The Marin Presidio 1 700c bike is ideal for smaller commuters. It is super-low-maintenance and comfortable to ride on those longer rides. 
The aluminum frame also helps maintain this shininess, even after long rides, as well as racks and rack-like footpegs, giving you more space for your work bags. 
Hydraulic brakes make stopping easy, and Marins double-wall aluminum rims perfectly match its 700c wheels. The only downside of this bike is there is no front derailleur if that is something that matters to you.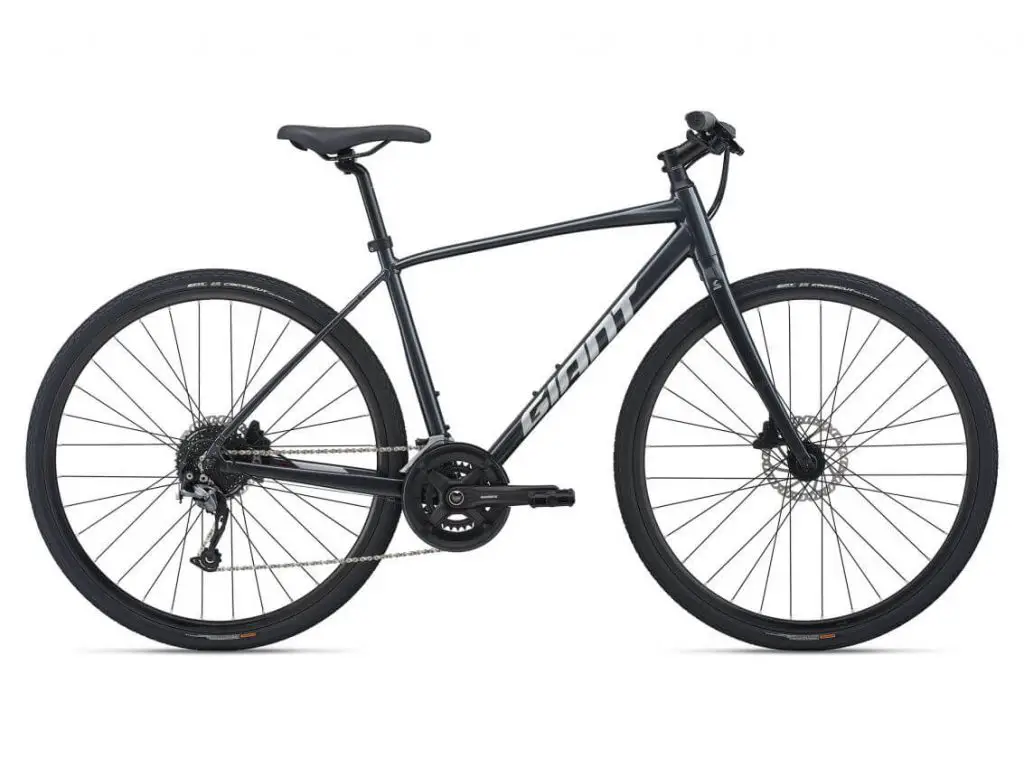 The Giant Escape 1 disc bike is a great way to start a cycling journey. The tires are ideal for all types of weather, and the vibration-absorbent fork makes riding in various conditions enjoyable, especially for beginners. 
This bike is fully customizable, with space for adding fenders and a rear rack, should you desire. There is even space for a water bottle rack so you can stay hydrated throughout your ride! 
The Escape 1 also has the patented D-Fuse seat post, which makes riding comfortably fun throughout your journey.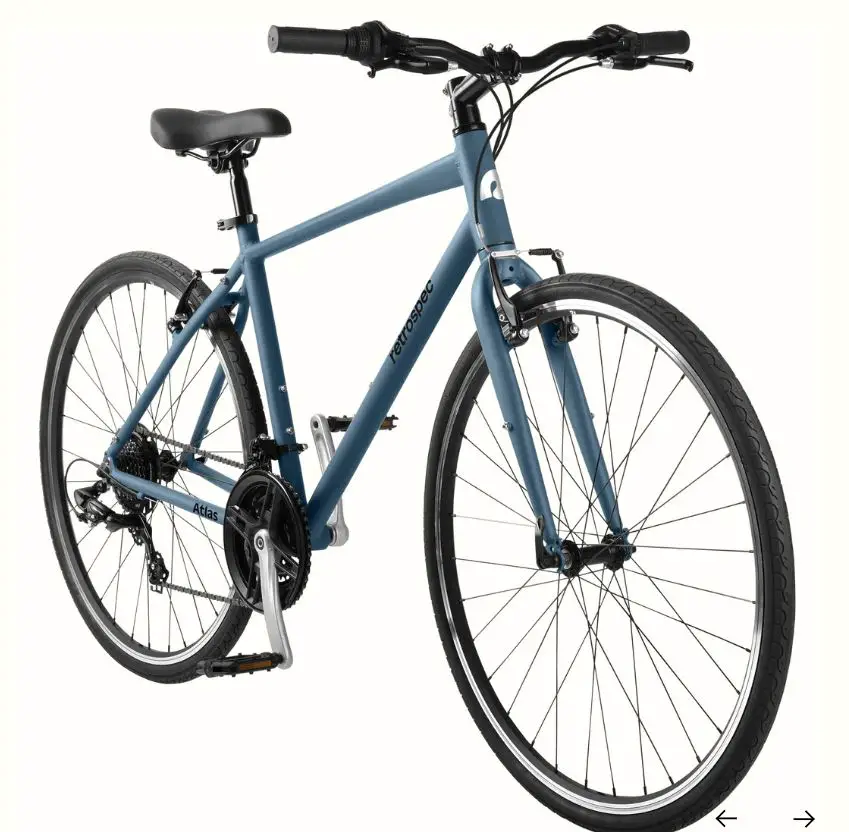 The Atlas Fitness Hybrid Bike 21 Speed is an excellent beginner-budget hybrid bike. It comes in lovely colors and is also made of quality materials. 
The 21-speed, threadless steering system makes it easier for anyone to get an authentic feel of control when riding it on busy urban streets. 
The front and rear derailleur brakes are made by Shimano Tourney and 7S, respectively. These improvements allow for a more fantastic range in gears at much lower efforts, providing an effortless riding experience for hybrid bike newbies.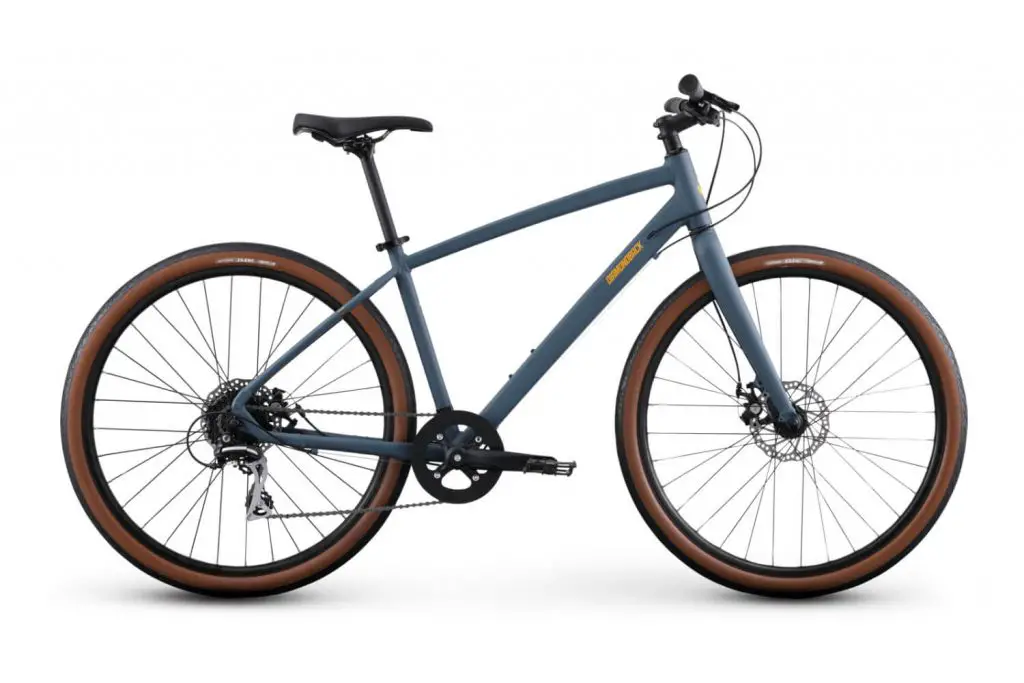 If quirky and fun is your style, then the DiamondBack Division 1 Hybrid Bike is for you. The wider tires make it ideal for different types of terrain, particularly dirt roads and gravel. 
The forks and frame are made of aluminum which makes them sturdy and light, while the brakes are mechanical disc brakes which makes it easier to adjust when you need to. 
It comes with an 8-speed gearbox, but only in the right handlebar so it's easier to control your brakes when you ride.
It is also a very upright bike, which helps with posture by keeping your head up and giving you that proper posture that these bikes demand for a comfortable ride.
The Polygon Heist X5 from 2021, is built with an aluminum frame for durability and Suntour NVX fork that dampens vibrations – an easy ride whenever you need one. 
Especially for riding on rough terrain, the fork makes for an even more comfortable experience, and the brakes provide you with the required control. 
The front bars are made from alloy, and the wheels are dual-wall alloy wheels, giving added strength and longevity to your riding. While the bike is a dirt bike, it is also ideal for commuters looking for styles similar to mountain biking. 
The Poseidon bicycle brand has many excellent options for best beginner hybrid bikes, and one that stands out is the Flatbar X. 
It has a slick design with very high-set saddles to get that upright geometry you are looking for. It is designed to grow with you throughout your cycling trips and comes with a 10-speed cassette to help you find the correct gear to use when riding your bike. 
The Flatbar X is instrumental when dealing with hills and uneven terrain, and it is built using carbon forks which provide vibration damping. 
As its name suggests, it has a flat bar and flat-bar levers to go along with its mechanical disc brakes. It is truly a fantastic adventure bike for those looking for a bit of adventure of their own.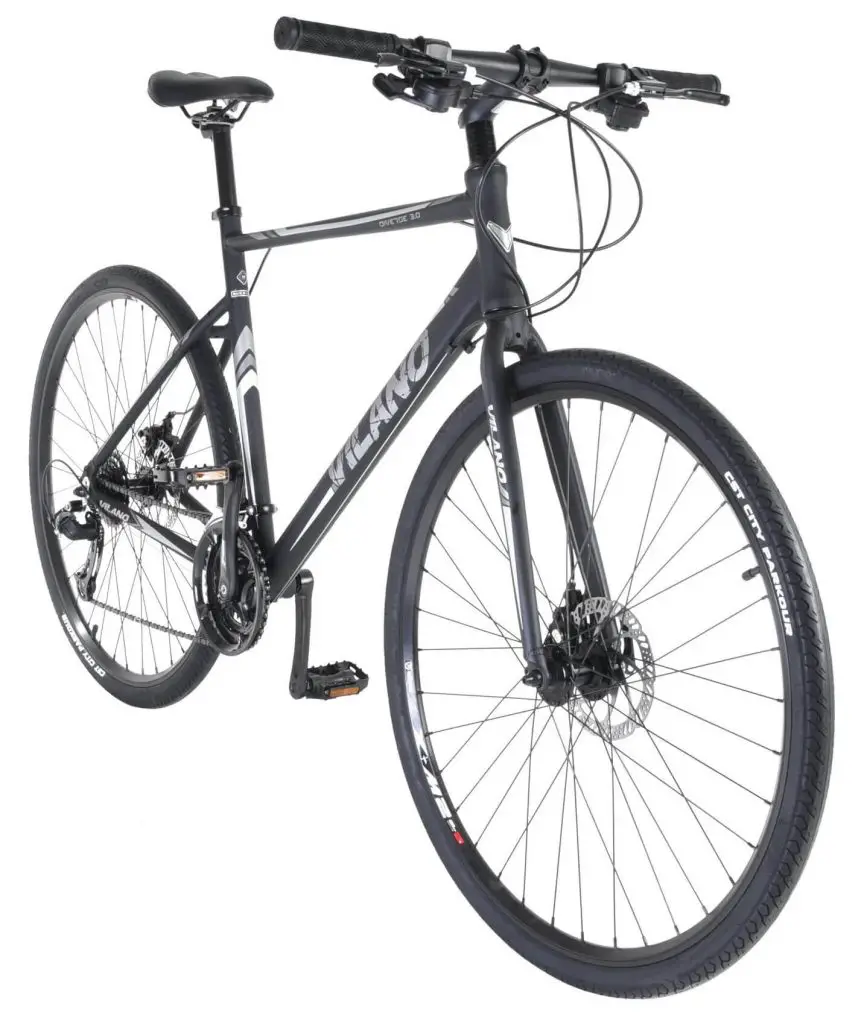 The 24 different speeds that Vilano Diverse offers make zig-zagging around town a breeze while building up the muscles during your training. 
The frame and fork are made of Hydroformed Alloy Aluminum which is lightweight and sturdy, and have disc brakes to provide the stopping power needed. 
This bike build also has integrated mounts for water bottles and platform pedals that make riding easier. The wheels are 700c, and it comes with a flat handlebar for a more upright riding position. 
With the blend of speed from road bikes and versatility from mountain bikes, the Schwinn GTX makes a fantastic hybrid bike for beginners. Schwinn is a trusted brand, and they deliver quality products, too, so you know you'll be in good hands with this one. 
It has a Dual Sport Aluminum Frame and Suspension Fork, which is ideal for all types of rides, and the wheel size is 700c, perfect for taller riders. 
The 21 speeds are also incredible for quickly shifting through gears while riding on roads, and the rear derailleur helps with more precise gear changes on the road.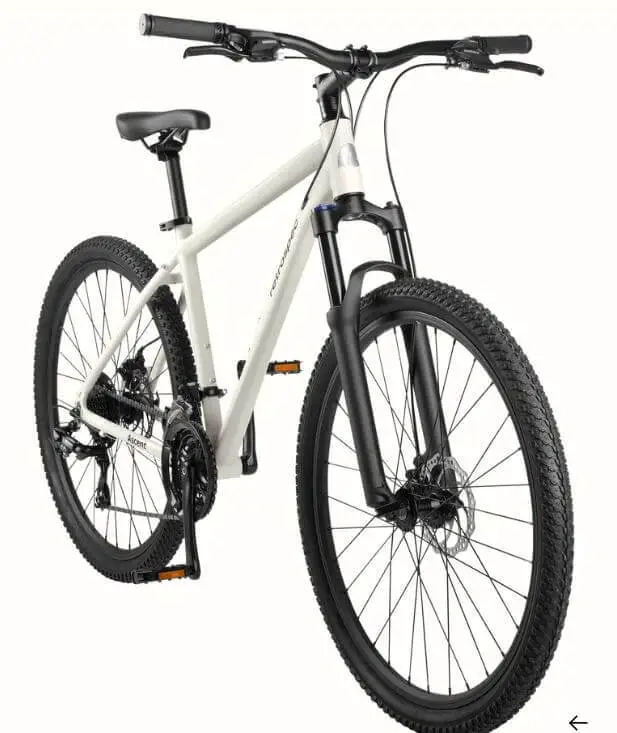 For a sleeker, compact option, you may one to opt for the Retrospec Ascent 27.5 MTB-21 Speed. It offers 21 different speeds and provides a range of options for use as you glide along whatever trail you decide.
On the other hand, the tires on this bike are made from a grippier material, making them highly durable in wet conditions, particularly pavement in rainy seasons.
The frame is made from alloy and comes with threadless suspension forks which soak up impacts. It comes with Shimano Tourney gears and Rapidfire shifters, making it easier for you to shift gears quickly when needed on the road. 
This all-purpose hybrid bike can do anything you think a bike can do. 
Sporting an aluminum alloy frame, this 7-speed hybrid bicycle comes with a solid but comfy ergonomic seat and handlebars. Whether riding it to the office or the grocery store, this sleek hybrid bike is comfortable for all users. 
It comes with 700x35C tires that provide plenty of grip for riding on all terrain. It is also 85 percent pre-assembled, which makes it very easy to put together using the tools provided. 
It is light and comfortable, and the gear shifting is relatively smooth, making it one of the bikes to get the best bang for your buck. 
Features To Look For In The Best Hybrid Bikes For Beginners
A hybrid bicycle is a cross between the best features of a road and a mountain bike – taking the best parts of both and creating one riding machine that can be comfortable on multiple terrains and surfaces.
Combining the best of both worlds, the best hybrid bikes for beginners use only the good parts from both sides to make quick, comfortable bikes perfect for commutes, carrying bags, and getting around town. 
1. Smooth road tyres
Hybrid bikes that are designed for urban riding are typically equipped with smooth road tires and components much closer to road bikes, allowing quick, efficient travel. 
Consider the types of rides you will spend most of your time on, and look for a hybrid bike with features that will help you do what you need to do more comfortably. You may choose to use it for commuting or recreational, or even both! 
A commuter hybrid bike should be a bicycle you use for whatever kind of ride you want. 
2. Lightweight and study
If you are planning on long rides, hill climbing, and working out quite a bit to be fit – and still want comfort but prefer lightweight, sturdiness, and easier climbing, a hybrid is a great choice.
Like mountain bikes, hybrids will feature a more laid-back geometry with flatter bars that put you in a more comfortable, upright position on your bike.
3. A nicely fitted, flat-handlebar-type brake
Good-value and affordable hybrid bikes for beginners often feature a nicely fitted, flat-handlebar-type brake, usually to ensure that you have better ride control. 
4. Wide tyres
Regardless of the bike's wheel size, most hybrids come equipped with 700C wheels and tires. This kind of hybrid will come with slightly wider tires, often with some tread, to provide extra traction for slippery surfaces. 
It also usually comes with gearing, mainly designed to improve the speed of your bike quickly over flat roads.
5. Easy to reach brakes
Brakes on hybrids are located on the ends of flat bars, are easy to reach, and the good thing is,  it will not feel like you need to overreach like you'll have to on a road bike. 
6. Fitted with mudguards and a rear rack
On the other hand, ridgeback hybrid bikes are practical and comfortable. They usually come with a complete set of mudguards and rear rack already fitted, and they are an excellent choice for anyone that wants to utilize their bike as much as they can. 
7. Suspension features and cushioned seat
A comfort bike, however, emphasizes comfort rather than efficiency, with suspension features and cushioned seats that help the bumps go away, as well as broader, taller handlebars that allow an easier-on-the-back-and-neck, upright riding position. 
This helps keep the pain in these areas away! 
8. Top tubes angled down from the front of the bike
Many of the best hybrid bikes also have top tubes angled down from the front of the bike toward the rear. This will add clearance at the top of your feet and should make getting on and off of anything on the bike a bit easier. 
Either way, the controls are located on the bars, directly beside the brake levers, and are easily reached while riding. 
They are so easy to use, and this alone makes hybrid bikes popular among beginners.
Are Hybrid Bikes Hard To Ride?
No, hybrid bikes are not hard to ride! A hybrid bike is ideal for recreational riding; thanks to its upright sitting position and high-pressure tires, it has the comfort of a road bike with the versatility of a mountain bike. 
A hybrid bike allows riders to comfortably pedal a longer distance because of its design that prioritizes comfort, than a road and mountain bike. 
Most hybrid bike models also have grippier tires and stronger brakes, making them perfect for urban biking, longer commutes, and touring. 
They are often equipped with mid-width tires, which feature semi-smooth knobs and provide a comfortable ride on paved roads. However, because they are also wider tires than road bikes, they will also provide adequate cushioning and traction on bumpy trails. 
Some single-speed or fixed-gear bikes can be classified as hybrids. Similar to hybrids; they tend to have wider tires with more tread than their road-optimized counterparts – the road bikes. 
Can You Use Hybrid Bikes For Long Distances?
Theoretically, you can cover long distances more efficiently with a road bike. However, hybrid bikes are versatile and great for more than just long-distance commutes, but they are also ideal for various riding circumstances. 
Because a hybrid bike is so versatile, it is easy to retrofit any model to ride longer distances comfortably. 
Most hybrid bike models are also equipped with knobby tires that are good for trails and strong brakes, making them perfect for urban biking, longer-distance commuting, and touring with the added flexibility of traveling off-road when needed. 
Hybrid bikes are an excellent alternative for those looking to take their bikes out for recreation without the requirement for speed, and instead prefer comfort and steadiness on their rides. 
What Are The Benefits Of Hybrid Bikes?
1. Versatility
Hybrid bikes will allow you to cover all types of terrain with ease. Whether you are looking for a bike to commute to work, to go for weekend rides in the countryside or both, hybrid cycles are a great option.
2. Cheaper commute
Since the hybrid cycle is well equipped to take on the paved city roads, you can also ride the bike to work, saving significant amounts of fuel (and money!). 
Additionally, unlike motor vehicles, cycling does not incur high-end maintenance costs and runs quite effectively for a long time if you take care of your bike and keep it in shape.
3. Eco-friendly 
While your hybrid bike is obviously cheaper in terms of operating and maintenance costs, its most significant advantage is its eco-friendliness. 
There is no carbon footprint generated in riding a hybrid bike. This implies that you are choosing a clean and green mode of transport that will not only help conserve the environment, but also protect the planet and its resources for future generations.
4. Lightweight
Compared to an outright off-road bike, hybrid bikes can be relatively light, maneuvering them is a lot easier, thus improving the rider's ability to ride in total comfort and confidence. 
The lightweight nature of a hybrid will also benefit the rider when ascending, which is an essential factor to consider concerning how easy the bike will feel when you ride it uphill. 
5. Improved physical and mental health 
Riding your hybrid bike daily, whether for a leisure ride on the road or an adventure exploration on the gravel tracks, can bring significant emotional and physical benefits. 
You will reap all kinds of good things – holistic health benefits from improved muscle and joint fitness, mental clarity and a better emotional health.
If you're considering getting a hybrid bike of your own, we hope this list of 21 best hybrid bikes for beginners have offered some insight for you. Hybrid bikes are excellent for daily commutes as well as recreational uses, and are perfect for beginners. 
They are also great for beginners because they are less expensive than a full-fledged mountain bike and more durable than regular bikes. 
With suspension, wide tires, low gearing, and upright seating, they offer superior comfort and easy riding especially for beginners. 
21 Best Hybrid Bikes For Beginners [2022 Update!]