Calling all cycling enthusiasts, are you looking for the Best Hybrid Bikes Under 200 Dollar? 
If you are, look no further – I am going to try and share all the information you may need to find the best hybrid bikes on a budget, and all under $200 too!
A hybrid bike is a combination of a road bike and a mountain bike all rolled into one – which can be used to ride on and off roads.
 It is a versatile bike and can tolerate various riding conditions. 
It is generally used to commute through the city, for weekend trips through parks, and everything in between. It is the perfect bike for the whole family to use!
The features of a hybrid bike are more similar to a mountain bike than a road bike. 
They have wider tires that offer more comfort and stability and handlebars which are more flat and straight, with derailleur gears and discs – similar to a mountain bike. 
All these features may seem like they would come with a big price tag, but we think you'd be pleased to find some of the best cheap hybrid bikes under $200 below for you to choose from, without breaking the bank. 
Without further ado, these are some of the best hybrid bikes we found below $200 that we hope might find their way home to you!
Best Hybrid Bikes Under 200 Dollars
DISCLOSURE
Some of the links here are affiliate links, and I may earn if you click on them AT NO EXTRA cost to you. I hope you find the information here helpful! Thank you!
Related Posts: 
11 Best Hybrid Bikes Under $200 
This all-purpose hybrid bike under $200 is capable of doing so many things; you'll be so pleased with your purchase!
 Sporting an aluminum alloy frame, this 7-speed hybrid bicycle comes with a solid but comfy ergonomic seat and handlebars. 
Whether you're riding your bike to the office or the grocery store, this sleek hybrid bike is comfortable for all users. Its 700×35C tires also provide plenty of grip for riding across different types of terrains and surfaces. 
It is 85 percent pre-assembled, which makes it very easy to put together using the tools provided with the bike. 
Not only does it look great, this hybrid bike below $200 is also light and comfortable, and the gear shifting is relatively smooth for easy handling. 
The Vilano City Bike Men's 7 Speed Hybrid Retro-Urban Commuter  is one of the best hybrid bikes under 200 Dollars that comes with a comfy saddle and suspension fork that will give you an easy, comfortable ride on your hybrid bike. 
It also comes with hybrid/cruiser bars and a matching suspension saddle that will absorb any kind of vibrations you may feel over bumpy surfaces in your seat . 
Riding around the city is going to be fun with this bike. You can go uphill or downhill and cruise on the flats without having to compromise safety or comfort. 
A seven-speed gearbox offers a wide range of gears, while the 700c wheels and 700c x 35c tires increase the versatility of the bike. The alloy brakes also provide excellent stopping power. 
Despite being a sturdy hybrid bicycle under $200 with excellent brakes and a relatively comfortable saddle, this bike does not have any suspension, which can make your rides a little rougher on the roads.
 It is also a little bit heavier than most hybrid bikes. 
Still, it is a good choice for commuters and city bikers that want to get around by bike. It is also an excellent option for bike riders who are looking for something that can withstand some trail-riding or some highway driving.
If you're looking for a retro-looking, cruiser-style bike, look no further than the Schwinn Wayfarer 700C adult male hybrid bike. 
Featuring a sleek, lightweight, comfortable steel retro-styled urban-styled frame and fork, the Schwinn Wayfarer is versatile, rugged, and ideal for city cruising. 
This bike offers a seven-speed twist-shifter with a rear derailleur that gives you fast gear changes when you need them on the road. In addition to this, it also comes with a linear-pull brake that provides real stopping power when you need it the most. 
Pair the riding experience with the comfortable fabric cruiser seat that comes with the bike and light alloy wheels for easy climbing on hills and traversing obstacles. 
A rear rack provides handy storage and a dash of style, and the full fenders will keep you dry and comfortable from rain, mud and snow melt when you're out and about. 
This mens hybrid bike under $200 is also covered by a limited lifetime warranty as long as you keep the bike. Isn't that great?
If you are looking for a great hybrid bike for commuting to work or just around the city, then you won't have to look any further than Kents Springdale Hybrid Bike. 
Featuring a lightweight 6061 aluminum frame and a front 60mm travel suspension fork, this bike will be able to handle everything from smooth asphalt surfaces to rough, even uneven terrains when you cycle. 
This hybrid bike is built to last, with a capable Shimano Touring rear derailleur that helps shift the chain in the sprockets, and 700c alloy wheels. 
Linear-pull brakes and quick-release alloy seat masts also allows you to tailor the bike to suit your height and style effortlessly without breaking the bank.
One of Best hybrid bikes under 200 Dollars you can get is this bike.The Schwinn Copeland Men's Hybrid Bike features a sturdy steel frame, which is capable of handling all kinds of riding, from around your neighborhood to a pedal-road trip. 
This bike comes with dual-sport tires and front and rear hand brakes, which is very useful to help you feel more confident and comfortable on your hybrid bike. 
The Copeland has 21 speeds with special twist shifting and a rear derailleur, making it easy to adjust for your terrain with fast, accurate gear changes. 
The front discs and rear V-brakes provide excellent stopping power across many roads and weather conditions, whereas the alloy wheels that come with the Dual Sport Tires offer you the ruggedness and traction needed for your bike rides outdoors.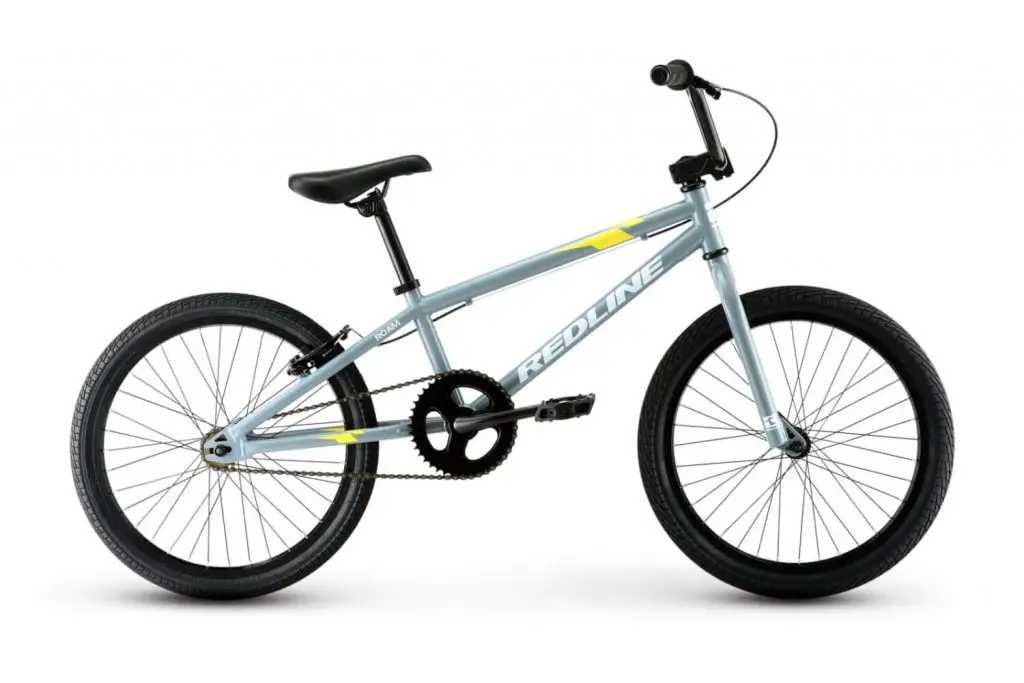 This bike, in particular, is designed to entice teenagers of all sexes and ages. Most teenagers like to ride it slow and fast, up and down, and this bike is made to do just that. 
The stunning colors and perfect frame design for a hybrid bike also makes it a great choice for younger people. 
The wider seating position and the adjustable elevation on the saddle can help improve any height issues you may encounter with finding the right fit. 
Similarly, 20-inch tires suit riders are more suitable for those who are less than 5 feet tall, making this one popular amongst children and teenagers. The steel frame makes it sturdy but still only weighs about 14 kg which is quite light. 
Plus, the wide, upright bars that come with this bike also provide added stability and ease of maneuvering for beginners because with more arched shoulders, riding is better and steadier. 
Overall, the Redline bikes are worth considering if you are looking for a better bicycle under $200.
Perfect for city cruises or longer excursions, the Schwinn Comfort is one the best women's hybrid bike under $200 that is great for anyone looking to buy Schwinn. 
The emphasis of this bike is on comfort, power, and simplicity, so you get some excellent bikes which makes it one of the best bikes for commuters below $200. 
The ergonomically designed steel frame and the wrap-around bars are good for commuting. 
The tires are oversized, giving you a better grip on the road and a more fluid motion, while the lightweight but sturdy alloy wheels compliment the large tires. The 26-inch wheels  also compliment riders who are taller than 5 feet. 
The other major highlight of this bike is the 7-speed twist-shifter— which is a quick, simple way to shift and go in with the wind. 
And, of course, good speed requires good brakes. The front and rear alloy brakes operate via a linear-pull mechanism, providing a nice,  firm stop when you're riding your hybrid bike.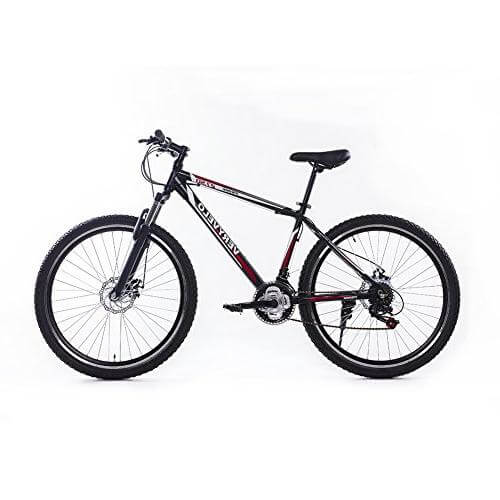 This 27.5"-wheeled bike uses alloy wheels made for riding harder and handling rough terrains. The aluminum frame that comes with this hybrid bike also provides all the necessary strength you will need in a hybrid bike despite it being quite lightweight.
The front shocks in this hybrid bike ensure an undeniable, supple ride, whereas the flat bars add even more comfort for your bike rides.
 This bike also has 21-speed settings, which can be an interesting feature to have for a hybrid bike.
 Imagine, being able to ride your bike at 21 different speeds while getting to work or heading up a hill, quite fun right?
The front-and-rear shifter systems also makes this hybrid bike perfect for tackling rugged mountain climbs without much effort whereas the traction-enhancing tires ensure you have good traction on rough terrains.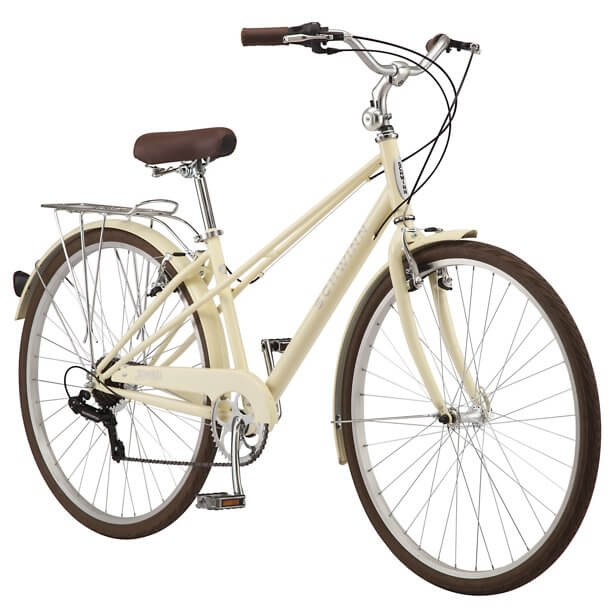 With the Schwinn Hybrid Bike, you can go from pavement to gravel easily and comfortably without having to worry about a thing!
The bike features a 7-speed drivetrain for quick and easy shifting, while the front and rear brakes provide excellent stopping power in all conditions. 
In addition to this, the upright seating position and suspension fork in this hybrid bike also ensures a smooth, comfortable ride.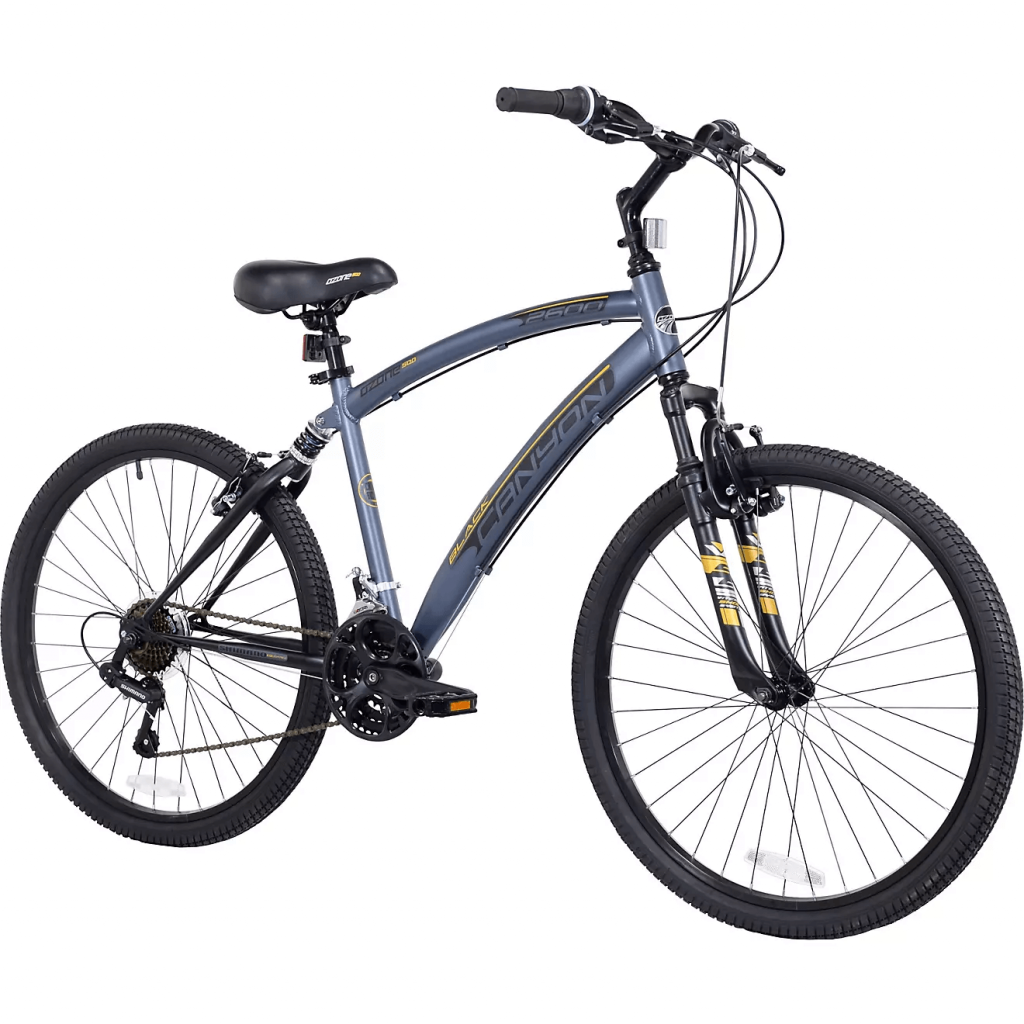 The next best hybrid bikes under 200 is Ozone 500 Black Canyon. This hybrid bike features an aluminum frame with a 26-inch front wheel and weighs just 36 pounds in the rear, making it lighter, faster, and safer than most hybrid bikes.
Front and rear linear brakes provide crisp, controlled braking.
 With 21 gears of on-demand indexing, you can quickly go up and down hills and enjoy pure speed acceleration without putting in too much effort.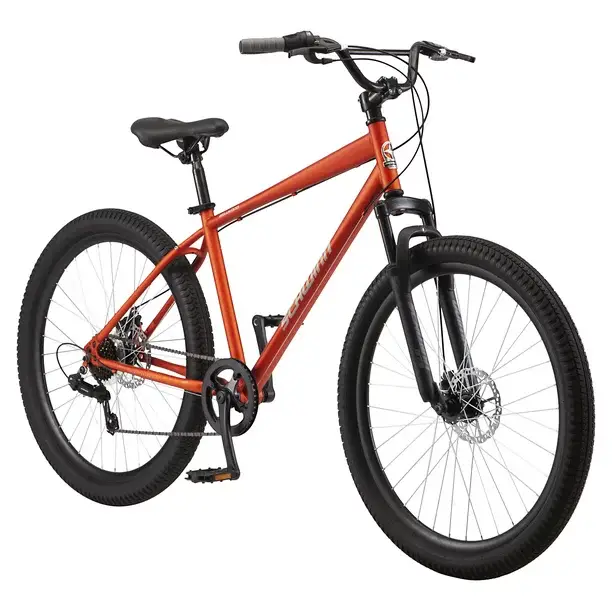 For those looking for a versatile hybrid bike under $200, look no further than the Schwinn Bellwood Comfort Bike. 
It offers a 7-speed twist shifter for a smooth ride over hills and town, whereas the spring seat softens the ride to give you a comfortable ride.
They also come with swept-back handlebars to keep you upright while riding and prevent any discomfort in your back. 
Buying Guide for The Best Hybrid Bikes Under 200 Dollars
Now that we have gone through our best selection of the best hybrid bikes under 200 Dollars,  I'm sure you will want to know why they are the bikes we chose to add to this list.  
It's crucial to remember that the best hybrid bikes under 200 Dollars should provide you with just the right amount of maneuverability, speed, and toughness for the riding you enjoy — and, of course, within your budget. 
Hybrids may not be as great on the road as a road bike, nor is it as great on off-roads as a mountain bike. 
However, if you are inclined to alternate between rocky and smooth surfaces while riding, choosing one of the best hybrid bikes that is affordable is a great decision for your budget and riding experience. 
The riding position on the hybrid is more upright than a road bike, and there is a focus on comfort rather than pure performance like you would find in a road bike. 
The best hybrid bikes — or fitness bikes — are built around a recumbent geometry that requires less effort to ride and designed to maximize comfort, limit differences in speed and handling.
Here are some things to consider before getting your first hybrid bike: 
1. Wheel Size
Hybrid bikes usually come with the standard 700c wheels, which is the best option if you have a limited budget because they come in many types of tires and styles to pick from. 
This makes getting good tires on a budget easier when it's time to replace your standard tires. 
Once you've identified the primary purpose of your hybrid bike – whether for commuting or a weekend recreational machine for your amazing body, you can customize your tires to match your intended use as much as you like! 
2. Frame Material
The frame material is one of the most critical aspects when selecting the best hybrid bikes under 200 Dollars – hybrid bike performance can be highly affected by the weight of your frame and the design impact of the bike. 
There are pros and cons to having either a heavier or lighter bike. The heavier the bike, the slower you will go, whereas if the bike is too light, it may be too aggressive, and the chances of losing control are higher. 
Some standard frames typically used are steel, aluminum, and carbon which are the best material for bike frames for their sturdiness and how light they are. 
3. Suspension
Not all hybrid bikes offer suspension, as it is mainly used for intense riding over rough terrains, especially done with speed road bikes. 
A heavy suspension can make it difficult to control your bike, especially at high speeds and around tight corners so you'll want to be wary of this when purchasing your hybrid bike. 
Despite this, the suspension also makes your bike a lot more comfortable to ride on as it helps dampen the bumps you'll encounter, protecting your saddle and back. Two types of suspension are available for hybrid bikes: 
i. Saddle suspension – is less likely to interrupt your riding style and is easier to control. Perfect for those looking for a speedy bike, minus the jumps on your seat that bumpy roads will give you. 
ii. Front suspension – more suitable for those looking for a smooth ride instead of speed. It also works better if you are a more experienced biker. 
4. Gears
Gears provide flexibility and make it easier to deal with hills and rough surfaces when cycling. However, adding gears may also incur more costs and increase the maintenance your hybrid bike will require in the long run. 
This is because when you add gears to your bike, you also incorporate moving parts that can get stuck or get jammed up in your bike. 
Having more loads on your bike will require more maintenance. For example, the drivetrains will need to be oiled, and chains and other components will have to be changed from time to time to extend the life of your hybrid bike. 
5. Type of Brakes 
There are two types of brakes that you will find on a hybrid bike at this price point. The bad news is that the lower the price of the bike, the more average your brake system will be, but the good news is that you can upgrade it anytime you like. 
i. Linear Pull Brakes 
This brake slows down the bike by applying pressure to the wheel's rim to slow down the bike and bring it to a stop smoothly. 
They are easy to use and do a good job slowing your bike down slowly. However, they're not very helpful on rough terrains and wet weather.
ii. Disc Brakes 
Usually, hybrid bikes in this price range do not offer disc brakes. 
Disc brakes are efficient because they apply pressure directly to the rotor of the motorcycle. This makes them easier to use in all kinds of weather and helps your bike reduce speed more slowly and efficiently. 
Are Hybrid Bikes Good For Off-Road Use?
Yes! Hybrid bikes are good for off-road use because all hybrid bikes can take off-road terrain, including gravel roads and well-maintained dirt paths. 
Some hybrid bikes have more comprehensive gear ranges and broader tires for more demanding trails, but lack suspension and knobby tires that you'll want for a more aggressive ride. 
Hybrid bikes are also great for gravel because most have wide tires that dampen vibrations and strong frames to help you navigate gravel routes more confidently. 
Just so you know, there are very few differences between a flat-bar bike and a hybrid bike in the same price range. 
How To Find The Perfect Hybrid Bike For Your Height
Your height and inseam measurements will help you determine the proper frame size that you will need for your hybrid bike. 
Your inseam measurement is the most crucial because the length of your leg is more relevant to the size of the bike than the size of your torso. 
A hybrid bike that is not sized correctly for your body can cause discomfort and sometimes pain in your neck, shoulders, and back which can be annoying to deal with. 
This is because it is not one-size-fits-all for bicycles – everyone has different bodies and differs in the length of their arms, torso, and legs despite having the same weight and height. 
Are Hybrid Bikes Good For Exercise?
Absolutely, hybrid bikes are good for exercise! Hybrid bikes are perfect for riding around town and traversing across different terrain types compared to road bikes. 
They are also great for improving cardio fitness and strengthening your muscles. 
Hybrid bikes are not typically designed for long-distance riding and speed, but a stroll a day in your hybrid might actually keep the doctor away. 
A hybrid bike is perfect for adding a slight variation to your day-to-day workout as well. 
You can take it out on pavement roads at consistent speeds for long periods of a week. The following week, you can go on local bike trails and bunny hopping over obstacles in your path. Hybrids are versatile and help burn calories, too – what a steal!
Which Brand Is Best For Hybrid Cycles?
Schwinn has a great selection of hybrid bicycles that you can consider. They have a wide range of options for different sizes and uses. Some other brands we'd recommend include Kent, Vilano City, and Hiland Hybrid bicycles. 
Are Hybrid Bikes Good For Hills?
Hybrid bikes often come with a wide range of gears, which assists with going uphill. They are not the best option for rough terrains, but you can use them for easy trail riding. 
The most important thing to consider is your fitness levels and the landscape you'll be going to. If you find riding uphill challenging, then you might need more gears. 
Are Hybrid Bikes Good For Distance?
A road bike will do the trick if you're planning to ride long distances. However, hybrid bikes are also completely capable of taking on long stretches, and you might find them more comfortable too. Hybrid bikes operate more efficiently when kept below 50 miles per hour, so city driving may be a more efficient way to travel.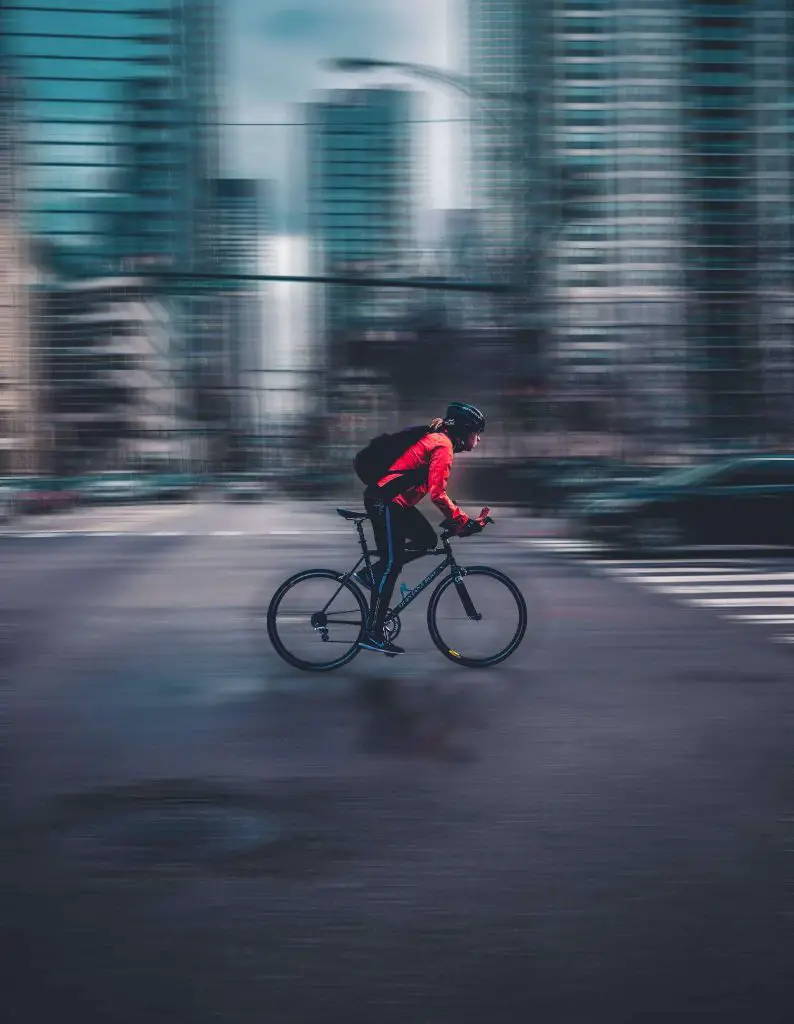 Conclusion 
So there you go! 
We hope this article has helped you find the best hybrid bikes under 200 Dollars and what to look out for before buying your first hybrid bike. 
Combination of a road bike and a mountain bike can be used to ride on and off roads. It is also a versatile bike and can tolerate various riding conditions, that is perfect for beginners. 
This versatile bike that can be used to commute through the city or even for just strolling in the park so you know this is a purchase worth having. 
Good luck!
11 Best Hybrid Bikes Under $200 [2022 Update]