Have you ever wondered, " Why are road bikes faster than hybrids?"
Despite the similarities in design and size, the differences between a road bike and a hybrid may not seem very obvious to the average person. 
However, if you're looking to purchase your first bike and you're wondering if road bikes are faster than hybrid bikes, the simple answer is :YES! Road bikes ARE faster than hybrids!
To the untrained eye, both types of bikes may look more similar than different. 
Road bikes particularly have an extended top tube reach, which is the horizontal distance from the bottom bracket of the road bike to the center of the handlebar tops. 
This helps to lengthen the rider when they're cycling and keep them aerodynamic on their bike rides, especially with smooth, asphalted roads.  
On the other hand, hybrid bikes are designed for comfortable and casual riding, which is helpful for long distances and everyday commutes.
They are generally more satisfied with more cushioning and stability, which can be beneficial for riding for long periods. 
Generally, road bikes are faster than hybrid bikes primarily because of a few factors that make them stand out, such as riding position, weight, and tire width. 
Road bikes are also more lightweight and have frame geometry that minimizes drag and allows for more speed. 
The purpose of your bike might vary, depending on what your needs for the bike are
But if speed is what you're looking for, read on, and I'll tell you more about everything you need to know about dashing into the horizon; with road bikes versus hybrid bikes!
Table Of Contents:
1. Are Road Bikes Faster Than Hybrids? 
2. Why Are Road Bikes Faster Than Hybrid Bikes 
3. How Much Faster Are Road Bikes Than Hybrid Bikes
4. 5 Best Road Bikes 
5. 5 Best Hybrid Bikes
6. How To Make A Hybrid Bike Faster?
7. FAQs
DISCLOSURE
Some of the links here are affiliate links, and I may earn if you click on them AT NO EXTRA cost to you. I hope you find the information here helpful! Thank you!
Related Posts:
Are Road Bikes Faster Than Hybrids?
Yes, road bikes are faster than hybrids due to differences in tire width, riding position, and the bike's weight. Typically, road bikes have lighter frames compared to hybrids, as well as smaller and lighter wheels. 
While these features help them go faster, they can also make them unsuitable for many common biking conditions. 
The best road bikes are built for speed and quick handling across different types of tarmacs. 
Road bikes are your best choice if you plan on exploring different roads and cycle paths or Pyrenean climbs and criterium circuits. 
Why Are Road Bikes Faster Than Hybrid Bikes? 
So, why are road bikes faster than hybrids? There are a few elements that we'll have to consider to find out why speed prevails for road bikes when compared to the latter. They are: 
Stiffness
Weight
Aerodynamics and geometry 
Bars (Flat vs. Drop) 
Gear Ratio
Riding Position
Tires
1. Stiffness
The first on this list is the stiffness of the bike.
 It is important to know that your bike's stiffness directly affects the ability to transfer power efficiently onto your bike pedals and down to the road. 
This can be highly dependent on what type of frameset material you choose.
Basically, the stiffer your bike is, the more powerful it is.  Road bikes are stiffer than hybrid bikes.
For example, the high stiffness to weight ratio in modern carbon frames helps ensure more of the rider's combined power output is applied to generating movement when you're cycling your bike. 
On the other hand, materials such as aluminum or steel used in most hybrid bikes are more flexible. It reduces efficient power transmission, resulting in lesser speed and slower rides.
2. Weight 
Another one of the most crucial factors for speed transmission in road and hybrid bikes is the weight of the bike.  
This is a highly influential factor that affects the bike's speed, especially when you're going uphill. 
There are many factors that determine how light or heavy a bike is, but road bikes generally use lighter materials and components than hybrids. 
More and more road bikes are being built using carbon composites, which are lower in density and have great vibration dampening qualities which is what you need in a road bike. 
Despite being slightly heavier, hybrid bikes are more durable because of the steel or aluminum used in their design. 
3. Aerodynamics And Geometry 
The bike's frame geometry is one of the most important but often overlooked factors that help road bikes be faster than hybrids. 
Normally, the rider's body weight accounts for almost 90% of the aerodynamic drag produced while riding, whereas the bicycle is responsible for the remaining 10%. 
So, what is aerodynamic drag?
 It is a combination of two forces:
 air pressure drag and
 surface friction 
when the air flow that surrounds you is disrupted, it forces the air to separate from the rider's surface, which can slow you down.  
As for bike geometry, you will need to consider two essential measurements in a bicycle frame to understand why it is so important. 
The "stack" is measured vertically from the center of the bottom bracket to the top of the head tube, whereas the "reach" is measured similarly but horizontally. 
Usually, hybrid bikes tend to have a higher stack with shorter reach, allowing for a more upright position when cycling and a comfortable ride. 
On the contrary, road bikes have a shorter stack and more extended reach that allows the rider to take on a lower and more stretched-out position over the bike, similar to the kind of postures you find in bike racers. 
A leaned forward position on a road bicycle frame reduces the friction at your frontal area, resulting in lower drag when cycling, making the rider go faster on a road bike versus the hybrid bike. 
4. Bars (Flat Vs. Drop)
The handlebars are probably the most obvious difference you can find visually between a road bike and a hybrid bike.
 Apart from the looks, it plays a big part in the aerodynamics and the speed difference between the two bikes.
You'll often find road bikes with drop bars, which curve to the side, usually lower and narrower than the straight bars you'll find in hybrid bikes. 
It allows the rider to tuck their arms and shoulders in, and into a more efficient position that is aerodynamic to help them go faster. 
On the other hand, hybrid bikes often come with wide flat bars meant to provide greater control at lower speed and comfort. However, the rider will have to take on a wide position with open shoulders and arms while sitting upright, which is not aero friendly.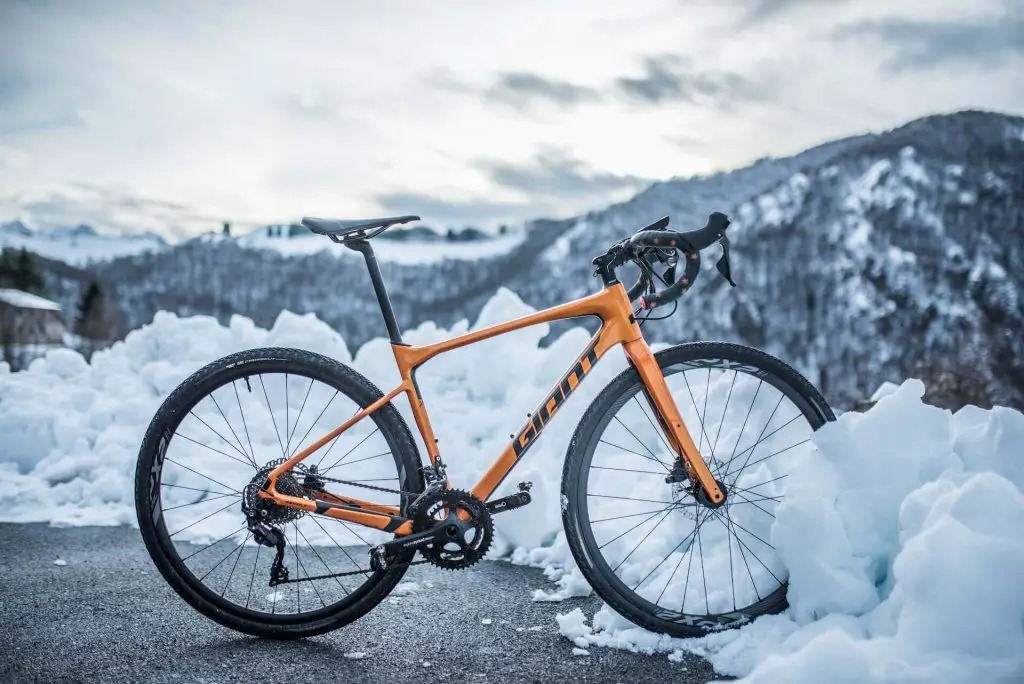 5. Gear Ratio 
Even though it is not the main contributor to speed in road bikes and hybrids, gear ratio is one of the most important things to consider when looking for the right road bike for yourself.
Hybrid bicycles are generally meant to offer comfortable rides across a variety of surfaces. Gear ratios mounted on the drivetrains for hybrid bikes are also smaller than those of road bikes, allowing for easy pedaling at lower speeds. 
The average hybrid bikes have 2x or 3x set-ups which indicate the number of front chainrings.
 If you're a beginner or planning to use your bike to commute, hybrid bikes offer a wide range of gearing options to make hills as easy as possible. 
The smallest chainring of a 3x set-up is also known as the "granny gear" because it is small and easy to pedal, perfect for those just starting out.
However, a 3x set-up can be heavier and harder to service and set up compared to the 1x and 2x set-ups, so this is something you might want to take into consideration before getting a hybrid bike.  
Plus, if you're riding up steep hills often, you won't need 'granny gear'! 
Road bikes are one of the fastest types of bikes and usually have a 2x gearing set-up with a "small ring" and "big ring." 
The smallest chainring is the closest to the crankset's frame. Basically, the smaller the chainring the easier it would be for you to paddle. 
The big ring on the other hand, is usually used when descending at high speed. This is when the pedaling gets harder for you and you can accelerate when traveling down. You can get a bigger gear on a bicycle by combining the smallest rear cog with a large front chainring. 
The most common set-up for a road bike is a 50/34t front chainring set-up with a 10-speed or 11-speed cassette. This means that the big and small chainrings have 50 and 34 teeth, respectively, and the cassette's cog has 10 to 11 teeth. 
Most gearing varies from 10t to 28t in the rear, while climbing set-ups can go up to 30t or 32t. Regardless of both bikes, you can find a wide range of gearing to pick from, whether racing at 50 kph or grinding up a steep hill. 
6. Riding Position
As you may already know, the riding positions for both a hybrid bike versus a road bike are very, very different. 
Road bikes are mostly about aerodynamics and speed – normally, the rider's body is bent over the bike and their body tucked in to be narrower and more aerodynamic.
This can add more pressure on the rider's hands, arms, and lower back as they shift their body weight forward. 
Hybrid bikes are built for comfortable and casual riding in an upright and relaxed position. 
The top tubes and reach in a hybrid bike are usually shorter than the ones you'll find on a road bike, making them more accessible for the rider to sit up while pedaling instead of leaning forward. 
If you plan to go cycling off-roads onto local trails or sandy gravel roads, a hybrid bike will ensure you have a balanced center of gravity because the frame design keeps you upright and in control while seated. 
7. Tires 
Both hybrid and road bikes use standard 700c road wheel sizes for their frames to create the most efficient balance between handling, speed, and comfort for the perfect bike ride. 
If you're more committed to off-road riding, some hybrids may have a slightly bigger range and larger wheels that may be more suitable for that kind of surface. 
Road bikes typically use lighter, narrower and thinner tires versus hybrid bikes.
The tires on a road bike can directly affect the speed as the best road bike tires are made to go as fast as possible. 
Road tires are generally faster than on tarmac but not as fast on off-road conditions because the tires are designed with little tread on the grooves and tire's surface. 
The width of most road bike tires ranges between 21mm and 38mm, with most road biking enthusiasts opting for tires between 25mm and 28mm. 
If you're looking for something with more durability, consider the tires on a hybrid bike.  Hybrid bikes have thicker, heavier, and wider tires, making them more puncture-resistant than road tires so they last longer too. 
Most hybrid tires have widths ranging from 32mm to 38mm or sometimes up to 40mm in most hybrid frames. They are also more durable than most road tires. 
How Much Faster Are Road Bikes Than Hybrid Bikes?
The average speed of a road bike ranges between 14 and 18 mph (23-29 km/h) on a flat road. 
Optionally, when riding on an incline of 5%, most road bikes can achieve an average cycling speed of 8 to 12 mph (13 -19 km/h). 
The main factors affecting speed on a road or hybrid bike depends on the tires you'll be using with your bike, the relative weight of the two bikes, and most importantly, your position on the bike. 
Good road bikes will save you as much as 5 to 8 pounds or even more compared to a hybrid, especially if you're going on climbs. This advantage will make you a faster climber with your bike.
Hybrid bikes have wider tires and a tread roll lesser than the typical 700 x 23C, or 25C road tires, which can help you gain some speed. 
If your hybrid has a flat handlebar that makes you sit upright, a road bike's lower and more aerodynamic position will help you cut through the wind for faster speed on flats and descents. 
It is not certain to know the combined effect on your average speed, but a rough guess would be as much as two mph faster, assuming your bike is of good quality and you have optimal fitness for the sport. 
5 Best Road Bikes 
Specifications: 
Frame: 6061 T6 aluminum
Weight: 10.6kg
Sizes: XS, S, M, L, XL  
Groupset: Shimano 105 11-speed
Brakes: Mechanical/hydraulic disc
Why i like it: 
It has a relaxed ride position 
It has excellent specs for the price
Comfortable
Why i didn't: 
At 10.6 kg, It is much heavier than the average road bike.
This road bike from Decathlon offers excellent value and incredible specifications, and the Triban RC520 Disc is one of the best examples of a budget-friendly road bike. 
It has smaller jumps and provides an 11-speed 105 with a good gear range thanks to its 50/34- tooth chainset and 11-32 tooth cassette at a price that generally comes with an 8-speed. 
In addition, you will receive disc brakes in the form of TRP HY/RD calipers that are cable operated with hydraulic actuation for higher resistance to fade and better modulation. 
The bike comes with 28mm own brand tires, but you can exchange them for rubber up to 36mm wide, amplifying the comfort level to the already relaxed and comfortable ride. 
Mudguards can also be added for all-weather riding and a rack in case you need to carry things.
Specifications: 
Frame: Specialized E5 Premium alloy
Weight: 9.4kg
Sizes: 44-61 cm
Groupset: Shimano Claris
Brakes: Rim 
Why I like it: 
Full carbon fork making it more lightweight 
Good quality aluminum frame
Stable ride
Why I didn't: 
It has big jump brakes in between gears 
Budget brakes 
This lightweight frame and all-carbon fork budget-friendly road bike have cables that are routed internally – which means the brake and derailleur cables are located inside the bike frame. 
Specialized's bike geometry was designed using their huge bike fit database to achieve an upright position and fit that is comfortable for many riders. 
It also comes with room for a mudguard and a rack, so it has a wide range of versatility to serve as either a road bike, winter bike, or even for commuting. 
The Tektro rim brakes aren't the best, and their Axis Sport wheels are on the heavier side, but the sporty feel and comfortable ride make up for it – similar to those with a higher price tag. 
Regarding the groupset, the Shimano Claris 8-speed gives you a compact 50/34t chainset along with a cassette with an 11-32 tooth range that enables you to explore the hills with plenty of speed. 
Specifications: 
Frame: Ultralight 300 Series Alpha Premium
Weight: 9.33kg
Sizes: 47-64 cm
Groupset: Shimano Tiagra 10-Speed 
Brakes: Hydraulic disc  
Why I like it: 
Good quality frameset 
Lightweight
It comes in a wide range of sizes 
Why I didn't: 
Wheels tend to wobble sometimes when riding.
The Emonda has an alloy frameset that gives it a polished look with smooth welds that look like carbon at first sight. 
It is also more lightweight than most carbon framesets at this price range. 
The specs with the Emonda ALR headlines include the Shimano Tiagra 10-speed shift and Tiagra hydraulic disc brakes for improved stopping power and great shifting. 
You can also swap out the 28mm wire bead tires with tubeless tires as it also comes with tubeless-ready Bontrager alloy wheels. 
4. Giant Contend SL1 – Best For An Endurance Bike On A Budget 
Specifications: 
Frame: ALUXX SL-Grade alloy
Weight: 9.0kg / 19.9lbs
Groupset: Shimano 105
Wheels: Giant P-R2 alloy
Why I like it: 
Offers excellent comfort over long distances 
Easy and sturdy handling 
Full carbon fork making it more lightweight 
Why I didn't: 
It can be quite difficult to pedal. 
The Contend offers similar features to some of other Giant's more expensive bikes with its sloping top tube. 
The carbon fork and D-fuse seatpost are designed to absorb vibrations and road shocks, which are at the back and front end of the bike. 
It also has an endurance frame geometry that gives excellent handling and comfort, allowing for longer rides and more confidence on your bike. 
Even though the Shimano 105 offers quality shifting, this weight of the gear may affect the bike's performance despite having a range of low gears you can use, down to 1:1 – for riding uphill more easily. With lower gears, you may end up paddling more, but you will require less effort to do so. 
Specifications: 
Frame: SmartForm C1 Premium Alloy
Weight:  9.0kg / 19.9lb
Groupset: Shimano 105
Wheels: RD 2.0 alloy
Why I like it: 
Good frame ride quality
Agile and fast 
Well- specced
Frameset components can be upgraded
Why I didn't: 
Based on the well known pro-level carbon SuperSix road bike, this model from Cannondale offers long and low geometry with aero tube profiles leading to the handles, which is among the best in the market. 
At this price point, this is a first bike that would probably take a long time to outgrow. 
You'll get a Shimano 105 hydraulic groupset at this price and an RS510 crankset. 
The wheels have been upgraded, too – it now comes with DT Swiss R470 rims with the Formula Hubs for more confident riding – so you know you're in for a steal!  
5 Best Hybrid Bikes 
1. Ridgeback Speed – Best Beginner Hybrid Bike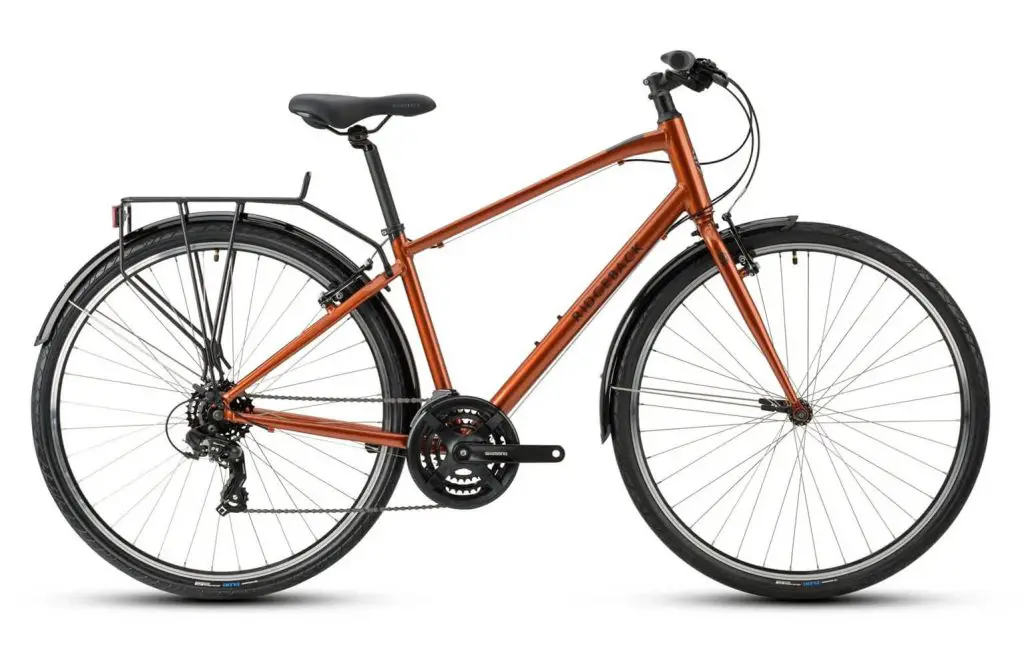 Specifications: 
Gearing: 3 x 8
Wheel size: 700c
Brakes: V-brake
Why I like it: 
Relaxed geometry for a more upright riding and comfortable position 
Comfortable 
It comes with a rear rack and mudguards
Why I didn't: 
It does not have disc brakes.
Ridgeback's hybrid bike is an excellent choice if you're looking for something easy to begin your journey into urban cycling. 
They come with a complete set of mudguards and a rear rack already fitted and are comfortable and practical – perfect for those looking to get going the moment the bike is built. 
This bike comes with comfortable 42mm tires that will dampen road bumps and maintain its grip during lousy weather. 
In addition, it also features a 3×7 Shimano Tourney drivetrain and Promax V-brakes, which are easy to keep at home, so it's a relatively easy bike to care for, perfect for those just starting. 
2. Cube Hyde Pro – Best Low Maintenance Hybrid Bike
Specifications: 
Gearing: 1 x 8
Wheel size: 700c
Brakes: Hydraulic Disc
Why I like it: 
Relaxed geometry
Comfortable 
It comes with a rear rack and mudguards
Why I didn't: 
It does not have disc brakes.
Cube Hyde Pro is designed with a sturdy, lightweight frame and fork with a Gates Belt drive, so there's little need for regular maintenance. 
They also come with flat-mount Shimano MT200 hydraulic brakes with 160mm rotors, which means they can stop anytime and stay that way without any worries. 
The tubeless Schwalbe Big Apple tires are built to prevent punctures, so if you happen to roll through sharp objects like a patch of broken glass, you won't be left stranded on the side of the road with deflated tires. 
At 55mm wide, the tires also give more than adequate cushioning to keep you comfy throughout your ride.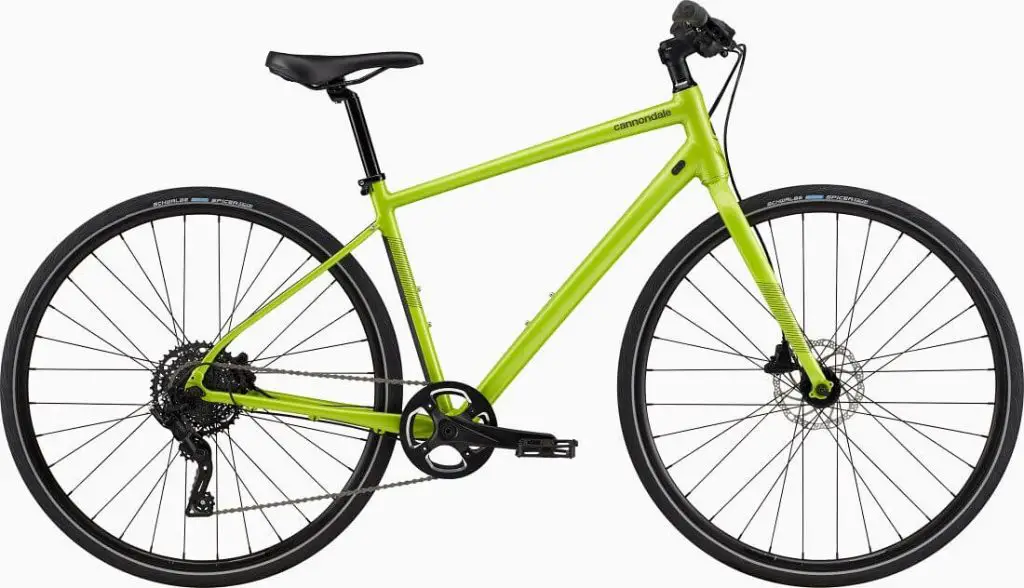 Specifications: 
Gearing: 1 x 9
Wheel size: 700c
Brakes: Hydraulic Disc
Why I like it: 
Reflective logos that reflect light when you ride at night  
1x drivetrain to make it easier to control your gears with one hand 
It comes with an aluminum frame that is not prone to rust and easy to maintain
Why I didn't: 
It has a heavy steel fork.
In addition to the lightweight aluminum frame, every logo and decal on the Cannondale Quick is reflective so that you will have no issues being seen in low-light areas or conditions. Its 35mm tires also offer incredible comfort on your rides. 
The SAVE Micro-Suspension keeps you comfortable as you ride with its rack and fenders mounted throughout and the rear end flex-tuned. 
Providing a wide range of gear range and easy shifting, this hybrid bike also comes with a 1×9 speed drivetrain, 28T narrow-wide chainring, and a wide range 11-42T cassette. 
Specifications: 
Gearing: 2 x 9
Wheel size: 29 inches
Brakes: Hydraulic Disc
Why I like it: 
Low maintenance internal cable routing  
Budget-friendly 
Hydraulic brakes so they last longer 
Smooth rides over rough surfaces
Why I didn't: 
It has a limited gear range.
The Vitus Mach 3 VRS comes very well-specced for its price point.
 It offers 2×9- speed Shimano Sora shifting along with a 50/34T chainset and an 11-28 cassette, which means the gear range is slightly lesser than most hybrid options. If you want more coverage for hillier rides, it is also easily upgraded to a 32-tooth cassette. 
The tires give plenty of grip with a 38mm width and lightly threaded surface, so it's perfect for riding on trails or faster in the city. It also has weatherproof qualities with the addition of a rack and mudguard mounts.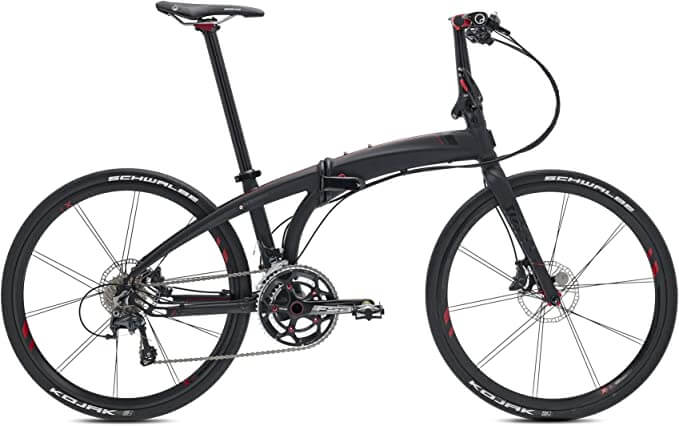 Specifications: 
Gearing: 2 x 11
Wheel size: 26 inches
Brakes: Hydraulic Disc
Why I like it: 
Compact 
Good hinge placement
Has Ultegra drivetrain
Why I didn't: 
Ride quality is not as good as a non-foldable bike.
If you lack space to store your hybrid bike, Tern's Eclipse is a perfect choice. It has the right balance of riding efficiency and folding capability that compacts to 38 x 90 x81 cm. This bike also comes with 26 inches tires and is incredibly energy efficient over long rides. 
It boasts a 2×11 Ultegra drivetrain with more aggressive geometry than many other folding hybrid bikes. The Shimano SLX hydraulic disc brakes are also high in quality, justifying its price tag compared to other hybrid bikes in the market.
Are Hybrid Bikes Fast? How To Make Them Faster
If you happen to own a hybrid bike already and would like some upgrade on the speed, there are several ways you can make your hybrid bike go faster:
1. Change Your Tires 
One of the easiest ways to make your hybrid bike faster is by changing the tires. 
Ensure that your tires are of the right size and width suited for the purpose. 
You can also buy tires made for racing bicycles, which will help you go up hills and maintain your speed. 
2. Add Aero Bars 
Aero bars are the extensions you find on your bike's handlebar with padded forearm rests. It helps the rider be in a more aerodynamic position by keeping their body forward and into a tucked position, along with a dropped torso to make them go faster. 
Unlike other handlebar positions, aero bars offer both armrests and handlebars allowing you to relieve some pressure from your hands and arms when riding your bike. 
3. Change The Gearing 
Changing the gearing of your hybrid bikes can help make them faster, but it may not be necessary for the average joe biker or for a beginner. 
Many hybrid bikes have a typical gear ratio ranging from 27-30:1 and are designed to provide a comfortable rhythm for longer rides and help bikers climb hills more efficiently. 
Switching to a higher gear will provide more power output and lower cadence if you usually ride short distances and on flat terrains. 
However, you may need to change the gear ratio a little to get the right feel and comfort, but for better efficiency, swapping them is no harm!
4. Get A Good Quality Hybrid Seat
A good quality bike seat is one of the best investments to make a hybrid bike faster versus road bikes. A low-quality bike seat will not adequately support your weight and, therefore, can make riding harder than it should. 
5. Get Good Quality Chains 
Good quality chains for your hybrid bike are essential, and it is one of the most helpful things to improve your speed. 
Good quality chains will not stretch as much and last much longer compared to those of lower quality, and that can affect you when going downhill because your chain will start slipping and result in your bike slowing down. 
6. Lower Your Handlebars 
Lowering the handlebars is also one of the best ways to make your hybrid bike faster. This is because sometimes, the weight on your arms and hands can make it difficult to climb hills. 
Having lowered handlebars will permit you to go faster without straining your arms and hands – giving you more speed and a more comfortable ride. 
7. Use Clipless Pedals
Clipless pedals ensure that every time you jump on your bike, your feet are positioned in the same spot using unique pedals and cleats. It helps you achieve more comfort and speed efficiency by helping you set the height of your seat. 
Clipless pedals can be interchanged and used on any bike you want – although mountain bike pedals and road bike pedals differ in the type of shoe you can use and/or the type of cleat. 
You can make a hybrid bike faster by modifying it; add a pair of excellent quality clipless pedals, and that's all!
Can A Hybrid Bike Be As Fast As A Road Bike?
Generally, road bikes are faster than hybrid bikes because of their tire width, riding position, and weight. Road bikes tend to be lightweight, especially if you go for those within the high-end range, which come with lighter and smaller wheels. 
This means they can attain very high speed on paved surfaces compared to a hybrid, even if they are not as good on less favorable terrain.
This is more of a consequence than a cause of road bikes being faster than hybrids. 
This is because hybrid bicycles provide a more comfortable ride on all terrains; the gear ratios mounted on hybrids' drivetrains are smaller than those typical of road bikes, thus allowing for easy pedaling at lower speeds.
The short answer is that hybrid bikes are not quite as fast as road bikes, much faster than mountain bikes, and generally on par with touring bikes. 
Which Is Better? A Hybrid Bike or A Road Bike?
This depends on each bike's benefits and performance and your intended use. Road bikes offer better speed and higher efficiency, whereas hybrid bikes offer more comfort and versatility. What you're looking for in a bike should be defined by the type of riding you expect to be doing more of. 
If you intend to do more exercise with your bike, then a hybrid bike will be more suited given their versatility, which means they provide great cardio and can also be ridden for long and moderate distances.
It is also much better for the environment as you can use it for your commute as well as exercising on the weekend
However, if racing is more of what you're looking to do with your bike, road bikes are your best choice for fast riding and quick handling on all sorts of tarmac. 
For roads and cycle paths, criterium circuits, and Pyrenean climbs, road bikes are the best fit for you. 
Conclusion
If speed is something you're looking for then getting a road bike is undoubtedly what you're looking for. 
Road bikes are faster than hybrid bikes mostly because of the riding position, weight, and tire width that they offer. 
Road bikes are also more lightweight and have frame geometry that minimizes drag and allows for more speed when compared to hybrids so you know, you'll have a good time riding on one. 
I hope this article has helped you understand why road bikes are faster than hybrids and why it's time you should get one – soon!
Are Road Bikes Faster Than Hybrids?