Have you recently developed an interest in road bikes, but you're thinking," is it hard to ride a road bike?". Well, I believe it is not impossible, and with some practice and guidance, riding a road bike can be a piece of cake in no time. 
I know this because I had to learn how to ride a road bike too! And I remember feeling really nervous.
Learning how to ride a road bike as an adult is not much different from understanding it as a child, as long as you follow the step-by-step process and keep the fear of learning at bay. 
All you need to begin your lesson in riding a road bike is just your bike and a big, safe open space to practice, like a park or empty parking lot. 
Road bikes can be used for many different purposes – exercise, getting around town, or exploring parks and areas nearby. 
They come with distinctive features like skinny tires and drop handlebars which can lead to many forward-leaning postures and some other unique challenges that you can only find with a road bike. 
If you are a beginner learning how to ride a road bike for the first time, here are some tips and steps to ride on a road bike to keep in mind when getting started: 
Patience is key – Let the process flow and don't force it. If you are annoyed or tired, take a break and return to it later. Practices that are shorter and more focused may be more helpful than trying to push too hard all at once. 
Keep going – You may not figure it out right away, but with continuous effort and training, you'll be able to get it eventually. Keep that in mind every time it seems too hard – you'll get through it, and it'll only get easier as you go. 
Are you ready to find out if it is, in fact, hard or easier to ride a road bike? I know I am, so let's get to it! 
Summary
1. Get A Bike Fit 
2. Bring Your Protective Gear 
3. Don't Forget To Inspect Your Bike
4. Going Uphill and Downhill
5. Plan Your Cycling Route
6. Stay Hydrated
7. Follow Traffic Rules 
8. Get A Friend To Join You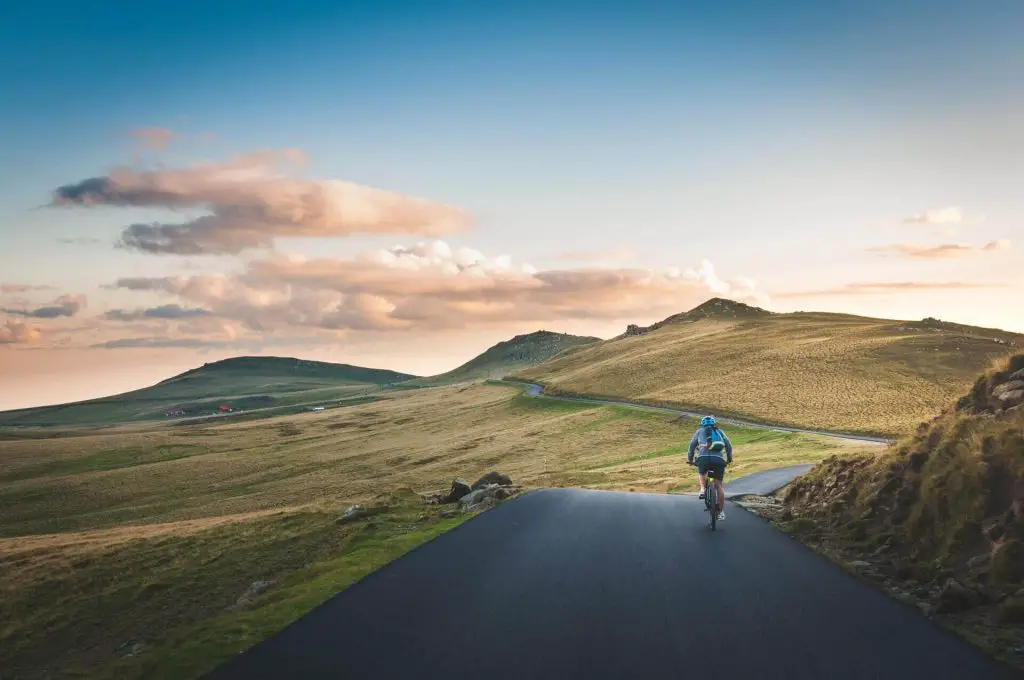 DISCLOSURE
Some of the links here are affiliate links, and I may earn if you click on them AT NO EXTRA cost to you. I hope you find the information here helpful! Thank you!
Related Posts:

Why Is It Hard To Ride A Road Bike?
Riding a road bike can be difficult for beginners to learn how to ride a road bike, especially without prior experience.  
This is because, not only are they unforgiving and brutal to learn on but also, it can be a struggle to get comfortable with the drop handlebars, narrow tires, toe overlapping with the front wheel, and the forward-leaning posture they'll need to adapt to when cycling. 
Tips For Riding A Road Bike For The First Time 
1. Get A Bike Fit 
Learning to ride a road bike must always ensure you have the right size for you and your bike.
This is important because riding a road bike requires you to bend until your back is flat, and many cyclists spend a lot of time pedaling without changing their position. 
This can cause back discomfort and pain, making the ride experience less enjoyable.
Just like choosing the perfect running shoe, start by sizing your bike. Stand above the top tube and measure about 1 inch between the body and the frame. 
Make sure you are comfortable in the saddle too. If this sounds strange to you, contact your local bike shop, and they should be able to assist you.
If you're not sure, you can refer to this guide to get a better gauge of which size might be better suited for you: 
| | |
| --- | --- |
| Height | Bike frame size (Approximate) |
| 4'11" – 5'3″ | 13 – 15 inches |
| 5'3″ – 5'7″  | 15 – 16 inches |
| 5'7″ – 5'11" | 16 – 17 inches |
| 6'0″ – 6'2″ | 17 – 19 inches |
| 6'2″ – 6'4″  | 19 – 21 inches |
| 6'4″ and taller  | 21+ inches |
Alternatively,  you can use the formula below to find the correct frame size:
Leg Inseam (in cm) x 0.7 = Frame size (in cm)
2. Bring Your Protective Gear 
When cycling, your safety should always be the number one priority. Generally, all cyclists must wear appropriate protective equipment to avoid accidents or potential injuries while riding. This is especially true for helmets, as head injuries can be fatal.
To maintain riding comfort and still carry the necessary tools, wear a cycling t-shirt, preferably with pockets, and a pair of lycra spandex nylon shorts. 
This helps improve your comfort while biking, especially in hot weather. I would encourage you to try them on before purchasing to ensure they are comfortable and fit you perfectly.
Also, I recommend that you have a good pair of gloves for your hands and a couple of knee pads to protect them from any potential injuries like cuts and scratches. 
3. Don't Forget To Inspect Your Bike
Always do a bike inspection before starting your journey – an important lesson to remember when learning to ride a road bike. 
Accidents and mechanical problems can happen in places you don't expect, so it's essential to check your bike beforehand to make sure you don't have any problems with your chains, tires, or brakes.
Without proper maintenance and constant use, your chains will eventually break, so it's essential to ensure they're oiled and your derailleurs are appropriately aligned often. 
Also, an important tip is to avoid shifting while pedaling, as this will cause the chain to wear out faster.
The tires also play an essential role in determining how fast and hard you can ride your road bike. Ensure that your tire pressure is checked often, as road bikes don't have a front suspension to absorb shock. 
An over-inflated tire will bump your ride, while an under-inflated tire will slow you down and require more force to move.
As a cyclist looking for the best bike rides, learning how to change road bike tires is an invaluable skill. 
The recommended pressure for a road bike depends on the rider's weight and is usually between 80 and 130psi. 
A fundamental rule to remember is that the heavier you are, the higher your tire pressure will be.
The brakes are another critical feature of a road bike. Generally, it would be best if you always braked when a potential hazard presents itself. 
So, before buying a road bike, test the brakes on the handlebars to ensure they are working correctly. If this is something you're not sure about, contact your local bike shop for more information.
4. Going Uphill and Downhill
Among one of the best steps to ride a bike, posture plays an important role. 
When going uphill, lean forward and apply more force to increase pedaling efficiency. You may even need to lift your hips off the saddle for extra power.
Make sure your bike is in a straight line and your hands have a good grip on the handlebar adjustment, so you don't have trouble going uphill.
 Keep your hands on the brakes when going downhill if you need to slow down.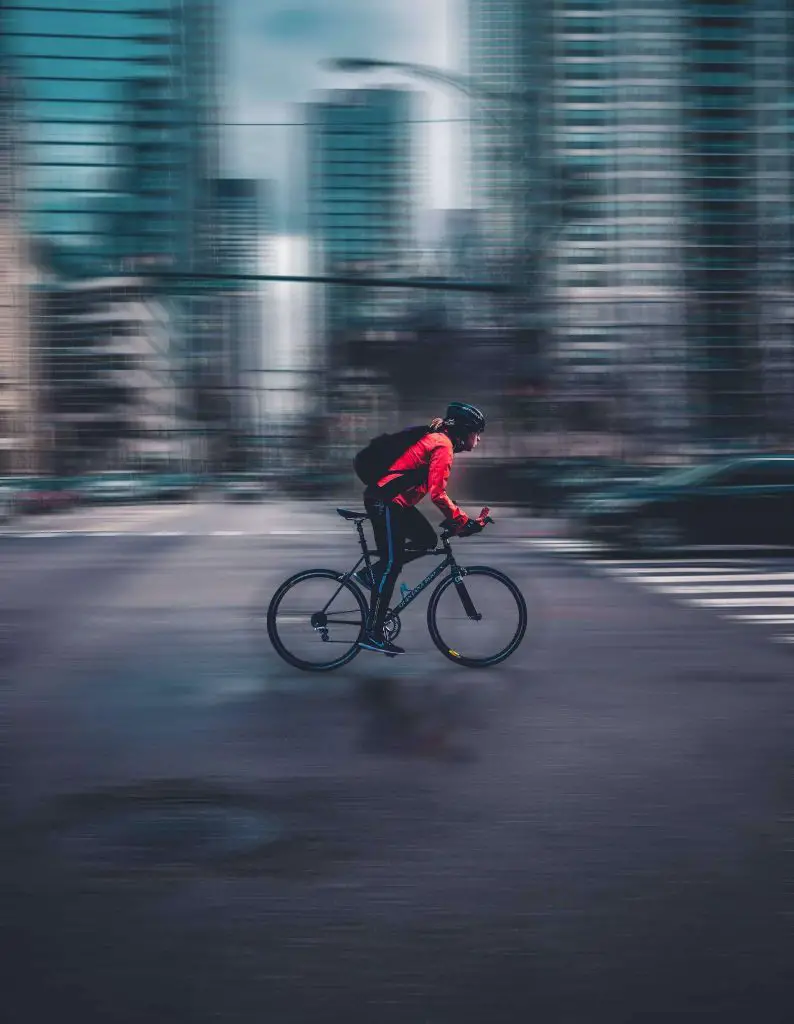 5. Plan Your Cycling Route
If you are riding on a road bike for the first time, you will want to plan the places to ride your bike beforehand and start somewhere quiet, such as a park or on the street with little traffic through your community. 
Before heading into the streets, check the road's condition before biking through those areas. 
Look at a city map and find a place that is best for you yet safe, or check with a local bike shop if you are unsure of where to go. 
As a beginner, you will want to get under 2 miles in at the beginning before trying any longer. Your distance on the bike should be increased slowly through consistent training, and within ten weeks, you can probably bike as far as 10 miles.
6. Stay Hydrated
Dehydration can be dangerous, especially if riding a road bike in warm weather. Keep a water bottle on hand at all times, and be sure that you can access it from wherever you are without difficulties and that you do not need to look down for it.
Without adequate hydration, you are more likely to get cramps and vertigo, which is not what you want during your road biking adventure. Even if you are going on a shorter trip, pack your bottles.
7. Follow Traffic Rules 
When cycling on the road, you must follow different road signs and traffic rules to avoid any unintended accidents. 
You will also have to learn the hand signals for riding on the road, which signal your intentions while on the road, so pedestrians, drivers, and other bicyclists can predict your movements. 
Remember, many vehicles are on the road, so you need to remain on dedicated lanes designated for bicycles and not make sudden movements without first signaling.
Also, be sure to watch for blind spots in daylight. If you plan on riding a road bike at night, wear a reflective vest and get the bike fitted with an illuminated set to help you see better at night.
8. Get A Friend To Join You
One last tip for newcomers to road cycling that we can recommend is getting someone with you for the first few trips out road biking, preferably someone with some experience. 
This could come in handy if you feel a bit nervous or uncertain about the route you will ride or if you run into mechanical issues on the road and will need help.
Common Mistakes To Avoid When Learning How To Ride A Road Bike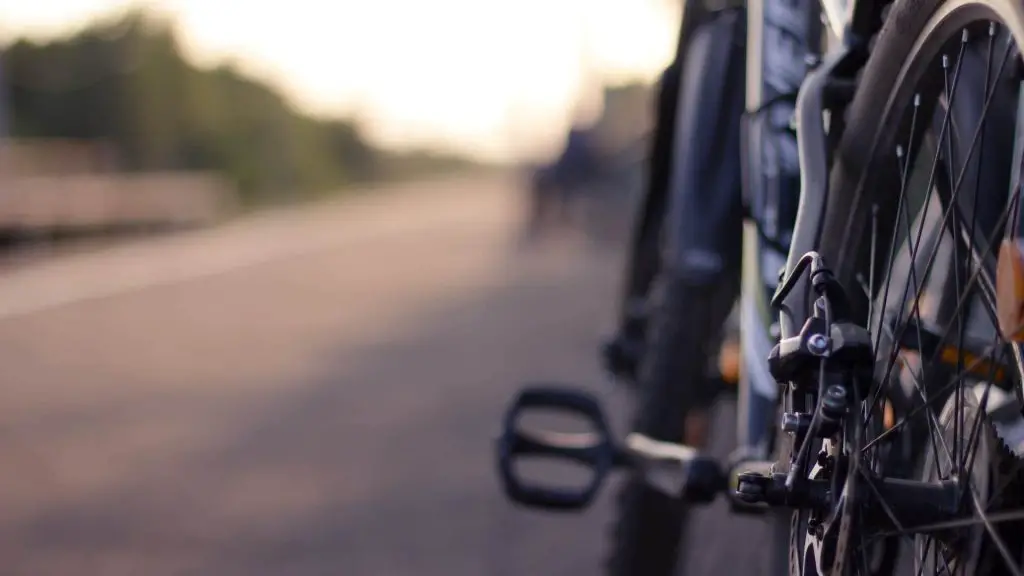 1. Worrying About The Different Parts Of Your Bike
Knowing how your bike works is essential before using it – the gears, levers, and the works. 
However, don't get too caught up about the different parts of your bike, especially the gears and levers, and stress yourself out even before you get on the bike. 
Practice is the best way to learn about your bike and your gears. Before heading to hilly terrains, ride around the block and practice shifting your gears up and down as you cycle. 
As long as you're on a flat road, it won't matter if you're shifting the wrong way – keep going until you figure it out, and shifting will feel like second nature in no time.
2. Using Gears That Are Too High Or Too Low
If you use a gear that is too high, your cadence, which is the number of revolutions your pedals make per minute when you ride, can decrease. 
The perfect revolutions of pedals per minute (RPM) vary from person to person, but 90 RPM is usually the average base, although this might drop to about 70 or 80 when riding on a hill. 
It can be harder to know what you're spinning at without a cadence monitor, but you can count your RPM once in a while to get a rough idea of where you're. 
It may take some time to find the cadence that works for you. If you find yourself pushing hard and slowly on the pedals, you may need to start using lower gears – you wouldn't want the pain in your knees with over-gearing. 
On the other hand, you need to shift up if you find yourself spinning frantically and going nowhere on your bike. 
3. Crossing The Chain 
Crossing the chains on your bike is not entirely a bad thing, but it's a habit best kept away whenever possible. 
Crossing the chain on your bike can force the chain to be over stretched, leading to an annoying rattling noise and your chain slipping. It is not the most efficient solution or method, and it can waste your energy when riding. 
To ensure this doesn't happen, when your chain is in the "big" ring, try to keep it in the cogs with more resistance and drop it into the smaller ring when you require less resistance on a hill or when riding on a windy day.
4. Setting Up Hard-To-Reach Levers
One of the most significant issues women cyclists experience with unisex bikes is the difficulty of reaching the brake levers and gear. 
Generally, women have smaller hands than men, and our bikes need to be adjusted accordingly to ensure that we can have a comfortable and efficient ride on our bikes. 
However, fret not, these issues can be easily solved. 
If you find trouble with the distance between the bar and the lever, you can adjust the lever itself, but, you'll have to check what type of lever systems you have because this may vary in different bikes. 
This will help you attain a more comfortable position on your bike and in turn, give you a better experience riding your road bike. If you're uncertain, check your bike manual, google your bike model and the spec sheet, or head to your nearest bike shop for assistance. 
5. Not Taking Care Of Your Gears 
Keeping your bike clean helps maintain the gear transmission and how reliable they are. Cables can stretch over time, and your gears will need adjusting after frequent use. 
If one click doesn't result in a sharp move into the next cog when you're riding your road bike, I suggest getting your bike serviced or, better yet, taking a bike maintenance course to learn to do it yourself.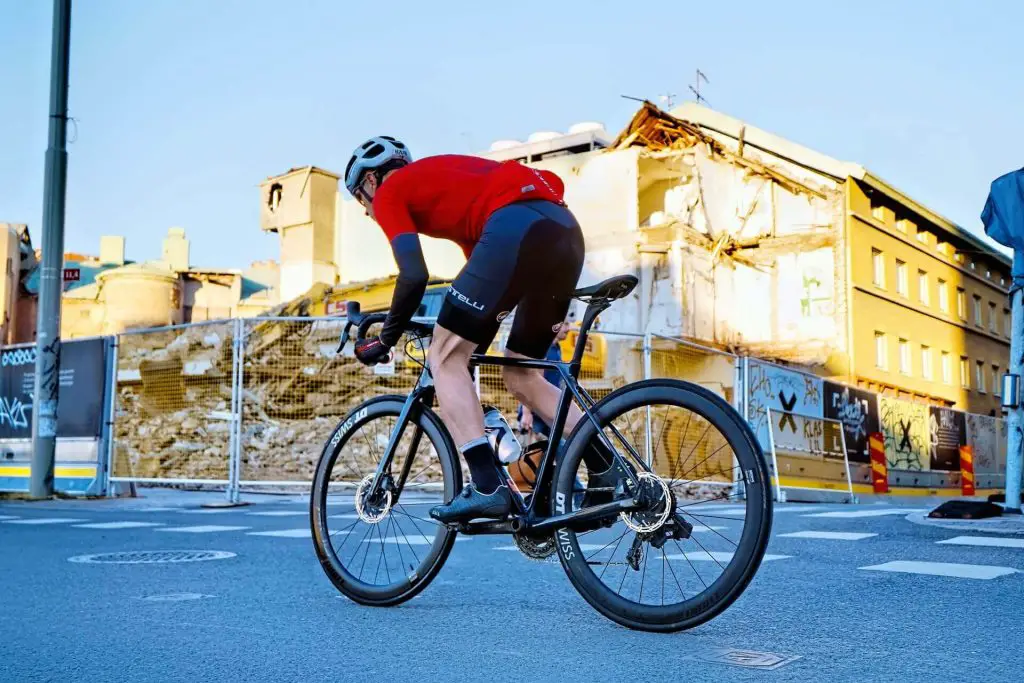 Advantages Of Using A Road Bike
Road bikes have a few characteristics in common that unify their various sub-groups, separating them from mountain bikes, hybrids, and cruisers. 
Speed, lightweight frames, and efficiency are the three traits that define the reasons to ride a bike in this category. 
While there is more to it, the best road bikes are good at maximizing each of those qualities. 
1. Lightweight 
Road bikes can be super lightweight and perform on only solid, flat surfaces. It does not matter whether the character is cement or asphalt: a road bike is not built to leap logs, roll over rock paths, or traverse sand and gravel. 
Other bikes are meant to be built for more ruggedness, like mountain bikes. This is important to keep in mind, or else you might find yourself stuck on the side of a mountain with a broken-down bike. 
2. Speed
Large-diameter wheels with narrow tires are some of the factors that contribute to how fast a road bike can go. It is light, aerodynamic, with smooth wheels and sturdy tires that are designed to get you on the road with the least drag. 
While speed is a relative term, when you compare road bikes to every other bike style, road bikes get first place!
Mountain bikes, with their heavy, knobby tires and mixed-surface design, will be unable to keep up. The same goes for hybrid, comfort, or cruiser bikes, which have wheels and tires built for more excellent shock absorption or longevity and not so much for speed. 
3. Efficiency
Combining fast wheels and light build-ups with athletic, purposeful, forward-leaning positions makes for a highly compelling package for a new road bike rider. 
The wheels produce little to no aerodynamic drag, whereas the lighter frame and components will not drag on when you're riding. 
Riders typically opt to lean towards the wind instead of sitting up straight, and there are a variety of hand positions for staying comfortable over long periods. 
These things combined can make for a very practical, human-powered power pack experience with your road bike.
7 Best Road Bikes For Beginners 
Specifications:
Weight: 23.8 lb (10.8 kg) 
Frame material: Aluminum
Tires: Kenda K152 700x25c
Gearing: Shimano Claris 3x8spd (11×28 cassette)
Brake Type: Rim brakes
The Tommaso Imola is an excellent entry-level road bike equipped with superior components. It is known to be a responsive, flowing bike, and it climbs well. 
It comes equipped with comfortable 25mm tires, and its fork is made from steel, meaning that it is pretty sturdy but does not soak up vibrations like a carbon fork.
The Imolas geometry is ideal for beginners because it allows a more upright riding position. This is useful on longer rides and is also a good bike for longer distances.
It is also rack-compatible at the back so that you can add a few more cargo bags for longer trips and cycle tours.
The biggest drawback of this bike is its 3x gearing. Yes, it offers more gear choice, but it will take some time to get used to and requires a bit of practice to prevent you from losing control of your bike. 
On the other hand, the Shimano groupset gearing works efficiently and is precise, which is great for those looking for efficiency with their road bikes.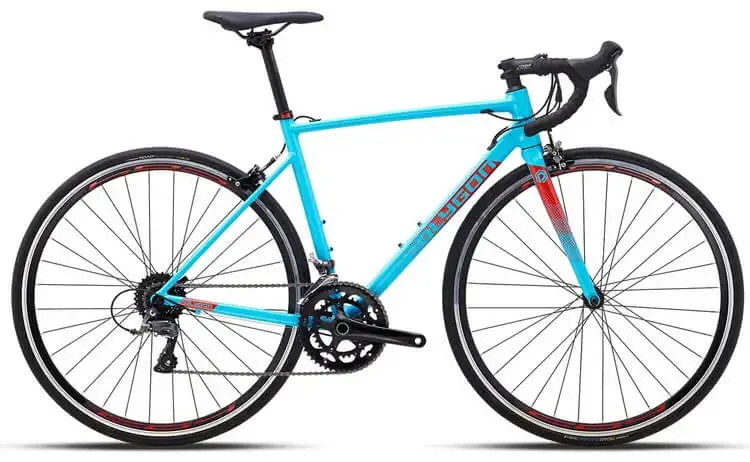 Specifications:
Weight: 22.3 lb (10.1 kg) 
Frame material: Aluminum
Tires: Performance Tires 700x28c
Gearing: Shimano Claris 2x8spd (11×30 cassette)
Brake Type: Rim brakes
Polygon The Stratos S2 is a rim-braked, straightforward road bike at a great price. 
Surprisingly, it has a carbon fork that soaks vibrations better than steel or aluminum. What I liked the best, though, was the 28mm tires which were more comfortable than the 25mm tires you normally find in road bikes. 
Thanks to its included mounting, you can outfit it with panniers, racks, and extra accessories, making it the ultimate touring machine on a bike.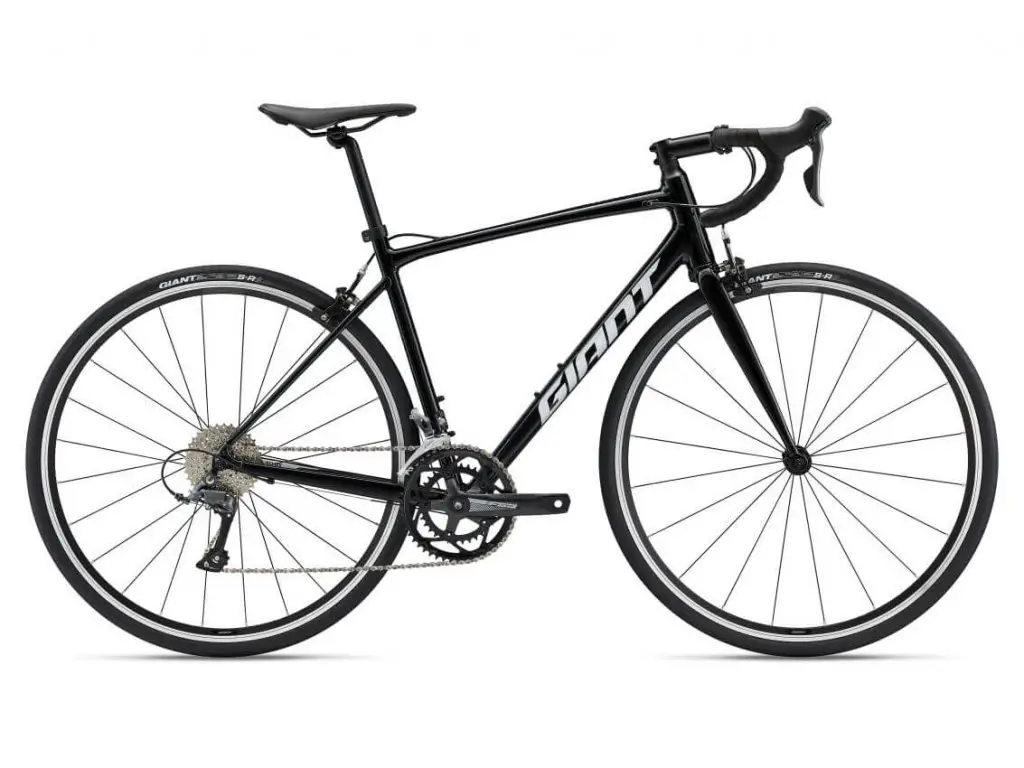 Specifications:
Weight: N/A 
Frame material: Aluminum
Tires: Giant S-R3 AC, 700x28c, puncture protect
Gearing: Shimano Claris 2x8spd (11×34 cassette)
Brake Type: Rim brakes
The Contend 3 is an ideal beginner road bike; it is comfortable, thanks to its more upright geometry, and very versatile. You can use it for internal workouts, cycling trips, or maintaining fitness levels outdoors. 
Its tire clearance allows you to fit tires as wide as 32mm, which is excellent on uneven asphalt or roads with potholes.  
This bike makes it ideal for the more performance-minded riders new to street biking. 
The major drawback to this bike is that it has limited gearing at 2×8 speed, and you might struggle to find a gearing suitable to the preferred cadence if you hit the steeper mountains.
For those who are fans of disc brakes, the Giant Contend 3 is available with disc brakes in a slightly different setup (the Giant Contend 3 AR), but bear in mind that this is pricier than the Contend 3.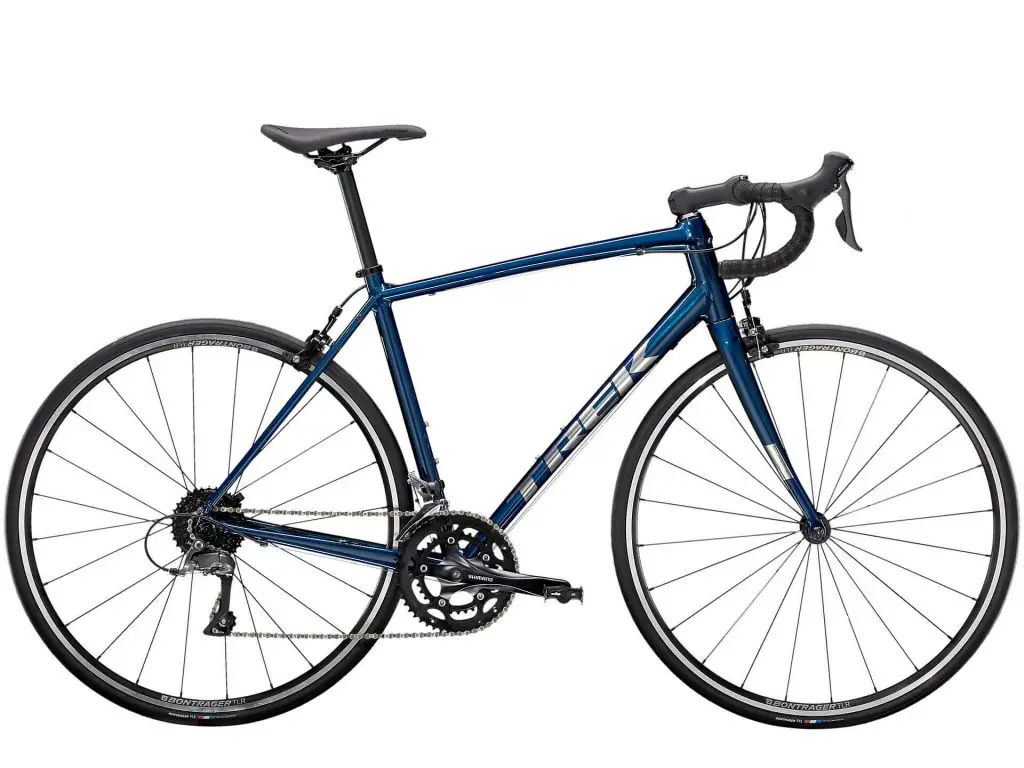 Specifications:
Weight: 21.09 lb (9.57 kg)  
Frame material: Aluminum
Tires: Bontrager R1 Hard-Case Lite, wire bead, 60 TPI, 700x28c
Gearing: Shimano Claris 2x8spd (11-32 cassette)
Brake Type: Rim brakes
The Trek Domane is perfect for beginners as the geometry is focused on comfort, which allows a more laid-back, upright posture.
Its carbon fork is a plus, as it removes some of the vibrations, and they do not get transferred onto your hands, wrists, and shoulders. This means that it is more comfortable on rides.
With Domane AL 2, you can go on trips, trains, and even races! 
Of course, there are limits to the bike, but it is the versatility that most bike owners highly value. The 28mm puncture-resistant tires can also handle light gravel sections, which may catch you off guard on the way.
The value-to-price ratio is excellent because the components on this bike are made mainly by Shimano and Bontrager. Unfortunately, gearing is limited to 2×8 speed, which can be restrictive for some riders. 
On the plus side, the Domane AL 2 is also compatible with DuoTrap S Speed Sensors (not included), which will relay your speed, cadence, average speed, distance traveled, and other valuable data to a smart device of your choice.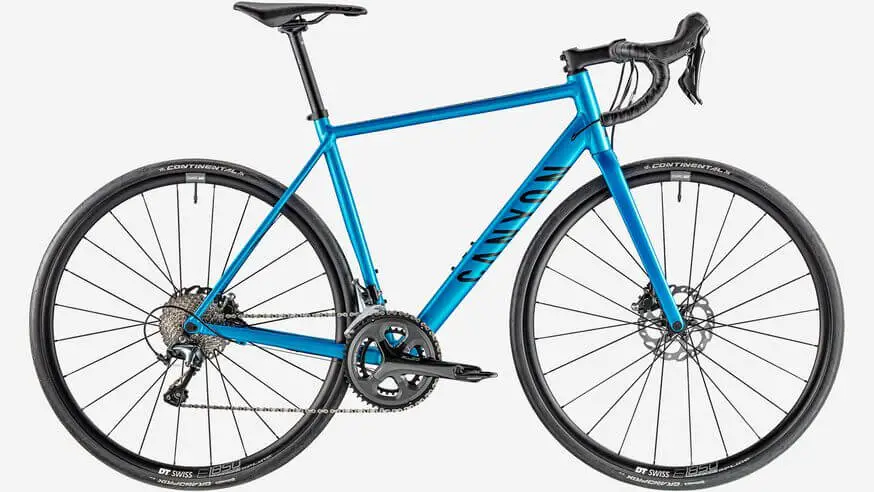 Specifications:
Weight: 20.8 lb (9.44kg) 
Frame material: Aluminum
Tires: Schwalbe One 32 mm
Gearing: Shimano Claris 2x10spd (11-34 cassette)
Brake Type: Hydraulic disc brake
The Canyon Endurance range is among the best road bikes regarding the price-to-performance ratio – the ideal beginner road bike for a newbie. 
The AL 6.0 for 2022 is heavier than the last generation by around 1lb (0.45kg), but it is still lighter than some bikes in this list. It is equipped with Shimano Tiagra R4720 Hydraulic Disc Brakes, which provide efficient stopping power under any conditions. 
The AL 6.0 is relatively stiff and responsive but mostly comfortable thanks to its stamina geometry and 32mm tires capable of handling even mild gravel.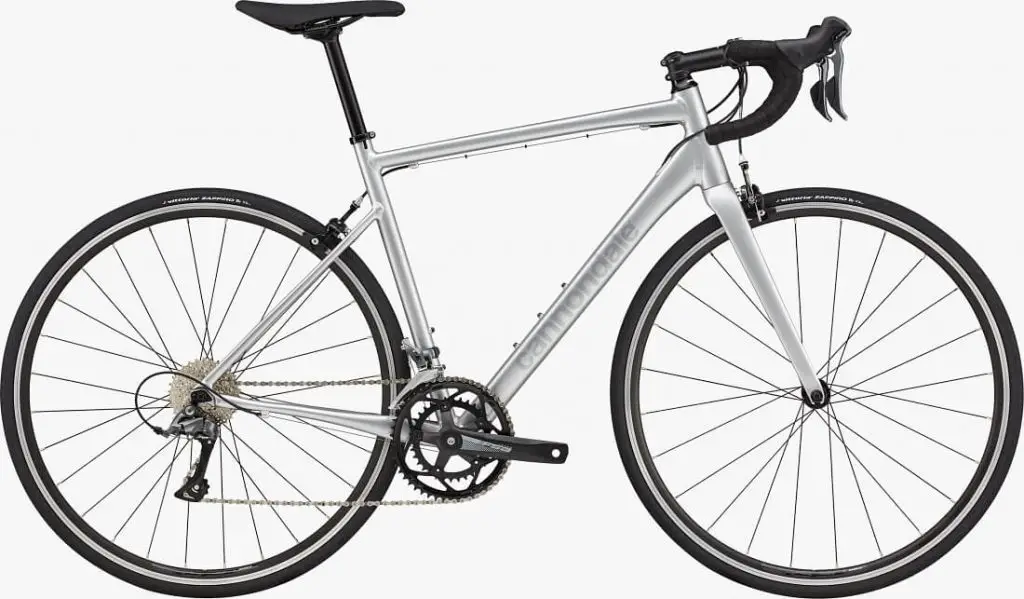 Specifications:
Weight: 21.6 lb (9.8 kg) 
Frame material: Aluminum
Tires:  Vittoria Zaffiro, 700x25c
Gearing: Shimano Claris 2x8spd (11-30 cassette)
Brake Type: Rim brakes
If a cheap road bike that can win races is what you're looking for, then the  CAAD Optimo 4 is one you should be keeping your eye on.
It is slightly more aggressive, pushing the rider to more aerodynamic and faster positions with geometry similar to that of a performance bike. 
Despite this, the CAAD Optimo 4 offers a great value – featuring a carbon fork that soaks up vibrations, making the ride much more comfortable.
With a Shimano Claris groupset added and combined with the FSA Tempo crankset, this ensures quick, accurate gear changes for rides across different conditions. 
Yes, the gearing range is limited to 2×8 speeds, but unless you have a climb that requires steeper than 10% grades, you should be fine, so don't worry!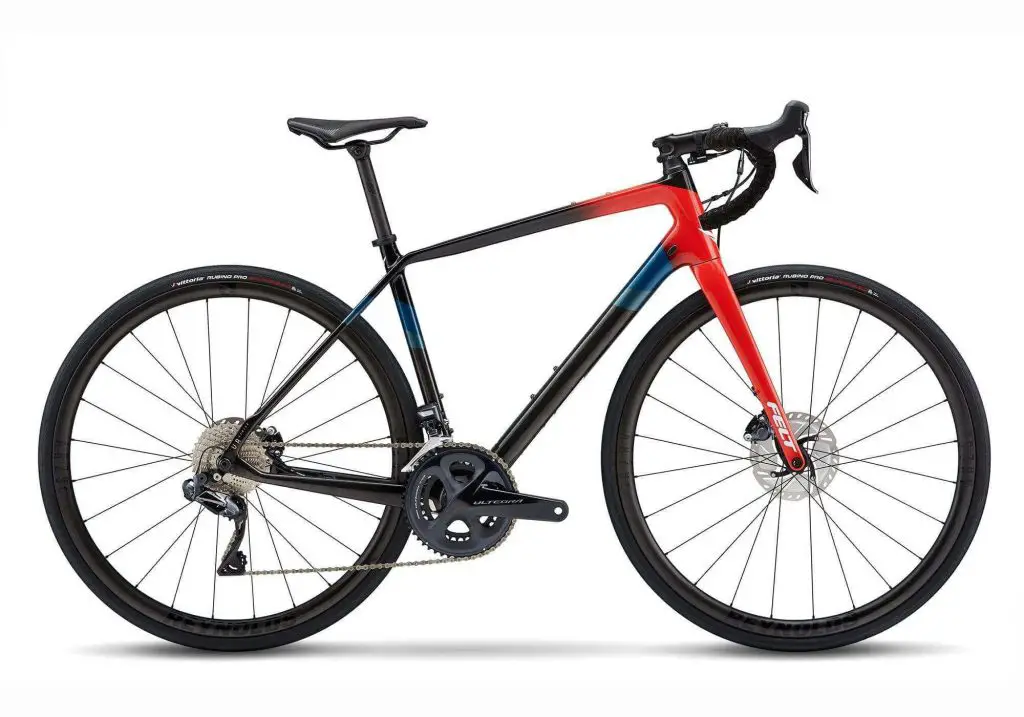 Specifications:
Weight: 23.25 lb (10.57 kg)
Frame material: Aluminum
Tires:  Vittoria Zaffiro V, wire bead, 700x30c
Gearing: Shimano Claris 2×8 (11-34 cassette)
Brake Type: Mechanical disc brakes
The Felt VR 60 is a well-rounded, well-equipped road bike with an outstanding price-to-performance ratio. It is ideal for solo trips and groups of people riding together, exploring the countryside, or just simply keeping fit. 
It features relatively wide, high-volume 30mm tires that will offer a cushioned ride across rough surfaces. Meanwhile, the carbon forks soak up vibrations and reduce vibration transmitted to the hands, making for a more comfortable ride.
The VR 60 offers a Shimano Claris 2×8 groupset, which is accurate, but the gearing range might be limited for some riders who live in a mountainous region. 
The upside is it is equipped with mechanical disc brakes with plenty of stopping power, even in wet conditions so you will have better control of your speed in these conditions. 
FAQ
Is Riding A Road Bike Harder?
It is easier to ride a road bike for their intended purpose once you've gotten used to them but can be more brutal and challenging to learn on. As a new rider learning to ride a road bike, it may take some time to get accustomed to the drop handlebars, narrow tires, drop handlebars, or the toe overlapping with the front wheel. 
Is It Uncomfortable To Ride A Road Bike?
The idea that road bikes are designed to be uncomfortable is not accurate, and as a matter of fact, it is the complete opposite. When comparing bikes on a 100– mile ride, road bikes tend to be better because they have a more relaxed geometry that is more comfortable in the long haul compared to hybrid bikes.
How Long Does It Take To Get Used To Riding A Road Bike?
I recommend going on a few short rides on your road bike before taking a very long one. Ride until you feel discomfort and keep going for another 10 to 15 minutes, but avoid getting into too much pain. 
An example would be getting two 30-minutes rides a week for two weeks and increasing to two 45 minutes rides a week for another two weeks.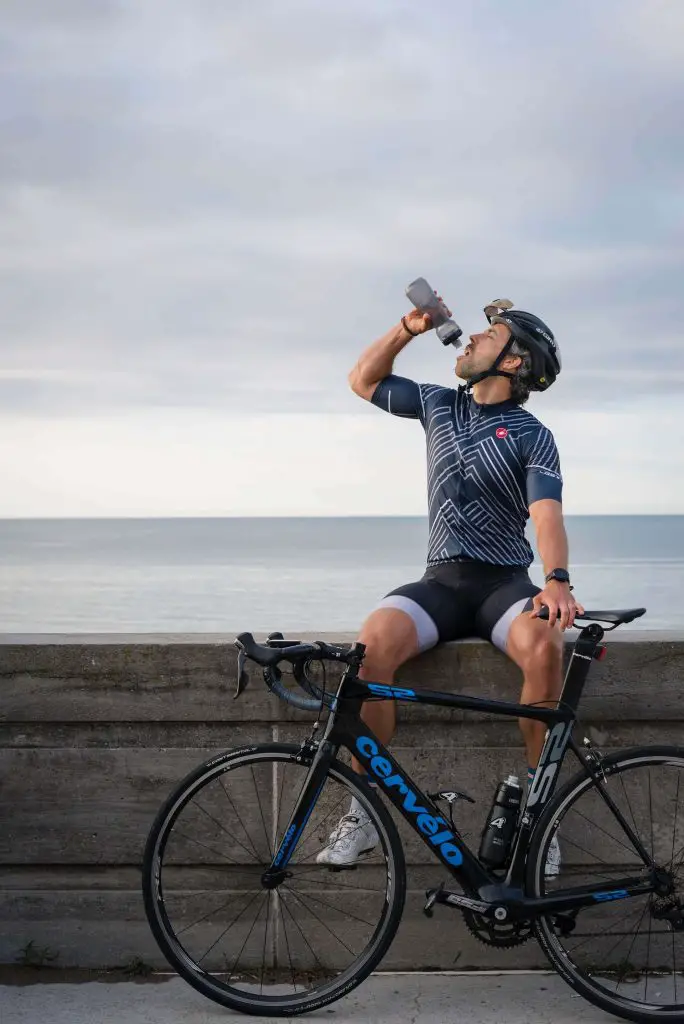 Learning how to ride a bike can sometimes feel a little intense and difficult but as long as you're willing to learn, we're sure it will get easier with time. 
All you need to start is a road bike and a big, safe open space to practice, like a park or empty parking lot. 
Road bikes can be used for many different purposes – exercise, getting around town, or exploring parks and areas nearby so there are so many ways you can practice. 
We hope this article has helped you learn if it's hard  to ride a road bike and with our tips to ride a road bike, how you can make it easier. 
Good luck!