It is not easy to find decent, cheap road bikes under $200, but if you need a new bike and don't want to break the bank, what can you do?
 With the increasing prices in the market, it might seem impossible, but it is still possible to find road bikes under 200.
To make the decision easier for you, I have picked out my favorites among the best bikes under 200 dollars and listed what you should consider before spending your hard-earned money on a new road bike.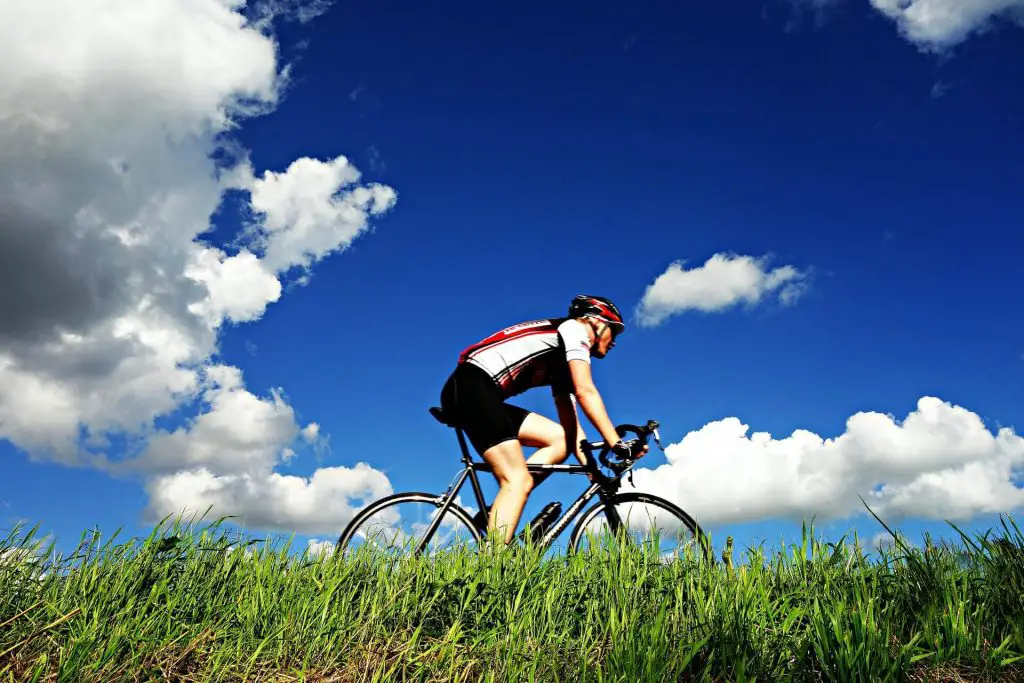 Hopefully, it'll help you find your dream bike and you'll soon find yourself exercising, commuting, touring, or whatever your goal is.
My favorite under the listed bikes is the Max4out Road bike because it comes with:
21 speeds – the wide range of speeds will help me reach my goals
Aluminum frame – because a lighter bike makes my ride easier
The shifters let me shift without taking my hands off the handlebars – for safety and confidence
Disclaimer:
The links on this page may be affiliate links, from which I earn a small commission if you click on them, at no extra cost to you. I hope you find the information useful. Thank you.
Related Articles:
7 Best Cheap Road Bikes Under $200
This is my favorite of the best bikes under 200 as it comes with an aluminum frame, 21 speeds, and a smooth grip shifter on the drop handlebar that will help you climb any hill and most surfaces.
Frame material: Aluminum
Speeds: 21
Handlebars: Drop
Brakes: Rim brakes
Pros:
The kickstand and the tools for the assembly are included.
It fits riders up to 150 kg.
Cons:
It is not the lightest bike with around 17 kg., but the wide gear range will help you up those hills. 
The Max4out Road bike with 700c wheels is a good bike at this price point and will give you many hours of fun on the road.
For a little extra you can get the bike in a version with 14 speeds and disc brakes, which are usually found on more expensive bikes.
Disc brakes work better than rim brakes in wet conditions, for steep descents, and will help you brake using less power.
This is a men's bike under 200 with 21 speeds and shifters and rear derailleur from the reputable Japanese manufacturer Shimano. With this gear range and the comfortable seat, you can explore riding on all surfaces
Frame material: Steel
Speeds: 21
Handlebars: Drop
Brakes: Caliper
Pros:
There is a lifetime warranty against manufacturer defects on the fork and frame.
Cons:
The steel frame makes the Kent 700c RoadTech a bit heavy, so you will need a bit more power to ride it compared to lighter bikes.
The manufacturer Kent makes some of the best men's bikes under 200, and this is one of them.
This Outroad Road bike comes with a durable aluminum frame and a steel fork. The steel fork is more forgiving than the stiff aluminum frame, making it a good combo and giving you a more comfortable ride.
Frame material: Aluminum
Speeds: 21
Handlebars: Drop
Brakes: V-brakes
Pros:
The grip shifter will let you change easily between the 21 speeds
Bell and lock are included in the package
Cons:
The bike is not particularly light, weighing around 18 kg.
The grip shifter helps you change gears easily to help you through all kinds of terrain, and the V-brakes offer fantastic braking. 
This is a very cool-looking road bike made on a strong steel frame in bright colors. It is a single-speed bike and it's fun riding. You can use it for commuting or just getting from point A to point B.
Frame material: Steel
Speeds: 1
Handlebars: Flat
Brakes: Front and rear alloy brakes
Pros:
You have a warranty on the frame for the life of the bike.
A single-speed bike with rim brakes is easy to maintain.
The full-protection chain guard is practical on a commuter bike as it protects you and the chain.
Cons:
It only comes in one size.
I love the bright colors and the light design of this bike, but not everybody does.
This Kent Bicycle 700c Ridgeland bike is made for the urban lifestyle, it is lightweight and easy to maintain.
This B'Twin hybrid bike has a durable steel frame, which makes it more comfortable on gravel, as steel has more flex and that dampens vibrations from the 700c x 32 tires. 
Frame material: Steel
Speeds: 6
Handlebars: Flat
Brakes: V-brakes
Pros:
A bell and reflectors are included.
The lifetime warranty for the frame, stem, handlebar, and rigid fork is a plus.
I really like the gear shifter on the flat handlebar, it makes shifting smooth.
Cons:
The 6 speeds might not be enough if you live in a hilly area, but for commuting, that should be enough. 
The rim brakes and only 6 speeds are relatively light and make up for the heavier frame, so it is not the heaviest bike on the market with its around 14 kg.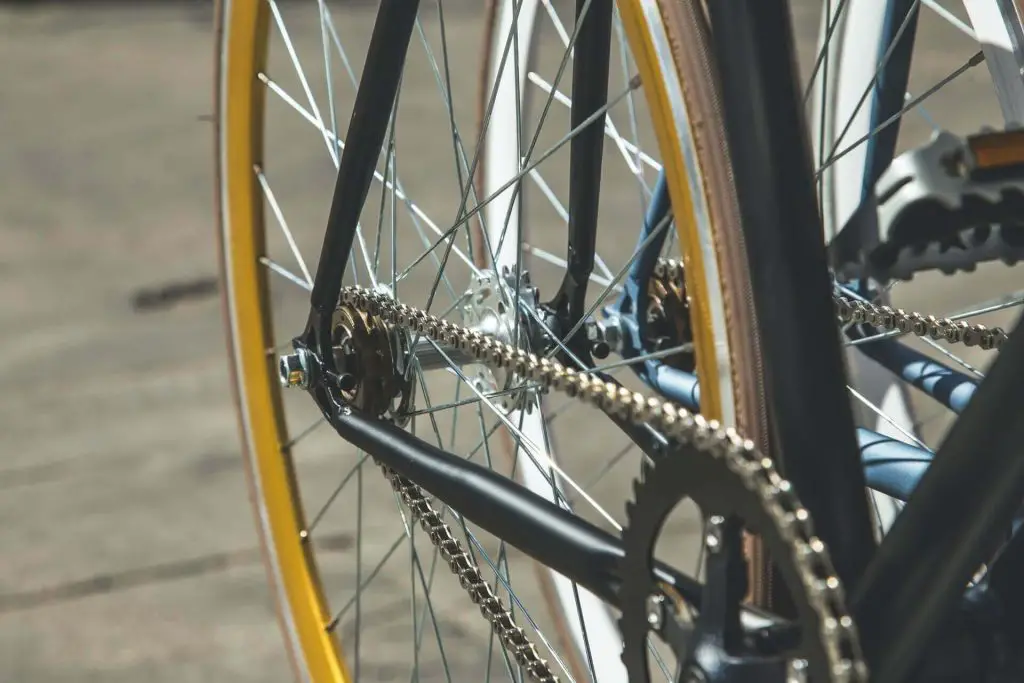 This stylish single-speed bike with bullhorn handlebars has a steel frame. The steel frame absorbs shocks and helps to minimize vibrations, giving you a more comfortable ride.
Frame material: Steel
Speeds: 1
Handlebars: Flat/bullhorn
Brakes: Front and rear caliper brakes
Pros:
The package comes with the tools you need to assemble it.
Due to only one speed, the bike is easy to maintain.
Cons:
For a single-speed bike, it is quite heavy at 20 kg, and when you don't have speeds, you need the power to ride it.
This Hurley Adult-Cycle Cutback is brilliant for urban commuting with the 700c x 28c tires as you can ride all surfaces.
The pink colors of this bike are not for everyone, I know that. But besides getting a cheap road bike under $200, you will support the fight against breast cancer, as 10$ per sold bike is donated to the Susan G. Komen organization.
The bike has a steel frame, light rim brakes, and a wide 21-gear range to help make you ride as easy as possible and you can rely on the front and rear linear-pull brakes. 
The (pink!) drop handlebars give you a lower riding position which will help increase your speed due to less wind resistance.
Frame material: Steel
Speeds: 21
Handlebars: Drop
Brakes: Front and rear alloy linear-pull brakes
Pros:
The look of the bike creates awareness of this important cause.
Cons:
With 14,5 kilos it is not exactly lightweight when you keep in mind that this bike is probably mostly ridden by women (but the 21 speeds will help you).
This Susan G. Komen 700c Courage is a good entry-level bike and gives you value for money with a durable steel frame and 21 speeds.
Bonus bike
If you didn't find your dream bike among the cheap road bikes under $200 listed above and you have a little extra money to spend, I would recommend the Kent gzr700 road bike. 
It has a high tensile steel frame and Shimano 21-speed stem shifters for smooth shifting. Steel offers shock-absorbing qualities compared to aluminum which you can enjoy on long rides in a comfortable seat. 
This is one of the best road bicycles for the money.
Frame material: Steel
Speeds: 21
Handlebars: Drop
Brakes: Alloy brakes
Pros:
The package even includes reflectors and a kickstand and there is a lifetime warranty on the frame.
Cons:
The bike only comes in a 54cm frame size, which does not fit all – and only in one color (orange).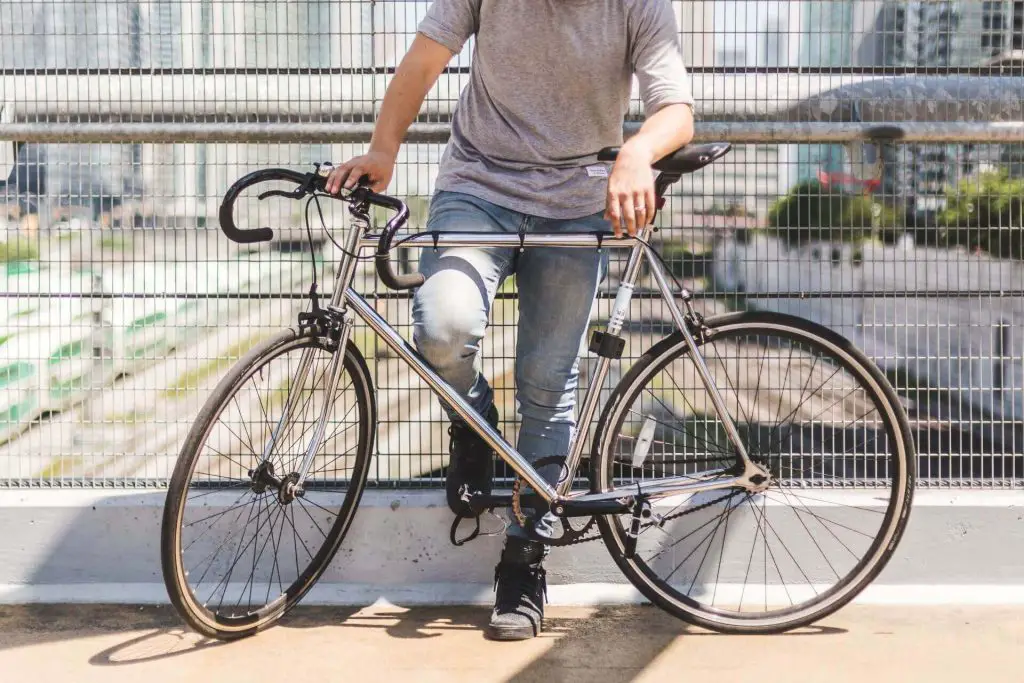 What Is A Road Bike And What Is It Good For?
A road bike is a lightweight bike with narrow tires and drop handlebars, mainly for use on paved roads.
The narrower tires are more aerodynamic and riding on the hoods means less resistance to the wind. 
This gives you more speed with less power.
Road bikes do come in different variations, often called hybrid bikes. 
They have tires that are a little wider, but not like on a mountain bike, and often a flat handlebar. 
The wider tires give more control, traction, and the ability to ride on gravel and in rougher terrain, unlike typical road bikes.
Cheap road bikes under $200 are usually with an aluminum or a steel frame as those are cheaper materials, and unfortunately also heavier. 
Bikes in this price range have some kind of rim brakes, as these are cheaper, but also lighter, making up for the heavier frame.
What To Consider When Buying A Road Bike
There are several things to consider when finding the best cheap road bike for you, the most important are:
What will the primary use be?
On which surface will you be riding?
The use of the bike defines if you need a road bike suited for racing, commuting, touring, exercising, or just as a way of getting from point A to point B.
1. Racing:
If you primarily need the bike for racing, go for a lightweight bike with narrow tires and a drop handlebar. The narrow tires and the riding position give you an aerodynamic advantage, helping you ride fast with less effort.
Road bikes under 200$ usually have a steel or aluminum frame, as they are cheaper than carbon fiber and titanium. Aluminum frames are lighter than steel.
My experience is that for racing (and other longer rides) the money is well spent on padded bike shorts. There are models for men and for women. I also recommend new gloves, these ones
are on my wishlist.
2. Commuting:
If you will be using your new road bike for commuting, you have to consider what surface you will be riding on – paved roads or gravel? 
For paved roads, you can go for narrower smoother tires for less resistance giving you more speed.
For gravel roads, wider and treaded tires are more comfortable on bumpy grounds.
In the city, a flat handlebar could be a good option as it gives a more upright riding position and a better view of traffic.
Also, if you have to carry your bike up a flight of stairs every day, you might want to go for a lightweight bike.
Especially for commuting, it is recommended you wear a helmet with a led safety light.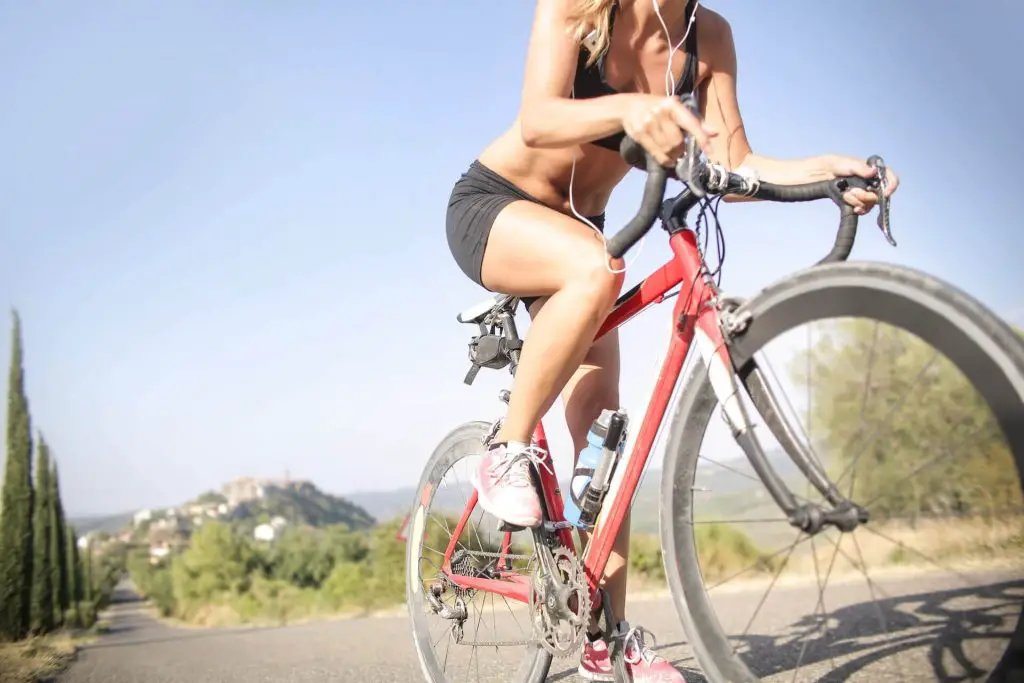 3. Touring:
For touring, steel would be the recommended frame as it is very durable and stronger than aluminum. It is also important to notice that steel helps minimize vibrations on dirt roads and gives more comfort doing long-distance touring.
If you are into touring, a rear rack for your luggage might be a good idea.
4. Exercising:
Are you looking for a bike to exercise, think about whether you want to ride on paved roads or more off-road? 
For paved roads, a lightweight bike with drop handlebars is a good choice for longer rides.
For dirt roads, a steel frame and wider tires will give you a more comfortable ride, so a hybrid bike could be what you are looking for. 
Some people find it hard to choose, so they have a road bike for exercising primarily the legs, and a mountain bike for full-body training. 
5. Getting around:
Is the bike just for getting around and getting you from one place to another, consider getting a hybrid bike as you can ride on all kinds of surfaces?
When you are buying a bike, maybe for the first time, I strongly recommend that you also buy a helmet, and for your safety also remember to equip your bike with reflectors to make you visible on the road.
When you get your new bike, don't forget to buy a good lock to keep your bike secure.
FAQ
What Are Some Cheap but Good Bicycles For Cycling?
Some cheap but good bicycles could be the following: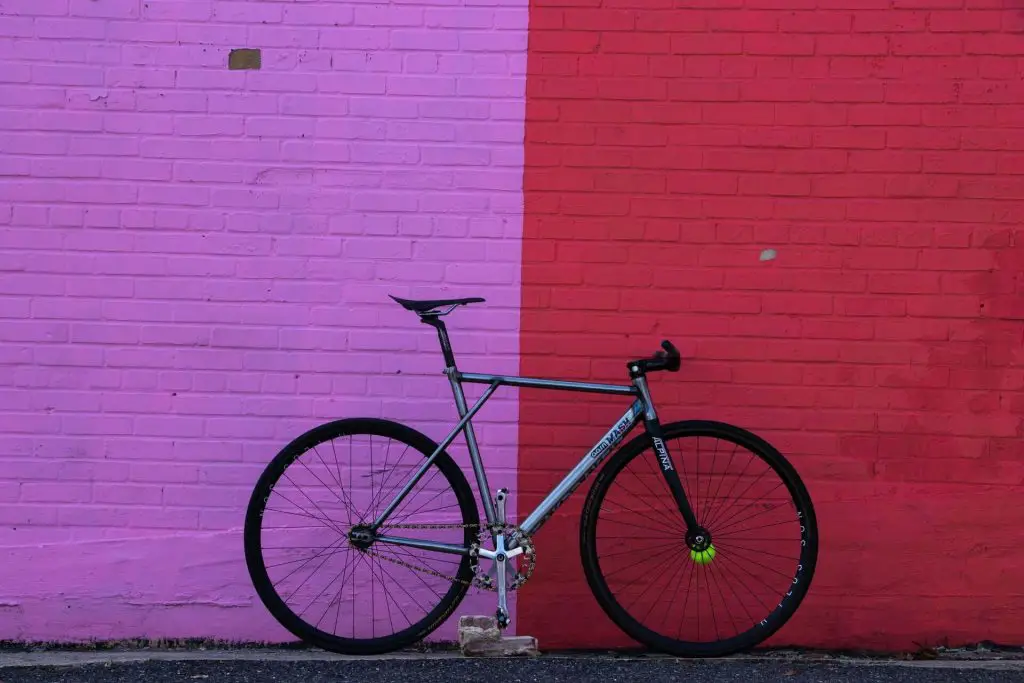 What Is The Lowest Price Of A Bicycle?
The best cheap road bikes of 2022 start around $200 and the best budget mountain bikes are a little cheaper than that. 
Conclusion
It is not easy to find cheap road bikes under $200 but not completely impossible.
 The material and components are cheaper than on expensive bikes but great for entry-level bikes. 
My choice of the best road bikes under 200 is the Max4Out Road bike as it gives me the flexibility to go where I want, and the 21 speeds will help me get there. It's a durable frame and I will have a lot of fun riding the bike.
Maybe I'll consider the version of the bike that comes with disc brakes as they generate more stopping power which can come in handy anytime, on the road or gravel. Let's get rolling.